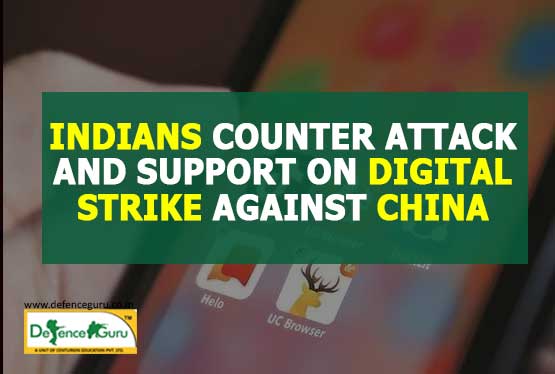 India's Digital strike against China
The Indian government initiative on the ban of 59 Chinese mobile applications is a very historic, important and strategic decision. The decision to ban the 59 Chinese mobile applications reveals India's sovereignty, integrity and self-respect to a larger extent.
Surprisingly, the ban on 59 Chinese mobile applications became a topic of discussion and still the debate is on over the ban on 59 Chinese mobile applications. Reactions to this ban have been reported from all sides but what observed undivided attention was the Indian boys and girls taking side of Chinese apps and their crying videos went viral on the issue. Some people who have given such reactions to the government's decision surely not welcomed but their views are different, there is a difference of opinion in their opinion.
The removal of some Chinese applications should state morale so stifling that Indians could think that they can launch their own mobile applications which will be beneficial for their future and future of India. On the other hand, China will use the applications made by India as well.
If you are a true Hindustani, you should support the government, with a ban on 59 Chinese mobile applications. Opportunity has come as we have given a befitting reply to Pakistan, we Indians should now unite together and answer to China, remember our freedom struggle when we all Indians were united without any discrimination. Our Army, Air Force, Navy is standing on the border but as a citizen of India it is our duty to support our government. Banning Chinese mobile applications is a very important decision that will stop China's financing.
Indians should move forward for their country, show solidarity, just like we have responded to Pakistan, China should also be responded. India will set an example for the entire nations across the globe that no one should forget to take India lightly.