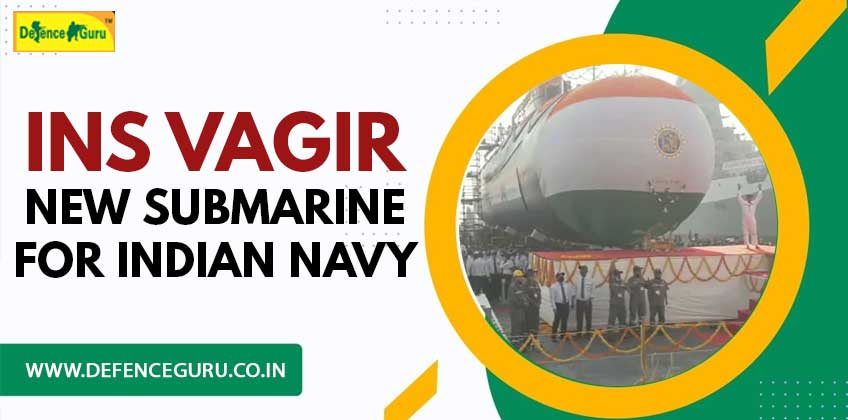 INS Vagir: New Submarine for Indian Navy
The Indian Navy is set to commission the fifth Kalvari class submarine Vagir on 23 Jan 2023 by Admiral Hari Kumar, Chief of the Naval Staff. INS Vagir Submarine has been built in India by the Mazagon Dock Shipbuilders Limited (MDL) Mumbai. Four of the Kalvari class of submarines have already been commissioned into the Indian Navy and the sixth submarine is set to be commissioned in the future. Kalvari Class Submarines will be used primarily for attack purposes. These Submarines are being built under Project 75 and they will be known as scorpene class submarines.
How Much Powerful INS Vagir is!
INS Vagir is a 350 long submarine that will be operated with the help of 8 officers and 35 sailors. INS Vagir will provide the stealth power and ability to carry out powerful attacks from below the surface of the sea.
INS Vagir will have 6 Torpedo Tubes and these torpedo tubes will be used to hunt enemy submarines.
INS Vagir is powered by the Air Independent Propulsion (AIP) System. This system will allow INS Vagir to stay underwater for as long as 50 days.
INS Vagir is a very silent submarine due to its Permanently Magnetised Propulsion Motor. Due to this feature of INS Vagir, It will be hard to detect it.
INS Vagir will act as a force multiplier for the Indian Navy and enhance its capability with its anti-submarine and anti-ship features.
INS Vagir can be used for multiple roles such surveillance, anti-ship operations, anti-submarine operations, and information gathering.
INS Vagir is fully developed and built indigenously in India making India a powerful and self-reliant country in defence technology.
Other Scorpene-Class Submarines
INS Vela
INS Vagir
INS Vagsheer
INS Karanj
INS Khanderi
INS Kalvari
Information about Indian Navy Ships is very important for all Defence Aspirants. Names and Classes can be asked not only in written exams like NDA and CDS but also in SSB. You can read our other informative articles on armed forces on Defence Guru. If you are preparing for SSB, Defence Guru provides you with all the study material including current affairs. Defence Guru also provides material for NDA preparation, you can check our NDA section for more information. This article is very important for those students who are going for naval SSB in 2023.