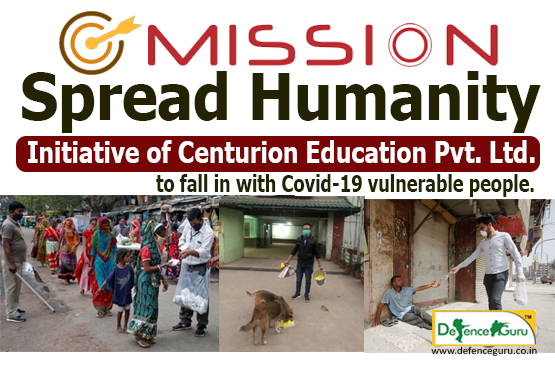 Mission Spread Humanity, initiative of Centurion Education Pvt. Ltd. to fall in with Covid-19 vulnerable people.
"A nation's culture resides in the heart and soul of its people", immortal words of Mahatma Gandhi.
In today's world the pragmatic approach pulls down distinct emotions and pump up to 'Nation First' emotion only.In the wake of the coronavirus pandemic, the national lockdown throughout the entire nation is strictly administered day and night by centre and state authorities as the only cure of protection against Covid-19 pandemic. The hard hit nation economy is shattered toomuch extent but neglecting the worst the nation's unity comes first to all its citizens.
Prime Minster NarendraModi has set up a special emergency fund 'PMCares' and several other Relief Fund has been raised for the nation to fight crisis like Covid-19,which has left the entire world in disarray.
The Relief Funds enable countries to strengthen their response to the Covid-19, by using existing grants in a swift, nimble and pragmatic way. It strongly encourages countries to consider and take prompt action and pay particular attention to daily wage workers and people involved in menial jobs like masonry, driving or cleaning are left harried due to curfew restrictions,labourers, waiters, taxi, autorickshaw drivers, and others who depend on their everyday earnings for survival.
Words of needy people clearly show helplessness they are during national lockdown:
Nobody is out on the roads wilfully. We have no money, can's step out and get anything, be it food or rations or anything that can help us in times like these.
We are surviving on the food being donated by the people. We eat whatever is offered to us in little or more quantity.
The nation system is still the best instrument for making Covid-19 less fragile and negligible to us. Team Defence Guru plea to all its defence aspirants who have high spirit to serve the nation one day don't have to wait a long, the time has arrived to you. Serving for the nation does not mean fighting only at borders but providing security and strength to its people around yourself. In lockdown distress many people are not able to survive neither they can come out nor stay inside in their shelters due to scarcity of food and essential necessities to them. The monitoring report of such people says that many of them are provided all possible helps but still few of them are left out.
Team Centurion has come up in all possible ways by contributing their bit in helping people who are near them. Several packages and cooked food are distributed among needy people in slums and daily wage earners by the team and volunteers who contacted us personally and showed their interest in working for this noble deed.
Help us to fight the coronavirus outbreak in India by helping acutely vulnerable people – the homeless.The world is small,a very common words to human ears but when we look up we will definitely see such people around us who need our minimal help for their survival. Together we can unfoldsonground come out in support for your fellow beings. Even the smallest bit of charity can go a long way to help daily wage earners, underprivileged children and others.
Defence aspirants are requested to contribute at nearby centre. Do not forget to share with us your contribution story on our email id defenceguru.co.in@gmail.com. We feel proud to share it on our official site and page, motivate more and more people for their support and efforts- this dark cloud shall pass to.
In times of need, every bit of help counts. While the uncertainty of one's ability to pay the bills can be daunting, a ray of hope has been offered by commercial and municipal utilities for those impacted. Community members, NGO's, local people come together to prepare food for hungry people, youths are willfully volunteering as a helping hands near any community or NGO's based kitchen around them.
Kochi- Volunteers preparing food packets in a community kitchen to distribute among the needy during the nationwide lockdown in Kochi.
Delhi- Sikh volunteers preparing food in the community kitchen to distribute it among the needy during the nationwide lockdown at Bangla Sahib Gurudwara in New Delhi.
Ahmedabad- Members of BochasanwasiAksharPurushottamSanstha (BAPS) and volunteerspack vegetables inside a community kitchen to be distributed amongst poor people during a 21-day nationwide lockdown to limit the spreading of COVID-19 in Ahmedabad, India.
Lucknow- Volunteers helping in community kitchen made to feed the homeless and poor people in Lucknow, during the lockdown announced for the entire country.
Patna- Indian Railway Catering and Tourism Corporation (IRTC) staff cooks food for homeless and poor people during a nationwide lockdown in the wake of coronavirus pandemic, at Patna Junction campus, in Patna.
Surat- Jain community members and volunteers in Surat pack food for distributing to needy people during a 21-day lockdown in India.
Chandigarh- One 60-year-old widow Bala has got out with food and donated it to local people near her residence.
Mumbai-Khushiyaan Foundation's Roti Ghar across Mumbaiprovides healthy and freshly cooked meals to children on the streets once a day.
Delhi-TheRasoi on Wheels Foundation the Delhi-based NGO provides hygienic and healthy meals to the underprivileged who have no access to food. The foundation has meal boxes from Rs 30.
Begaluru-Bengaluru resident HasiruDala identified over 2,000 families with no BPL or ration card, no public housing or predictable source of income. These families are spread across six cities and towns in Karnataka (Bengaluru, Mysuru, Tumakuru, Devanagere, Hubli and Dharwad). All donations go towards providing care kits comprising dry rations (rice, lentils, chilli powder, etc.) and soaps for 21 days, each costing between Rs 1,400 and Rs 1,800.
---