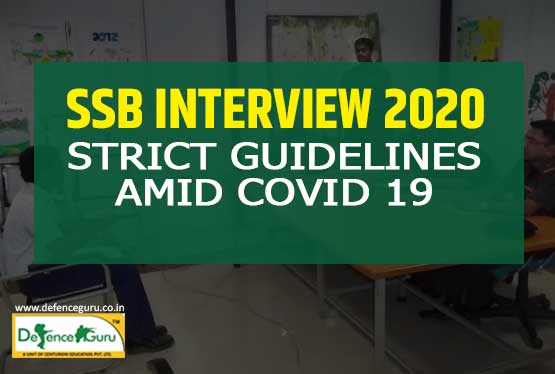 July माह से सभी स्थगित और पुनर्निर्धारित SSBs की शुरुवात हो गयी है , COVID 19 की वजह से मौजूदा चल रही परिस्तिथ्यो को ध्यान में रखते हुए जिस भी SSB center पर आपकी रिपोर्टिंग निश्चित हुई है, जाने से पहले सभी गाइडलाइन्स की जानकारी और समझ जरूर रखे| डिफेंस एस्पिरेंट्स के लिए एक नयी शुरुवात करने का समय आगया है , एसएसबी कैंडिडेट्स इस अवसर को एक सुनहरे अवसर के रूप में ले |
Due to COVID 19 all exams and SSBs have been put long on halt, resuming to SSBs states pressure on each participants. Thus maintaining the Centre and State guidelines under COVID 19 pandemic many suitable measures at SSB Interview have been manifested. Recently uploaded SSB interview call letter marked mandatory norms for candidates while reporting at the Selection Center.
Instructions listed on the call letters must be followed as mentioned by the authorities, thereby keeping all at check many candidates are facing challenges to fulfill all these requirements especially the COVID-19 test certificate which has to be only two days old.
"Yes, in SSB Interview document verification candidates are being asked to produce COVID-19 Negative Certificate while reporting at the Selection Center".
SSB Document Verification Norms:-
In document verification SSB is strict right now, according to strict guidelines of authorities in some SSB's it is said that candidates have to report with two days COVID 19 report along with doctors registration numbers. Candidates in mail have received the format to be filled and signed by authorized medical officer. The procedure is simple and clear still some students are failing as COVID 19 report are of three to four days earlier or in some cases doctor's registration number is missing or some others document are missing and candidates are out in document verification.
Conducted SSBs at Centres Main Highlights:
The result initially observed that they are not taking more crowd in entries specially direct entries.
7 NDA cadets who were taking part in 1 AFSB Dehradun on 17th July found COVID19 positive.
Tracking the SSB Interview instructions take a complete notes on reporting procedures at SSB centre. The Indian Army SSB interview call letter for TGC, AFSB and NSB all have same instructions for SSB cadets arrival at the centre.
Registration on Aarogya Setu Portal

Install Aarogya Setu App prior to leaving home station to Selection Centre
Screenshot of having green status on the said app will be taken prior to leaving home
Status will be checked at the time of reporting at the Selection Centre and subsequently daily status, during the duration of stay

Registration on Seva Sindhu Portal

Install Seva Sindhu App of Karnataka State Government for candidates coming in or transiting through Karnataka

Travel Restriction

Candidate not to travel from any containment zones
A candidate if found to have any symptoms should not be move from his/her home station and if he/she reports to the Centre, will be returned back
CANDIDATES TO CARRY PERSONAL HAND SANITISER, SOAPS, FACE MASKS, GLOVES AND FACE SHIELD
Carry a COVID-19 negative certificate from an ICMR approved lab not more than two days before reporting for SSB

Documentation

Documents including any affidavit for wrong name or tattoos etc as stated in the call up letter are brought along.
Latest passport size photographs not older than one week will be brought and failure to produce the same at the time of reporting will render a candidate disqualified for appearing for the SSB

Miscellaneous

After selected from Stage I to Stage II candidates will not be allowed to go out of the Selection Centre premises for any purposes in view of the COVID-19 pandemic
NO repeat NO bedding will be provided at the Selection Centre. Candidates are advised to carry a light bedding as per their comfort and season
Candidates are advised to carry adequate clothing that will be required for their stay, as there shall be no laundry facilities till the pandemic is over
There will be a check of body temperature at least thrice a day during your stay to ensure that all candidates are safe.
Maintaining strict discipline inside the SSB Centre all SSBs conducted so far went into good notion, thus to avoid rejection or any other sort of inconvenience at the centre try to follow the guided instructions of the SSB centre.
To get detailed information on 2020 SSB Interview visit CDA official you tube channel, Visit www.centuriondefenceacademy.com, Just Call or Whatsapp 9795977779 | 9795977776
Be an Efficient Learner! Save Time and Effort! Get Centurion Defence Academy Student App.