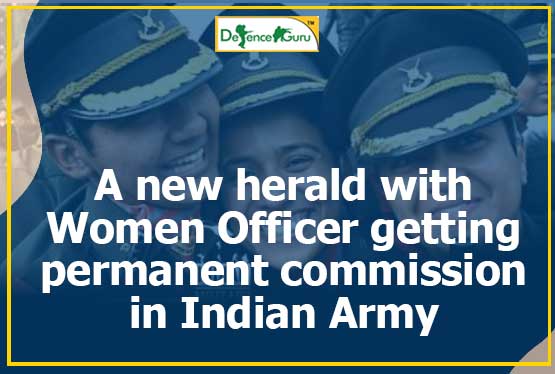 A new herald with Women Officer getting permanent commission in Indian Army
"A woman is a warrior capable of slaying the demons in life. She is a pioneer capable of choosing her own path. She is a trailblazer capable of achieving new horizons. Just give her some time and see her bedazzle the world." Cognizably an apt saying and a new herald of an era and a blazing dawn that brought a ground breaking verdict demolishing gender biasness by empowering the women officers in the Indian Army, the Supreme Court on Monday ordered the government rendering that all women officers will be liable and considered for permanent commission and will also be equally eligible for command posting on par with their male counterparts.
The much awaited verdict came after 10 year old appeal filed by the government against a March 12, 2010 decision of the Delhi High Court to grant SCC women officers permanent commission was headed by a bench of Justices DY Chandrachud and Ajay Rastogi.
- The benefit of this verdict will be given to all women officers irrespective of the tenure of service they might have put in with having an equal chance for gaining pension and retirement benefits that were earlier discernable equally questioning their efficiency matrix as well.
- The Supreme Court ordered the government to implement its judgments in three months.
- Bench said that there cannot be 101 excuses for not granting gender equality in the armed forces and a level playing field is needed.
- Denying permanent commission to women officers who have served the nation would result in a serious miscarriage of justice.
- It also granted pension benefits to women officers who have retired and were not granted permanent commission.
A bench of Justices DY Chandrachud and Ajay Rastogi made a plea at the Centre slamming the Centre for the gender disparity to the women officers on grounds of social norms, physiological limitations and familial obligations associated with women because of the need and empowerment of more women officers in Indian Army which will prove to be instrumental considering their exceptionality and the laurels they behold and to break that stereotypical social adjunct that limits the women as the weaker sex and as a result not considered at par with male officers. Aishwarya Bhati, senior advocate and a counsel representing the officers stated that, 'The Supreme Court verdict on Monday granting permanent commission (PC) and command positions for women officers is a watershed moment and success 'against stereotypical mindset and attitude'.
This is a colossal and monumental step to eradicate the division between men and women officers in as many streams as possible in an incremental manner. There's an acute shortage of 11,500 officers in the Army, out of which approximately 5,115 officers are deficient in support services in which women officers have been commissioned according to an earlier survey. Thus it is ironic that women officers are narrowly confined and restricted on the prime mindset that they are fragile, submissive, physically incapable and not socially dominant but the time has come to give them their equal entitlements and to not treat them as merely being as adjuncts to the male dominating system.
Granting women equal opportunity and treating them equal in the society is a welcome step of Supreme Court, ensuring greater roles of women officers in the evolution of women in the armed forces. A landmark judgment is stated by the Supreme Court and now its implementation and execution is upon the government and top brass forces to ensure that there is equality.