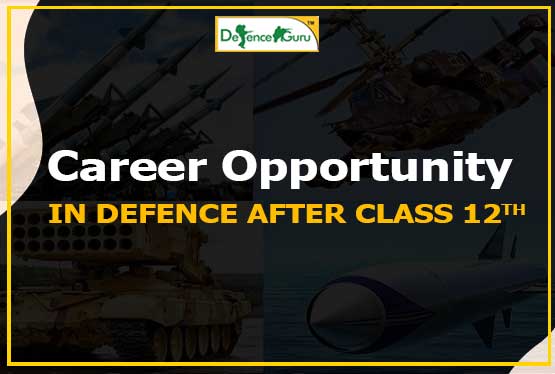 Career opportunity in Defence
Class 12th exams are about to get over but you are still juggling with the career decision; you are in a critical mess. It usually appears as a sense of relaxation to some children who begin early thinking but as a burden for those students who resume into last minute discussion, planning and choices.
There are numerous interesting and lucrative career options in India apart from prevailing career myths coming from generations where we run behind like career option of engineering, medical or civil servants only. Now-a-days trend has been changed we have numerous career options in India from diverse fields like science, engineering, medical, computers and IT, mass communication, law, armed forces, performing arts and design and many other fields.
Surprisingly these days more and more children are opting for white collar jobs where power and money matters a lot but still we have a great young lot of students who are choosing defence as a career, a positive and welcome sign in today's time where one wants to serve the nation and safeguard boundaries of the country. Hence, by being defence personnel one can find true respect and honor in the most dignified manner.
Knowingly and unknowingly class 12th students sit in different Entrance Exams after class 12th. Several defence entrance exams are also available and to be a part of these elite forces and to get an opportunity to serve the country, lakhs of candidates appear for different defence exams every year. Joining the defence forces brings a lot of responsibilities not only to you but also to the entire nation for whom we are fighting day and night.
People most of the time say "Big" things come in "Small" packages, an absolute true statement and we can use this saying in our defence as well where we observe the same thing. Your paychecks may be little, your allowances and benefits are modest, and you may spend a small amount of time with your families….but believe me, it takes a brave person with a "Big" heart to voluntarily put his/her life on the betterment of the Indian people daily. Many of them have had to sacrifice their lives just so the rest of us can live in a free and prosperous society.
Boys and girls finishing plus two examination can opt for career in Air Force, Navy and Army in technical and non-technical categories. Students can now opt for engineering career in the Army or Navy through Technical Entry Scheme, which enables him to become an engineer at Army expenses before getting commissioned as an officer. Various options are available in defencefor class 12th students ranging from 16 to 19 years age groups.
List of exams for qualifying entrance exams after class 12th to begin career in defence are:
For MALE CANDIDATES-
- UPSC (Union Public Service Commission) conducts the exam for the National Defence Academy and Naval Academy (NDA & NA) twice every year. Male Students having Physics, Chemistry & Maths (aggregate 70% and above to apply) subjects can apply. NDA exam comprises of 2 stages – an offline test and SSB interview.
- Indian Air Force conducts the exam for the recruitment of Airmen in Group X (Technical) category and Group Y (Non-Technical) category for men only.
- Indian Navy conducts Indian Navy BTech Cadet Entry Scheme (Permanent Commission) for unmarried male candidates to join the prestigious Indian Navy Academy (INA). The selection for this course is done through JEE Main Scores- All India Rank.
- Indian Navy conducts recruitment for Male candidates for Indian Navy Sailors in various capacities: Artificial Apprentices (AA), Senior Secondary Recruit (SSR), Matric Recruit (MR), Non-Matric Recruit (NMR), and Musician. Candidates who have passed their 10+2 examination with 60% or more in aggregate with Maths & Physics and at least one of these subjects:- Chemistry/Biology/Computer Science from the Boardsof School Education recognized by MHRD, Govt. of India are eligible for these Indian Navy AA and SSR (Sailor) posts.
- Indian Army Technical Entry Scheme (TES) is conducted for those class 12th pass out students who are from PCM background with minimum 70% marks.
For FEMALE CANDIDATES-
- Indian Army conducts recruitment for Military Nursing Service (MNS) for female candidates of Biology stream, having Physics, Chemistry, Biology (Botany and Zoology) and English as a subject with minimum of 50% marks. After qualifying MNS exam, they can pursue B.Sc. Nursing course at college of Nursing of Armed Forces Medical Service. It is the integral part of Armed Forces Medical Services also known as AFMS of the Indian Army.
Candidates short-listed after the initial selection procedure go through a rigorous training regimen at training establishments of these courses. Thereafter, they are commissioned as officers and various other posts at any of the Army, Naval, and Air Force Stations. Few inspiring and most respected female legends in Indian Defence Forces whose tales will make your chests swell with pride are:
- Punita Arora, the first woman in India to don the second-highest rank, Lieutenant General of Indian Armed Forces, as well as the rank of Vice Admiral of Indian Navy.
- Padmavathy Bandopadhyar, the first woman Air Marshal of the Indian Air Force.
- Mitali Madhumita, the first female officer to receive the Sena Medal for gallantry, a decoration given to soldiers for exemplary courage during operations in J&K and the northeast.
- Priya Jhingan, the first lady cadet to join the Indian Army.
The freedom and liberty we enjoy is much because of the brave men and women of the Indian Defence Forces who dedicate their lives to protecting the nation. The youth of our nation should come forward by choosing career in Defence after class 12th as it not only adds medals and stars in their career but also serve our nation, our home, our people.
Read More
career opportunities for women in indian armed forces
3 best ways to join indian air force
3 best ways to join indian Armed Forces after 12th