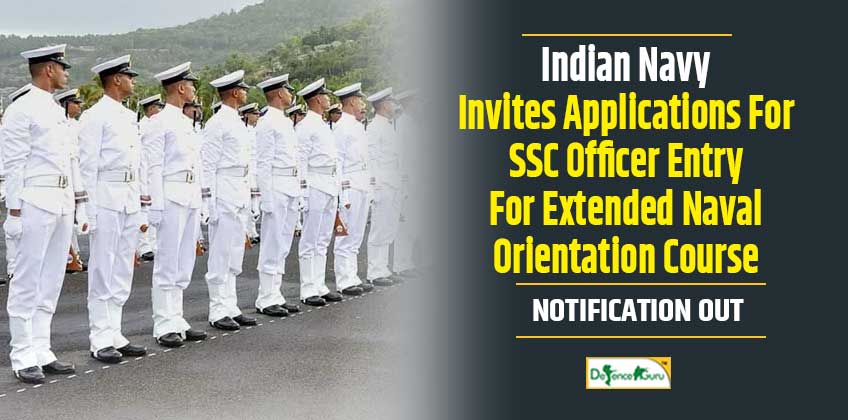 Indian Navy SSC OFFICERS NOTIFICATION 2021 FOR EXTENDED NAVAL ORIENTATION COURSE – JAN 2022
THE INDIAN NAVY INVITES APPLICATIONS FROM UNMARRIED MEN FOR SHORT SERVICE COMMISSION OFFICERS FOR EXTENDED NAVAL ORIENTATION COURSE–JAN 2022 (ST22) COURSE
Applications are invited from unmarried eligible male candidates for grant of Short Service Commission (SSC) for Extended Naval Orientation course commencing Jan 2022 onwards atIndian Naval Academy (INA) Ezhimala, Kerala for under mentioned entries in the Indian Navy. Candidates must fulfill conditions of nationality as laid down by the Government of India. Selected candidates will undergo training with one of the following two distinct courses :-
GeneralService(Executive)[GS(X)]
Hydrography
DATE OF OPENING– 12 Jun 2021
LAST DATE FOR ONLINE APPLICATION– 26 Jun 2021
Eligibility Conditions
Educational Qualifications.
Ser

Branch/

Cadre

Eligible streams of Bachelor of Engineering/Bachelor of Technology and Other Qualifications

Vacancies*

Gender

born between

(both dates inclusive)

Online Application

submission

Executive branch

(a)

SSC GeneralService(GS/X)

BE/B.Tech in any

discipline with

minimum 60%

marks.

47

Men

02Jan

1997 &

01 Jul

2002**

11Jun 21

to

26 Jun 21

(b)

Hydro Cadre

BE/B.Techin any

discipline with

minimum 60% marks.

03

Men

02 Jan

1997 &

01 Jul

2002
Note
DuetoCOVID-19pandemic,anexceptionisbeingmadeinthepublicinterestwhereinnoINET(O)entranceexaminationfortheST–22courseisbeingheldforshortlistingcandidateforSSB.Thefinalmerit listforinductionwillbepreparedbasedonlyonSSBmarks.
*Thesevacanciesaretentativeandmaybechangeddepending on availability of training slots.
) **Merchant Navy Personnel. Candidates having Government of India, Ministry of Shipping & Transport Certificate of Competency (Foreign going) either as a Second Mate, Mate or Master and born between02Jan1992 and01Jul2002 (both dates inclusive)canapplyforExecutiveBranchentry(General Service)as per stipulations statedatPara2(a) above.
NCCCandidates.NCC'C'certificateholderswillbegivenrelaxationincutoffmarkstowardsshortlistingforSSBsubjecttofollowingconditions:-

HavingNCC;C;certificateofNaval/Army/AirWingwithminimum'B'Grade.
Notserved lessthantwoacademicyearsintheSeniorDivision,Naval/Army/AirWingoftheNCC.
'C'certificateshouldnotbedatedpriorto30Jun18.
ThefinalselectionwillbesubjecttoverificationofthecertificatebyDGNCC/concernedNCCunitforitsvalidity.Candidatureofindividualwillbecancelledatany stageofselection/training/postcommissioning,incaseof falsedeclaration,misinformation,concealingofinformation.
Who Can Apply
(a)Candidates who have graduated/post-graduated with minimum 60% marks in aggregate or equivalent CGPA or are in the final year from a university incorporated by an Act of Central state Legislature in India or other educational institutions established by an Act of Parliament or declared to be deemed as Universities/Autonomous Universities under UGC, Act 1956; IIT Act,1961; AICTEAct,1987; NITSERAct,2007; IIITAct,2014, or;
Obtained a degree in Engineering with 60% marks in aggregate or equivalent CGPA/System from such foreign university/college/institution recognized by the Government of India for the purpose of Engineering Degree/equivalence certificate from Association of Indian Universities established under AIU, Act 1973, can apply. The candidate will, however, be required to fulfill theeducationalqualificationstipulatedabovebeforejoiningINA.Thecandidatefailingtomeetstipulated educational criteria willnotbepermittedtojoinINA, Ezhimala.
Download the Official Pdf Below!