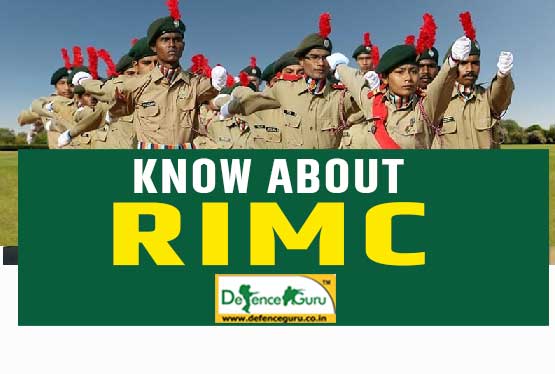 Rashtriya Indian Military College holds a Limca Book of Records is perhaps the only
institution in the country where exams for Class X and XII are conducted twice a year, in May and November. The Rashtriya Indian Military College (RIMC) is a military school for boys situated in Doon Valley, Dehradun in India. After India gained independence in 1947, the school continued to train young men to become a part of the Indian Armed Forces.
The exams/certifications conducted in RIMC are recognized by CBSE however, to grab the perfect opportunity and you are dedicated to prepare as a cadets for the UPSC examination NDA entry, then RIMC is the right platform.
Know about RIMC Alumni
Rashtriya Indian Military college is administered by the Union Ministry of Defense, through the Directorate General of Military Training, Army. The RIMC is a feeder institution for the National Defence Academy, Indian Naval Academy and subsequently the Indian Armed Forces. Rimcollians, the name by which alumni of the RIMC are usually denoted, have gone on to hold the highest ranks in the Army, Navy and the Air Force of India.
Major Difference between RMA & RIMC
The major difference is that instead of serving as a public school whose boys joined the RMA, RIMC now offers an excellent public school life, oriented towards joining the NDA.
RIMC college offers the science stream only at the +2 level. However, to prepare cadets for the UPSC examination for entry into NDA, social sciences are also taught.
Why RIMC is best for NDA entry?
Cadets are prepared for the UPSC Examination for entry to the NDA.
RIMC has sent 81% of cadets to NDA from each course (as compared to the national average which stands at 0.6%).
RIMC has two terms both of which run on the same syllabus line and has remedial quid pro quo for qualifying measure.
Who are eligible to join RIMC?
Students who are studying in or have passed class 7th are eligible to apply.
RIMC college takes admission in the 8th class for boys candidates only
Only boys are eligible for the admission.
To apply students should visit at the RIMC official website www.rimc.gov.in.
Exam Pattern at RIMC:
The examination will include both, written and viva-voce test followed by a medical examination.
For the admission purpose, they conduct the written entrance examination at the national level.
The written exam will consist of three papers namely English, mathematics and general knowledge.
The written part of the examination will consist of three papers, namely.
| | |
| --- | --- |
| Subject | Maximum Marks |
| English written Paper | 125 |
| Mathematics written Paper | 200 |
| General Knowledge written Paper | 75 |
| Interview | 50 (who have qualified in written exam only) |
| Total | 450 |
The medium of examination will be in English and Hindi for Maths and GK papers.
Those who will clear the written test will have to appear for an interview.
The interview or viva-voce will be held to test the intelligence and personality of the candidates.
Minimum pass marks in each paper including interview will be 50%
AGE LIMIT:
Aspirant should not be less than 11 and a half years in age
Candidates can check the official notice on the website RIMC at www.rimc.gov.in.
FEE:
For 2020-2021 admission the annual fee is Rs 42, 400.
It may increase from time to time.
A security deposit of Rs 20,000 should be made at the time of entry.
This will be refunded when the students pass out.
How to prepare for RIMC
सभी जानकारी लेने के बाद अब आप इच्छुक होंगे RIMC ज्वाइन करने के लिए , इसका भी
बहुत आसान और सफल रास्ता है आपके सामने 'JOIN Centurion's Sainik School Batch'.
The highest selection rate in defense exams runs a successful Sainik School batch for UP Sainik
School, Sainik School Society and RIMC.
Apply in September for Sainik School batch launched with 45 seats
Centurion Sainik School batch offers
Contact Written + interview + Medical complete package
To get detailed information on Sainik School Notifications, Syllabus, Tips and Tricks, Admit
Card Dates, Result, Cut off, Trend Analysis, Information about Physical Fitness Test and
Medical Examination and Current Affairs, simple Follow us on You tube, Instagram, Twitter,
Facebook. Visit our official website www.centuriondefenceacademy.com. Read articles related
to defence and defence examination at defenceguru.co.in.
Be an Efficient Learner! Save Time and Effort! Get Centurion Defence Academy Student App.
Visit www.centuriondefenceacademy.com Just Call or Whatsapp 9795977779 | 9795977776