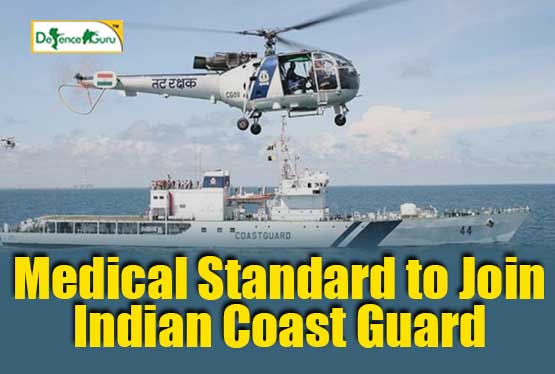 Medical Standard For Indian Coast Guard
Indian Coast Guard is a Maritime Paramilitary Force of the Union of India. It is a multi functional branch which serves India through close collaboration with Indian Navy, the Department of Fisheries, the Department of Revenue (Customs) and the Central and State police forces.
Indian Coast Guard aims to secure the nation through air and surface operations. It is divided into 5 maritime zones and has an overreaching motto of 'Vayam Rakshamah' that is 'we protect'.
There is a great bunch of students who want to join Indian Coast Guard and pay their services for the welfare of the nation. Such candidates have to follow an entrance procedure as per which their applications will be shortlisted and they will be called for interview with PSB- Preliminary selection board followed by an interview with Final Selection Board (FSB). The selected candidates will have to appear for a medical exam.
It is this medical exam which is the central focus of today's article. Below I have listed all the necessary medical requirements for ICG applicants:
Medical examination will be conducted by authorized Military Doctors as per medical standard prescribed in current regulations applicable to Enrolled Personnel on entry.
Height- Minimum height is 157 cms. Reduction in height for candidates from hilly areas and tribal areas will be in accordance with the Central Govt. orders.
Chest- Should be well proportioned. Minimum expansion is 5 cms.
Weight- Proportionate to height and age + 10 percentage is acceptable.
Hearing- Normal.
*Candidates are advised to get their ears cleaned for wax and tartar removed from teeth prior to examination.
Visual Standard- 6/6 (Better Eye) and 6/9 (Worse Eye). (Candidates using glasses are not eligible).
Tattoo- Permanent body tattoos are not permitted on any part of the body. However, certain concessions are permitted to candidates belonging to tribal areas communities as declared by the Govt. of India. For other candidates, permanent body tattoos are only permitted on inner face of forearms i.e. from inside of elbow to the wrist and on the reverse side of palm/back (dorsal) side of hand. Details in this regard are available on the Indian Coast Guard Recruitment website www.joinindiancoastguard.gov.in
Hope the above details help you to move further in the direction of Indian Coast Guard.
Read More: How to join Indian Coast Guard