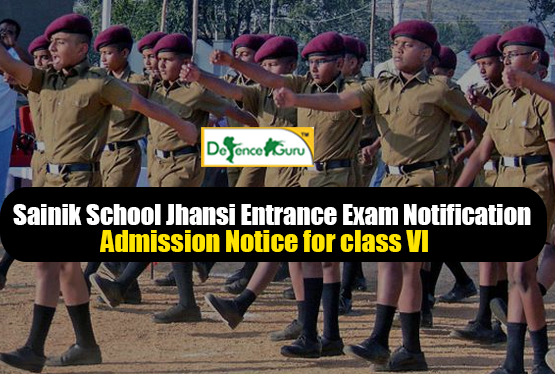 Sainik School Jhansi Entrance Exam Notification - Admission Notice for class VI
SAINIK SCHOOL JHANSI
Managed under the wings of Indian Ministry of Defence, Sainik Schools is the burning desire of number of young souls. Established in 1961 by V.K Krishna Menon Sainik Schools are active in 27 numbers. The aim is to furnish layman with standard public education and open a further gateway for them to Indian Defence.
Sainik School Jhansi has recently published a notification for the commencement of its admission procedure. Here is what it reads:
SAINIK SCHOOL JHANSI (UNDER MINISTRY OF DEFENCE, ESTD. IN 2019)
POST BHAGVANTPUR, DISTT JHANSI (UP), PIN-284128
Website: www.ssjhanaLco.in, Email:sainikschool Jhansi@gmail.com
ALL INDIA SAINIK SCHQOLS ENTRANCE EXAM (OMR BASED ADMISSION NOTICE FOR CLASS VI: SESSION 2020-21 (ONLY FOR BOYS)
AIM: Sainik School Jhansi UP is Residential school affiliated by CBSE, for boys to upto 10+2 Science stream. The primary aim of the School is to prepare boys academically, physically and mentally for entry into the National Defence Academy.
Pune/Naval Academy for officer cadre of the Armed Forces.
DATE OF BIRTH : For class VI - Age should be between 10 years to 12 years on 31 Mar 2020.
RESERVATION :
1. 15% of the total seats and reserved for SC and 7.5% seats for ST.
2.Out of the remaining (77%), 67% are reserved for boys from the State of Uttar Pradesh
3. Balance 33% left over of will be thrown open to boys from other State and Union. Territories in the ratio of their male population.
4. Any unutilized seats in this category will be merged with home state seats.
5. 25% seats are reserved for children of service personnel including Ex-service- men.
TOTAL NUMBER OF VACANCIES
Class VI - 90 Seats (It may change based on actual availability of vacancies at the time of admission)
SCHOLARSHIP BY CENTRAL &STATE GOVT
Liberal scholarships are available for students studying in Sainik School Jhansi by the State Govt and Central Govt subject to availability of funds.
IMPORTANT DATES
Filling of online application form: 05 August 2019 to 23 Sep 2019
Last date for receipt of application form: 23 Sep 2019
Entrance exam: 05 January 2020 (Sunday)
Publication of merit list for medical: 03 Feb 2020 to 07 Feb 2020
Publication of Final merit for admission: 20 Mar 2020
EXAMINATION CENTERS
Jhansi, Agra, Prayagraj & Kanpur
REGISTRATION CHARGES (ONLINE PAYMENT)
For General/Defence Category: Rs 400/- (rupees four hundred only)
For SC/ST category: Rs. 250/- (rupees two hundred and fifty only)
Eligible and interested candidates (boys only) can submit the application online through internet only. Application Form is available on Sainik School Society website www.sainikschooladmission.in Helpline No. is 7382096512
School does not patronize any coaching institute or agent or school and the admission will be strictly in accordance with merit and medical fitness of candidates.
Good wishes to all the aspirants.