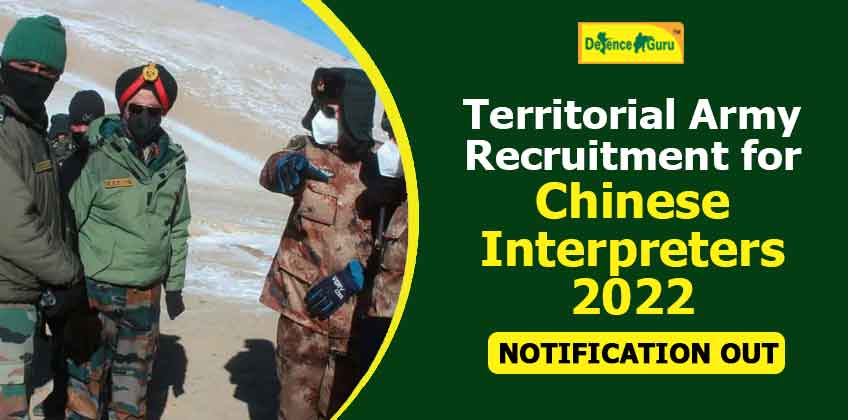 Territorial Army Officer Recruitment For Chinese Interpreter Language Expert 2022
The Territorial Army invites applications from gainfully employed men and women holding expertise in Chinese language to serve the Nation as Territorial Army Officers. As per the official notification issued by the Territorial Army, a total of 6 vacancies have been notified including 5 vacant posts for civilian candidates and 1 vacancy for ex-service officers. Read on to know more about the detailed eligibility criteria, application form and other information related to this exam.
TOTAL NUMBER OF VACANCY
Civilian Candidates - 05 (Male/Female)

Ex-Service Officers - 01 (Male/Female)
As per the official advertisement issued by the Territorial Army, the aforesaid vacancies are subject to change as per organizational requirement.
CONDITIONS OF ELIGIBILITY
Nationality: Only Citizen of India
Age Limits: 18 to 42 years on the date of application.

Educational Qualifications for Civilian Candidates

Graduation in Chinese Language with min 55% marks from recognised University 'OR' Graduation in any subject with two years Interpretership Diploma/ HSK-IV level from a recognised University or Institute.

Desirable. Experience in Chinese Language Interpretation/ Translation/ Teaching.
Educational Qualifications for Ex-Service Officers
Graduation in any subject with two years Interpretership Diploma in Chinese Language from SFL/ AEC Trg College & Center with min 'BX' grading.

Desirable. Higher qualification in Chinese Language and exposure to BPM/ Flag Mtgs.
Note: Serving members of the Regular Army/Navy/Air Force/Police/GREF/Para Military and like forces are not eligible. On the date of submission of application form candidate should be ex- Service Officer.
Physical Standards: A candidate must be physically and medically fit in all respects.
Employment: Gainfully Employed.
Type of Exam :
Proficiency Test (300 Marks).
Writing

Listening

Speaking
Interview (200 Marks).
Important Dates
DATE OF INTERVIEW: AUGUST/ SEPTEMBER 2022

LAST DATE OF RECEIPT OF APPLICATION: 10 AUGUST 2022
Submission of Application
Candidate applying for Territorial Army commission should download Application Form (Part-1&2) from www.jointerritorialarmy.gov.in and submit the application form duly completed in all respects not later than 01 Aug 2022 at Directorate General Territorial Army, Integrated Headquarters of Ministry of Defence, 'A' Block, 4th Floor, Defence Office Complex, KG Marg, New Delhi - 110001 (through India Post only).