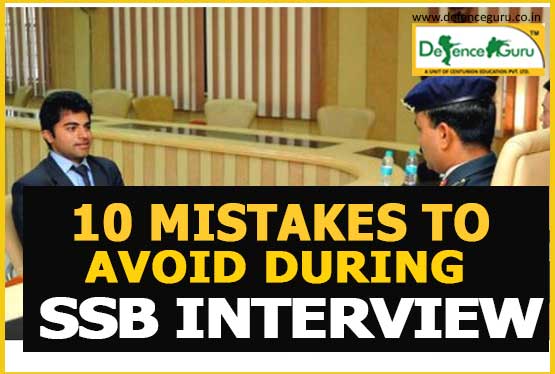 Mistakes to avoid during SSB Interview
Who do blunders and how? Today we are going to look into side of human personality that plays the most prominent role in rejection and still we fail to recognize them.
Brooding over blunders is the biggest blunder, in case when you are facing the SSB Interview. Opt for way to success that covers up multitude of blunders that are always present between us but we fail to inculcate those points and hold onto self to the actual cost. What you can do best for your self is smashing all your fears coming in your way while providing subtle remedy to cure your blunders.
SSB Interview roller coaster ride is grilled with bumpy rides and while targeting major factors for SSB Interview we usually miss out the few basic and needful factors. Through this door you can peep into your possible reason of failures for the upcoming SSB Interview.
This article is specially shared on behalf of Shishir Dixit, Founder Director Of Centurion Defense Academy and a profound Psychology Expert. His experts views on SSB Interview selection procedure will discover the infinite power of light.
How these 10 mistakes you can avoid during SSB Interview
1. Lack of Leadership and Low courage
2. Lack in General Awareness
3. Irrelevant responses in Result Deciding Questionnaire (PI)
4. Copied content in Psychological testing
5. Poor Body Language
6. Discipline
7. Documents check-in
8. Self Introspection
9. Time management
10. Avoid stress
Blunder 1-Lack of Leadership and Low courage
Leaders are person on whom we can trust, who is loyal, who is honest, who has the principles of his life, and who always has a strong faith in him, can be a good leader. Skills that are inherited and purely based on the character of a person.
The Art of Leadership is such a thing that if you understand it, then nobody can stop you in the entire SSB selection. Lack of leadership degenerates the ability of a leader to motivate his subordinates to the high pitch towards achievement of professional excellence.
Similarly, a low courage is a blunder because we are unable to recognize our fear in day to day life and we make new ones that we are afraid of and because of this we ignite them in life, that gradually comes in our personality trait. Due to low courage we have to face rejection in GTO because it is the least renewable and if courage is your job then it is considered least renewable in the army.
When we are in the process of 5 days SSB Interview both these factors can be the reason behind your rejection.
Success Mantra 1- Build Strong Leadership Quality and High Spirited Courage
Blunder 2- Lack in General Awareness
General Awareness is a major factor behind SSB selection, if we take a look at Personal Interview where 95% questions are based on GA. On exam perspective while covering major topic and syllabus we unfortunately ignores GA questions, leading to which we have to face consequences in SSB especially in PI.
What you understand by general awareness has to be polished under an expert scanner who can guide you well what are the general awareness basic questions which you have to mug up while appearing for SSB. Most of the students are not aware about theses important facts about all the information that you fill in the details of your PIQ form. GA includes:
awareness about self
historical, political and geographical background of your native place
about organization you are going to join
about entry, training, rank structure, commands, nature of duty, technical knowledge about your trade job
5 problems of your society
Observation shows that 60% candidates failed to answer such questions like- father occupation, education qualification, hobbies.
Success Mantra- Prepare basic questions related to PIQ
Blunder 3- Irrelevant responses in Result Deciding Questionnaire (PI)
What about those question which are already known before you are going to SSB interview, still you are not able to justify your answer in the board and this is the most negative response you dig into your account for rejection.
RDQ questions set a platform for your selection and rejection and if your answers are logical there you can create pitch with your logical responses and in PIQ you can convince the interviewer.
Success Mantra- Relevant Responses in RDQ
Blunder 4- Copied content in Psychological Tests
Heading to SSB Interview for final days and preparing your answers for Psychological tests. Candidates a point to note by an expert viz.: Copied content with fake projection in Psychological tests is one of the foremost reason behind rejection.
Psychological tests and PIQ readymade responses are exactly similar to borrowed or copied or internet or bookish responses which according to you is yours but exactly it is the fake projection. You can do all this kind of preparation only to satisfy yourself but drawback you will face in SSB interview.
Psychological experts in SSB suggest candidates should not go for a temporary solution as already prepared answers are reflected clearly on your face, which accounts on fake projection to interviewer and he comes to know that your content is fake.
Key tip suggested is simple and elegant tool in its way i.e. develop positive attitude plus effective work has to be done on your own stories and responses (practice more than 500 stories for TAT). You will have to work hard to originate your own stories and responses.
Success Mantra- Practice and Originate your real stories in Psychological Tests
Blunder 5- Poor Body Language
Battle between your conscious and subconscious mind have many time landed you in trouble and if you take a look back into your life you could figure out what it can mean to you in SSB. Take a prompt action to build a bridge between your conscious and subconscious mind.
Subconscious mind weakens the body language of the person and to whom this poor body language makes that candidate uncomfortable in the society and in SSB Interview you cannot hide it.
Facial expression can determine your mood and thinking so one should strive to achieve the state where one thought, speech and actions coincide and thinking is control by our sub conscious mind. Subconscious mind portrays the picture your imaginative thoughts and emotions you are going inside, for SSB candidates a psychological fact plays an eminent part as well – if your mind can conceive it and your hear can believe it then for sure You can achieve it.
Success Mantra- Smart body language
Blunder 6- Discipline
Discipline is essential for personal growth as well as national prosperity, it is life-breath of the armed forces. Military discipline imposes upon the officers and other ranks a certain code of conduct. The code of conduct demand from the officers and other ranks loyalty to the country, a spirit of fellowship and a readiness to cope with an emergency. No army can put up a brave front against the enemy if it lacks discipline. Preparing for SSB than you have to lead a disciplined life
raise in a congenial atmosphere
learn the right values
follow the schedule religiously
do not waste your time in doing other activities that are mundane and have no productivity at all
Success Mantra- Stern and Strict Discipline to be maintain
Blunder 7- Documents Check-in
There are lot of confusion in candidates those are appearing in SSB Interview, regarding the documents required at the time of SSB Interview. Mostly the freshers and final year students are not aware of the documents which are necessary for SSB Interview.
One must read the call letter carefully and follow the instructions mentioned in it, all the important documents which are required at the time of SSB Interview are mentioned in the call letters.
Success Mantra- Read Instructions Clearly
Blunder 8- Self-Introspection
Self-Introspection is key to succeed in SSB interview, a good leader must understand his character. Leadership is the interaction between the leader and the led. A good leader must know and understand both the parties. The human tragedy is such that each one of us feels that he is the epitome of perfection and refuses to look at himself objectively.
Know Yourself. ... To inculcate the officer like qualities in your personality, you need to know yourself, your positive qualities, negative qualities and knowledge about surroundings. The best method of knowing our self is to look inside self in deep silence and asks questions related to us. Our conscience will give us the right answer.
Success Mantra- Know Yourself Clearly and Accurately
Blunder 9- Time management
An officer should know how to manage time and how to plan things. All of these qualities are tested in every round of SSB because each and every round is conducted in strict supervision and time limit.
But still if you are not aware about time management and its role in SSB then you are in real mess. The people who get success differ mostly in this aspect and nothing else. They actually know how to respect time and plan it to their benefit. The secret is no more a secret so follow the simple tips given below and be your own master.
Prepare a road-map of your tasks
Plan your task according to your priority list
Start your task, finish it on time to satisfactorily complete all task
Success Mantra- Put Time Management List always on Check
Blunder 10 - Avoid Stress
Any milestone that opens up a number of options is bound to put you under severe stress. It is no different for SSB candidates waiting for the interview round. Some of the interviewing officers adopt the technique of shooting rapid fire questions on the candidate and some do stress interview where they will push you against the wall by asking difficult questions. In both cases, a weak candidate will show up and a lively candidate will withstand the pressure easily.
There are some measures that you can take to handle stress during this critical time.
Spend some time talking to other candidates around you
Think about pleasant times or your journey to the chair you are sitting on (pleasant thoughts help fight stress like nothing else)
Boost your confidence and tell yourself that if you could crack the written test to reach the SSB interview round, you can get past this as well
Reading something, a book or a newspaper, can be stress busting (it will take your mind off the immediate moment ahead of you and help you relax and improve your focus and concentration as you would need both during the interview)
Success Mantra- Relax and find solutions to your Stress buster
The success is never served nor come by chance, it is truly and particularly all about your efforts, dedication, hard work, determination and many more unaccountable factors. Look into that side of human personality that plays the most prominent role in rejection, mark it and start working on it. SSB selection will come to you no matter how difficult the selection pattern is followed.
Shishir Dixit, Founder Director Of Centurion Defense Academy and a profound Psychology Expert shared his experts views on SSB Interview selection procedure.