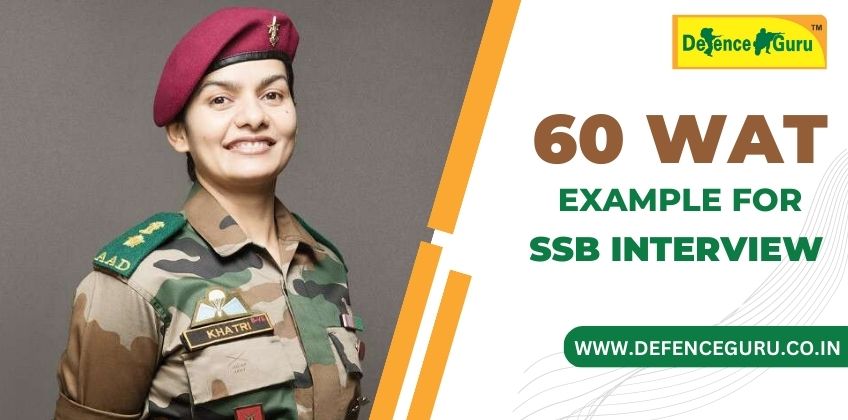 60 WAT Examples for SSB Interview
SSB Interview is a five day interview process where candidates are assessed based on 14 OLQs (Officer Like Qualities). SSB Interview is based on Mansa (Mind), Vacha (Speech), and Karmana (Actions). WAT or Word Association Test is a part of the psychology test conducted on the second day of a five day SSB process. WAT assesses the imaginative and logical thinking of candidates.
The procedure of WAT
In the WAT Test, A word is flashed on the screen and candidates get 15 seconds to write a meaningful sentence. This sentence should include any quote, teaching, or fact.
| | | |
| --- | --- | --- |
| Serial | Word | Sentence |
| 1. | Achieve | Proper Strategy helps in achieving goals. |
| 2. | Freedom | Freedom comes with responsibility. |
| 3. | Honest | Honest People are trusted everywhere. |
| 4. | Impulsive | Impulsive Attitude can be restrained through self-control. |
| 5. | Missile | Missiles can hit long-range strategic targets. |
| 6. | Crowd | Unruly Crowd should be controlled with barricades. |
| 7. | Smart | Practice makes a man smart. |
| 8. | Scarcity | Scarcity increases the value of commodities. |
| 9. | Communicate | Communication helps in overcoming doubts. |
| 10. | Motivation | Patriotic Songs fill us with motivation. |
| 11. | Resources | Optimum use of resources maximizes profit. |
| 12. | Character | A person of good character is respected everywhere. |
| 13. | Alleviation | Alleviation helps in getting a clear view. |
| 14. | Survive | We can survive an earthquake by hiding under the table. |
| 15. | Personality | Regular exercise helps in developing a good physical personality. |
| 16. | Group | Group Activities develop coordination among people. |
| 17. | Catastrophe | Catastrophe comes with an opportunity to show one's capability. |
| 18. | Stamina | Regular running builds stamina and physical strength. |
| 19. | Capture | Black color captures more radiation. |
| 20. | Kidnap | Kidnapping can be reduced by making people aware and alert. |
| | | |
| --- | --- | --- |
| 21. | Rape | Proper justice and speedy trials can reduce the number of rape cases in India. |
| 22. | Imagination | Imagination is the first step in planning. |
| 23. | Boundary | Boundary wall is constructed to protect the assets. |
| 24. | Planning | Tough exams can be qualified with proper planning. |
| 25. | Technology | 5g Technology can be used in robotic surgery. |
| 26. | Design | Design and architecture enhance the looks of buildings. |
| 27. | Gallantry | Gallantry awards are given to brave warriors. |
| 28. | Frequent | Frequent consumption of water helps in sunstroke. |
| 29. | Impediment | Brave people are not afraid of impediments in their way. |
| 30. | Brainwash | Education reduces the effects of brainwashing. |
| 31. | Participate | Participation in extracurricular activities develops talent in children. |
| 32. | Ferocious | Enemies fear ferocious warriors. |
| 33. | Marathon | Marathon is the best place for runners to show their ability. |
| 34. | Alarm | Red Cloth can be used to alarm people about the danger. |
| 35. | Height | Stretching exercises help in increasing height. |
| 36. | Active | Active football players score more goals in football. |
| 37. | Fiction | Fictional books help in enhancing imaginative power. |
| 38. | Farmers | Farmers do not care about adverse conditions to reap their crops. |
| 39. | Ambitious | Ambitious Person finds opportunity in every problem. |
| 40. | Accident | Ambulance should be called by calling 112 in case of an accident. |
| | | |
| --- | --- | --- |
| 41. | Distance | Stamina can be increased by running long distances daily. |
| 42. | Enemy | Surprise attack is a good way to defeat an enemy. |
| 42. | Delay | Delay on roads can be reduced by making people aware of traffic rules. |
| 43. | Business | Planning and strategy take the business forward. |
| 44. | Ugly | Nature creates nothing ugly. |
| 45. | Motive | Men with great motives always think positively. |
| 46. | Attention | |
| 47. | Environment | Use of electric cars will help to solve environmental problems. |
| 48. | Climb | |
| 49. | Pragmatic | Practical people think pragmatically in difficult situations. |
| 50. | Apology | Sincere men apologise if they commit a mistake. |
| 51. | Hiking | Hiking on mountains gives us an adventurous feeling. |
| 52. | Tank | Tanks are the best weapon to capture large areas in a short time. |
| 53. | Terrorism | Education can eradicate the root cause of terrorism. |
| 54. | Avenge | Brave men take avenge by defeating the enemy. |
| 55. | Disciple | Sincere disciples follow the teachings of their teachers. |
| 56. | Pirate | Barbed Wires prevent pirates from climbing on the ship. |
| 57. | Fun | Recreational activities are good ways to have fun with the family. |
| 58. | Festival | Festival brings people closer. |
| 59. | Jealous | Jealous people always stay behind. |
| 60. | Surprise | Surprise gifts bring happiness to Kids. |