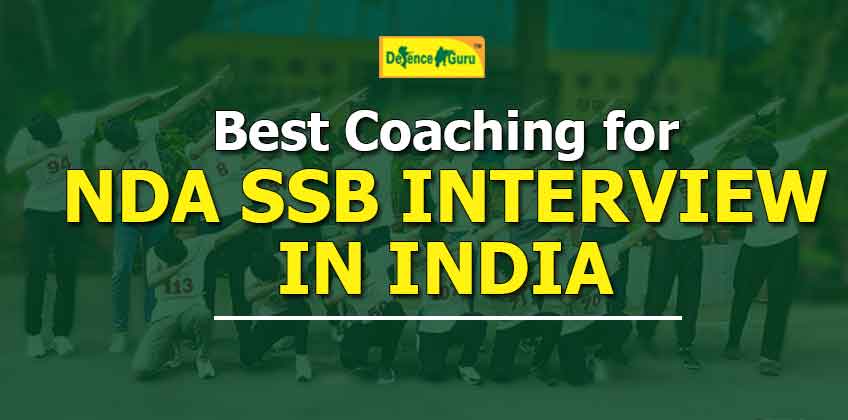 Candidates who are not from defence background or those who have aspiration to serve in defence forces as officers should know what SSB is ?
When a candidate cracked the written exam of NDA then they got an invitation from the selection board. NDA exam are held twice in a year mainly in the months of April and September. Only 2 or 3 times date and month had changed just because of Covid otherwise it never.
What happens in SSB Interview?
Service Selection Board (SSB) which conducts personality and intelligence interviews. Over the 5 to 6 days which scientifically analyses each candidate's potential and capability for commission in the Armed Forces of India.
It's known as one of the hardest interview selections in India. The candidate selection ratio is very low in SSB.
DAY : 0 - Reporting day
You have to submit all your documents to this day
DAY : 1 - screening test
This day candidates are given Intelligence Test.
Then there is the Picture Perception Test in which a slide is shown for 30 seconds. The candidate has to observe it very carefully and in the next minute the candidate has to mark the number of characters seen in the picture in a box made in the sheet provided to them and the main theme of their story. candidates also need to identify one character which they saw first. In 4 minutes a candidate needs to write a story , it is expected that a candidate should write a story in 70 words or more.
DAY : 2 - psychology test
Thematic Apperception Test (TAT) - commonly known as picture story writing
Here candidates are shown clear pictures, in which the candidate has to observe it for 30 seconds and then need to write a story on it.
Word Association Test (WAT) - WHAT is the second physiological test in the SSB selection process.
In this test candidates are shown a word on a screen for 15 seconds. In this time, the candidate has to write the first thought that comes to his or her mind.
Situation Reaction Test (SRT) -
You will be given 60 situations one by one listed on a paper with some space left to write your answer (you guessed it right it is Subjective). The time limit is 1 hour for this. The situations are real life ones so don't worry.
Self Description Test (SD), or a variation of this like description from the point of view of parents, teachers, colleagues, neighbours, etc.
Total 15 minutes are given to write their responses.
Day 3 and Day 4 : GTO Tasks -
Group Testing Officers (GTO) Test
The following tests are conducted in this category :-
Group discussion
Group Planning Exercise (sometimes known as Military Planning Exercise)
Progressive Group Tasks
Half Group Tasks
Individual Obstacles
Group Obstacles Race or Snake Race
Command Task
Lecturette
Final Group Task
Note:Interview :- (Held during afternoon/evening hours on 2nd/3rd/4th day)
Day 5 : Conference -
On the final day, every Assessor and the candidate sit together and have a chat- the fate of the candidate for that SSB is decided by the Assessors collectively there. The candidates are required to appear before the complete Board of Examiners composed of President, Deputy President, all the psychologists, all the GTOs, and Technical Officer.
NOW here comes which academy is better to get your dream come true.
Join Top SSB Coaching in India for Cracking SSB Interview
1. Centurion Defence Academy, Lucknow
Centurion Defence Academy is Best SSB Coaching in India, have the best experienced faculty members who are best in their Field
CDA have our own ground where you can do GTO and Physical test
Here in centurion a team of retired ex SSB president , GTO, physiologist from Army , Air Force and Navy
CDA collect each and every students data so, we can connect individually
CDA provide better interior where students can focus on their study
CDA provide free study materials
Every year almost 10 to 15 students selected for SSB
Centurion Defence Academy are No 1 SSB Coaching in whole UP region
Students whole becomes officer from our academy comes to share their experience
CDA provide Motivational speech
2. Cavalier India, Pune
If you are from pune or from Maharashtra region then you should join this SSB Coaching to crack SSB Interview
They provide ample practice for lecurrete and group discussion on current topics
They use latest technology base on teaching techniques which provides our students unique advantages
They maintain high quality in their training to ensure an unviable success rate
Bach duration 14 days
Hostel free
3. Siegwald Academy, Kolkata
If students is from kolkata or bengal region ca join siegwald academy
they provide 2 weeks SSB Training
Fresh batch of SSB interview starts every monday
Apart from NDA and CDS they provide other government preparation also
4. Cadets Point Defence Academy, Noida
Students who are from noida and want to prepare SSB interview they can join this Academy
They provide hostel facility, free study material, demo SSB interview, medical facility etc.
They have the team of ex examinar of SSB interview
They also launches online classes
5. SSB Coaching Institute, Chennai
Students whore from tamil or chennai region and want to prepare for SSB interview can join this Academy,
Apart from SSB its provide other defence exam preparation also
They provide online classes
They have the best teachers who can lead you to crack SSB Interview
They also provide free Ebooks
Read More About