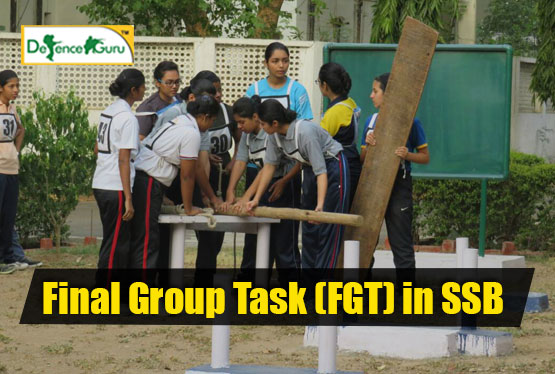 DETAILS ABOUT THE GTO FINALE
All is well that ends well!
GTO starts with Group Discussion and ends with yet another group exercise, the FGT. Elaborated as Final Group Task, FGT is the finale round of GTO and also the final chance to prove your inherent talent.
AIM:
FGT is a replica of PGT and HGT with few modifications. The objective however remains the same as that of PGT, that is, to check:
Your team spirit;
Co- ordination;
Logical ideas;
Confidence;
Active participation;
Calm behavior and harmonious attitude;
Intelligence.
PROCEDURE:
As mentioned above FGT is similar to PGT hence the same rules apply such as:
The supporting materials include wooden plank, rope, wooden log etc.
Candidate has to remain within the allotted area and must not touch the restricted part called as bound area.
Color rule:
structures in white can be touched both by the candidate and the helping material
structures in black can be touched only by the candidate and not by the supporting materials
Structures in red cannot be touched either by the candidate or by the helping material.
Unlike PGT, in FGT there is only 1 task not 4. However the difficulty level of this one task is proportionate to the last one of PGT.
The prescribed time limit is 20 minutes.
It is shorter than PGT
All the 8- 10 members are reunited and have to perform the task together once again.
It begins with GTO's briefing and the display and explanation of obstacles.
Final Group Task (FGT) TIPS
A little guidance always adds support to the performance. Keeping the same in mind here are few significant tips:
Give logical and reasonable ideas
Show good team spirit
Be actively involved in the task
Try to lead the task
Do not be aggressive nor shout at your group mates
Since FGT is shorter so try to be fast and finish the task quickly.
Warning- this task may be a little frustrating. You need to hold on to your patience and not lose your temperament.
Help in carrying the loads rather take the load so as to form a good impression
Do not violate the rules
Make your group as your priority. The task is about individual performance within a group.
Do not look at the GTO while performing the task
Accept other's ideas equally well
Be the motivation of the group
Lastly let your confidence flow amongst all and let the group deliver their best of best as a whole.
The final line of GTO session is drawn by the GTO themselves through a little counseling. Once the FGT is over he lectures the candidates of not loosing hope as some of them might get recommended while others may not. He further invites questions and doubts about SSB to clarify them.
But you, my dear, are already a warrior and warriors don't need counseling. Give your best and forget the rest!