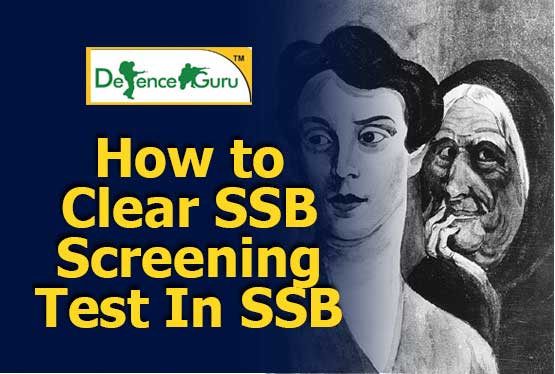 TIPS TO EASILY CLEAR SSB SCREENING SESSION
SSB- one of the trickiest phase of entering Indian Armed Forces!
SSB is often seen as a difficult line to cross. It is a mixture of tests that helps in assessing the Officer like qualities of a candidate. SSB is as 5 day procedure with an aim of probing into the personal, behavioral, physical, and academic details of the aspirant.
The 5 days are divided into various tests while the first day is dedicated to the screening session. In this article I tend to throw light upon how to smoothly succeed through the screening round.
The very first day of SSB is also called screening session because herein candidates are selected to proceed further and those who are not included in the list have to leave on the same day, which is also termed as screening out.
Furthermore the screening session comprises of 2 tests: Officer Intelligence Test (OIR) and Picture Perception & Description Test (PP&DT).  
OIR is a set of certain verbal and non- verbal questions. The marks scored here are crucial for forming overall merit as well as for getting recommended for Phase II. The questions are average in nature and can be easily solved.
PPDT on the other hand is a test of one's intelligence, imagination and narration. Herein candidates will be shown a hazy picture on the projector for up to 30 Seconds following which the candidates will have to draft a story. Time duration allotted to draft the story is 4 minutes after which small groups of applicants are formed. Each applicant will first narrate his story in 1 minute time after which all the group members will together discuss and come to a common story.
Considering both of the above, here is a list of important tips:
Carefully observe the picture shown in PPDT test and form a realistic story not a fancy one.
Divide the time intelligently for observing, noting and writing the story.
Include all elements of the picture in your story such as characters, moods, age, sex, place in your story for which you need to brush up your observation power.
Try to depict your OLQs through the story.
When it comes to narration, be clear and audible in your speech.
Avoid looking at the Officers while you discuss your story with the group mates.
Give equal chance to your group mates.
Do not be aggressive and rather maintain your patience.
For OIR test get a good hold of vocabulary building and logical reasoning.
Some beforehand practice of both picture composition and reasoning will aid you in getting screened in.
With the above tips I hope you feel positive of cracking the screening session of SSB interview. Keep your confidence level high and get screened in!
Read More About Is English Compulsory For SSB Interview What Are Psychological Tests In SSB Interview Tips to clear screening test in SSB