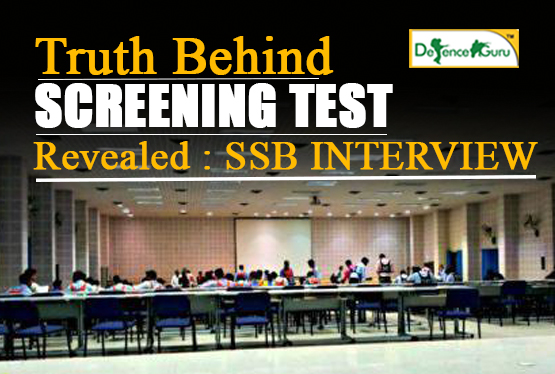 TRUTH BEHIND SCREENING TEST EXPOSED
Jai Hind SSB Professionals and young aspirants! Climbing ladders in academics but swamped with unending hurdles in practical exam? Well that's what we call SSB my dear!
SSB is a versatile portion with scientific methodology to assess officer like behaviour (OLB) within stressful scenario. PP&DT is one knock-out round of Day-1, screening session which is also known as process of elimination or mini SSB. Now let's talk about the truth behind picture perception and description test. Ever seen an iceberg?Human mind is a replica of an iceberg, with more than half of it submerged as subconscious that constitutes memory, desires, thoughts and emotions even unknown to us.
Screening test consists of OIR and PP&DT.To get sure success in very first attempt, the secret behind this process of assessment needs to be explored.In this article, I'm going to reveal its official procedure, method, parameter of selection and do's and dont's. So read this article till last and also share it with your buddy SSB aspirants. In case of any query,feel free to share through comment box or WhatsApp on help line no-9795977776 and get immediate solution.
Talking specifically about picture perception and description test (PP&DT), I am going to spill some secrets that can up your scorecard:
◙ Before delving further let's clear the concepts of PPDT (Picture perception and description/ discussion test) and TAT (thematic apperception test). It is surprising to see the unjust and irrelevant content provided by top markets and coaching. Neglecting the essential differences and notions of PPDT and TAT, these materials lend cheap, incomplete and degraded information. Hence I bring exclusively for you a detailed and standard content about the nuances of PPDT and TAT:
| | |
| --- | --- |
| PPDT | TAT |
| ►Test of state of consciousness | ► Test of imagination+ major test of sub consciousness+ minute test of unconscious mind |
| ► The slide is mostly clear or semi hazy | ► The slide is blur or hazy |
| ► Relevancy quotient matters a lot so draw conclusion by using resources/no. of characters and background from the slide | ► Relevancy quotient is comparatively less important as there is more importance of imaginative power+ life exposure+ long term based theme |
| ► Use of rectangular box where you need to fill characters, it's mood, gender and age (gam rule- gender, mood, age) | ► No box used as number of characters, age and mood may or may not clearly visible |
| ► Observation+ analysis= perception | ► Observation+ analysis+ life exposure/ experience= apperception |
| ► It analyses your ability to perceive; your mental grasp of objects and qualities by means of senses; your awareness; and your comprehension | ► It is a process whereby perceived qualities of an object in relation to past experience or opportunities are analysed |
Derived from the name, in PPDT test candidates need to observe the picture, perceive it and then discuss it. Wait up, there's more to this simple explanation:
► RESPONSIBILTY: The three central people- IO, GTO and Psychology Officer's are liable to conduct the PPDT.
► WHY THREE? You must be wondering why three officers carry the whole process of PPDT. Well the cause goes something like:
► Role of psychology officer: He carries out the briefing part of PPDT which is lined up just after the OIR test. At the time of narration his duty is to assess the content for ideas (theme, action of the hero n thought process n approachability of hero n relevancy of the shown picture). Accordingly he gives his remarks
► GTO- During PPDT narration he observes the candidate's group behaviour, cooperation, adjustment, operation level within the group, ability to influence the group and his liveliness.
► IO: IO can be president or deputy president of the board.He observes power of expression(eye contact, voice modulation),non-verbal communication, confidence, dressing sense and appearance in the group.
► ASSESSING FRAMEWORK: The pattern of assessment of these assessors (officers) is as follows:
They give 1 out of 3 sign to the candidate: Y-yes, N-no, andD- doubtful. Later the signs given by all the 3 officers are combined and the final result is declared.
► EXPECTATIONS FROM FRESHERS AND REPEATERS: Ladies and gentlemen now put all your myths aside and read it carefully. Assessors have different level of expectations separately from freshers and repeaters. Here it is important to understand why separate batches for freshers and repeaters are being constituted. It is my personal guidance that as a repeater, performance in story writing, narration and GD, content of story and statement of discussions must be specific and meaningful. As a fresher candidate certain traits are highly expected such as group behaviour, story planning, confidence and gratitude. As a fresher, your hidden spark must be reflected in the form of above mentioned traits. However, as a repeater,accountability of each sentence during story drafting, narration and discussion is highly expected.
► THE OIR EFFECT: An unknown fact when it comes to PPDT is the influence of OIR, that is, the officer's intelligence test. The OIR occurs just before PPDT in which officer's intelligence rating is given rating between 1 and 5. The rating remains constant for all 5 days and predicts the candidate's performance as per that rating. Generally the selection is made up to 2- 3.5 OIR. Most importantly the OIR referred for PPDT must match the performance in PPDT else it will pose a risk of disqualification.
► REQUIREMENT: You are required to lend correct evaluation of number of characters, age and mood; and fill it inside the box.
► PURPOSE: Herein the aim of SSB panel is to judge your perception, thoughts, emotions, attitudes, beliefs, practical intelligence, logic, reasoning, utilization and identification power of the resources, social attitude, confidence, and communication skills.
Bottom line: it's a lump sum of all you have got!
HOW: The procedure of PPDT goes something like this:
◙ The crux given, it's time to grab some pro tips:
How to perform well in writing story:
♦ Commencing with observation of picture, quickly retain number of characters, mood, gender and age (GAM rule). Add to that,analyse the course of action, probable future and the end.
♦ Don't inject your own imaginary elements in the picture as it is PPDT not TAT. Pen down a relevant story based only on what is shown in the picture.
♦ Impress with your first! That'sright, your first sentence is a miniature of whole story so make it impressive.
♦ Interested in bollywood? Oh yes you are. Being an Indian, it's hard to resist bollywood . So if you are familiar with the world of movies and t.v. series then just incorporate some of its tactics in your story. Add a crisis/ challenge/task/vision -use innovative ideas - give a moral touch to story.
Planning, action and approachability of hero must reflect problem solving and Officer like behaviour (OLB) through your story.
♦ Try to use a character similar to your gender and age(Hero identification).
♦ Stay within limit. Graph your story in 100- 120 word as per the following format.
PPDT story writing requires
How to perform well in narration:
◙ All is well that ends well! So end your narration on an optimistic note.
◙ Be clear in your narration and complete in 55- 60 seconds. Start with an introduction as per the instruction where initially some points need to be covered such as number of characters observed, age, mood, gender and action of the story.
◙ Use time code, that is, past- present- future.Use sentences just like a radio telephonic conversation between pilot and controller. Objective of giving this example is to convey you that frame sentences precisely by using minimum grammar and other words. Then only you can complete your narration within stipulated time, i.e., 55-60 seconds.
◙ Feel free to speak your mind. But, but, but… your points must be absolutely relevant, valid and in context to the picture. Don't indulge in anything extra or unnecessary.
◙ Don't stammer during narration. Mere 2 or 3 stuck during your narration may spoil your performance. Do atleast 10 Practice's in front of mirror with stopwatch to enhance your 'power of expression'.
◙ To overcome this kind of haphazard movement, candidate should immediately say 'sorry' or 'correction' with positive gestures and making proper eye contact with group members which reveals an honest confession by the candidate.
◙ An effective narration always demands quality of suitable words, regular speech modulation and appropriate tempo in voice with controlled non-verbal expressions.
◙ Tactful approach means assertiveness in expressions often leads to good result.
◙ Once you complete your narration, always say 'thank you friends' or 'thanks for listening' with mild smile on your face and also avoid assessor's command 'NEXT' which will be usually be given if you exceed more than 60 seconds and your narration does not finish. So practice to finish it within 50-55 seconds.
◙ However, when assessor receives your idea even before 60 seconds, he may say 'next' so saying 'next' by assessor even before 60 seconds is not always negative.
How to perform well in GD:
◙ Try to be the first candidate to initiate the discussion or at least be among the early speakers.
◙ Focus should be on speakers,not on officials as the prime rule itself states that you should not wish the assessors nor look towards them.
◙ Confidence is the magic wand here. Shed off hesitation and be confident.
◙ Give a fair chance to others+ don't be aggressive+ keep up a mild smile!
What and how to perform in conclusion:
After completion of group discussion the assessors will instruct you in the following manner: "Well gentlemen now any one of the group members may give the common group story."
◙ Here do not act below power and don't stand up all of sudden without group discussion.
◙ You may deliver common group story by taking group decision for you.
◙ Here candidate should work into his group expressions psychologically and take group members into his favour by the virtue of quality narration, impactful discussion and tactful group behaviour.
◙ It is suggested that if already you have performed extraordinarily into narration and GD phase, then keep calm and don't be impatient to give conclusion. Let the group decided and follow accordingly.
If your group has decided that you should conclude then follow this pattern:-
"Thanks for giving me the opportunity to conclude the group story.Our story goes like this…………….."(Continue your story).
Cover all points as discussed by group members and give same name to the hero as it was in your story.
◙ Don't be rigid with your story.
Hope you have got a clear- cut idea of PPDT. On a side note, don't burden your little mind with anxiety for future. This exam is a game of your on- spot action and presence of mind. So be spontaneous, and don't forget to follow the above!
All the best!
By,
Shishir Dixit
Director
Centurion Education Pvt Ltd
Author is SSB expert (Psychology), Motivational speaker & Air Veteran.