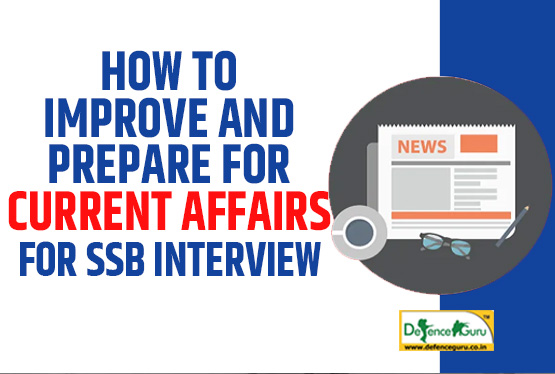 The SSB is basically a test to check whether you have it in you what you call to be worthy of being an 'Officer'. Thus, to check whether or not the candidates possess the Officer Like Qualities, a 5 day testing trial is put into action wherein the candidates are tested under various parameters assessing your personality traits, you on the grounds of team spirit and leadership, communication, confidence, physical stamina, sociability, intellect, etc. and General knowledge/awareness . No doubt General knowledge/awareness has a very pivotal role in this. A good hold on all the current ongoing events of in and around the world adds that extra confidence giving that extra edge to your personality making you aware and thus, helping to form a good impression. Not to forget the Group Discussion and Interview rounds relies heavily on General Awareness thus, making it all the more important.
The hitherto question arises How to maximize your General Awareness? Well the suggestion list for this is endless but it is imperative to prioritize the importance of pressing events of in and around the world in the most ludicrous manner. Let's have a look at how to do the same-
Reading newspapers-There is no better way in concentrating upon the essential news if it would not be reading newspapers making it the best source of current affairs available but it is very important to be consistent of developing a habit for the same with a good choice of the newspaper as well and it is must be to focus on the quality of the content which is relevant, genuine, informative and useful so as to increase your general awareness.
E- media- Undoubtedly this is the 21st century wherein you have a plethora of opportunities as whatever be it big or miniscule everything is available on the click of your fingers, i.e. the online interface so use this to your advantage by subscribing to a good news app or the various news channels available and use the notifications too so that you are never amiss of the national as well as global happenings.
News Content- By this term it is implied that it is very important to actually have a look at what is the quality and type of information that would actually be fruitful in regards to your goal which is improving your general awareness. The awareness should not only focus on national and international activities but news related to bordering nations especially Pakistan and China , Defence and Defence updates, Economy ,various economic schemes and plans, the budget, population census, introduction of latest technologies and equipments, etc.
Awareness about the nation- To be aware of the current and ongoing events and being informative is very good but having a good grasp of all the national activities is also very important, all the pressing activities related to the current happenings in your nation, the recent thorny issues, the facts and figures, the historical background, the geography and topology of your nation, the economy and polity, famous events and personalities, achievements, awards and honors, etc.
Personal, regional and native knowledge- An officer's prime quality is that he is aware about himself and vigilant of his surroundings therefore, a concise awareness of all the aspects and spheres is the prime objective so apart from being aware of the national and international activities it is also required or may be the candidate can be asked in general about his native/ residential place or his city, adjoining city, his nation etc. Questions can also pertain from the career choices the candidate is delving into therefore, preparation for the same and understanding of the situation and not just grasping knowledge should be the prime focus.
Making notes and reminders- It is always advised to make notes and reminders whenever you prepare for anything because obviously the human mind though has the power to retain innumerable things tends to miss out on a few things as well therefore, if you jot down things and make a note of the same whenever you forget something, you can easily retain and memorize the same by giving a quick glance of the same and believe it this exercise is really fruitful and always comes in handy.
Now that you have the easy hacks available above, you can easily assail out in excelling with having a command over your General Awareness and also in proving your understanding level and intelligence while your assessment . Continue brain storming and researching by digging deep as much as you can so as to make your viewpoint clear by having a grasp over your interpretation skills. All the Best !!!!!