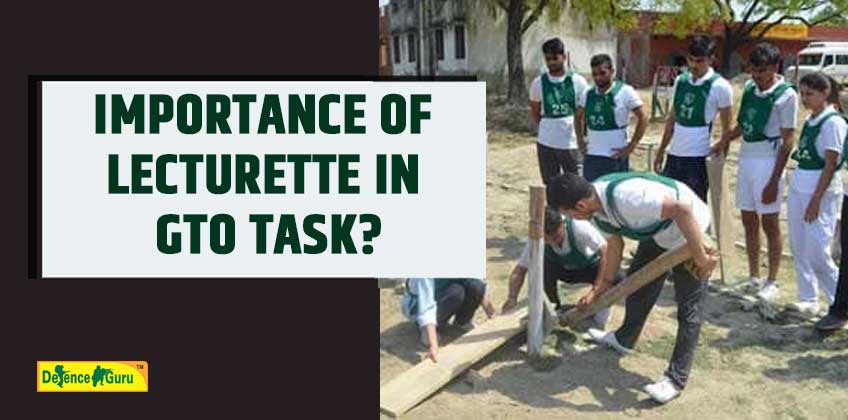 Candidates, Lecturette is a small talk Which Judges your capability to express yourself in front of the group. In this task GTO has a set of Lecturette cards with him, each card has four topics written on it. Each one of you has to pick up a card and move to some distance and prepare on any 1 topic among four topics for three minutes and then come infront of the group and then deliver the talk for 3 minutes.

The candidate wearing the first chest No in your group will pick up a card and move to some distance and start preparing, after 2.5 minutes GTO will give a Single bell to tell the candidate that half minute is still left and soon as 3 minutes are over, GTO will give double Bill and that chest Number will move to GTO give him the card, tell him the topic on which he is going to give the talk and then the Candidate will came in front of the group and start delivering the speech, at the same time the next chest number will pick the card of his choice and move a little distance away and start preparing. After 2.5 minutes GTO will give a Single bell which will Signal to both chest Number that half minute is still Left and as 3 minutes are over the first Candidate will sit and the candidate who was preparing will start giving the talk. And next candidate will pick the card and go to prepare and the process continues till the last candidate gives his talk.

Mean While When first candidate is preparing. GTO will ask you for a small introduction of yours in just few points before he starts Lecturette, in that he might ask you tell following similar points
Name
Where are you from?
Hobbies
Parent's Information
What are you currently doing?
Some guide Lines to perform properly in Lecturette
What topic you choose out of the four does not matter, Actually the topics are divided into 3 categories
(i) Higher Order Topics (HOT)
(ii) Average Order Topics (AOT)
(iii) Lower Order Topics (LOT)
In each and every card you will find one Higher Order Topic (HOT), two Average order topics (AOT) and one Lower Order Topic (LOT). You may choose any topic whatever you want, but you must provide valuable knowledge on that topic. The data and content must be accurate.
Speak loudly and with confidence, even if you do not have so much knowledge about the topic. Youmust provide the general Knowledge regarding the topic.
Stand straight and Keep your arms behind while you deliver the Lecturette. Do not move your legs ormake any Kind of useless head action.
Use hand movements as least as possible
Look into other candidates eyes. Do not look down on.
Some Important Topics for Lecturette
(1) Population Explosion
(2) Pollution
(3) Water Shortage
(4) Global Warming
(5) Non- Conventional Energy
(6) Disaster Management.
(7) Unemployment
(8) Drug abuse
(9) Female Infanticide
(10) Educating a Girl child
(11) Child Labour
(12) Reservation system of India
(13) Single parenting in India
(14) Medical tourism
(15) Freedom of Press
(16) Role of opposition in Democracy
(17) Judicial Reforms
(18) Role of Media
(19) NPT & CTBT with respect of India
(20) Uniform Civil Code
(21) Missile development in India
(22) River water Dispute
(24) Women Reservation Bill
(25) Indo – Pak Relations
(26) Indo – china Relations
(27) Kashmir after Abrogation of Art 370.
(28) Indo- Us Relations
(29) AFSPA
(30) Naxal Problem
(31) Women Reservation Bill
(32) Use of drugs in Sports
(33) Right to Information (RTI)
(34) Right to Education (RTE & art 21-A)
(35) Juvenile Justice Act. (JJ Act)
(36) POSCO Act
(37) CPEC – A Threat of Indian Sovereignty
(38) Disaster Management in India
(39) Division of States in India
(40) Artificial Intelligence.
By,
Yash Tripathi
Senior Faculty
Centurion Defence Academy