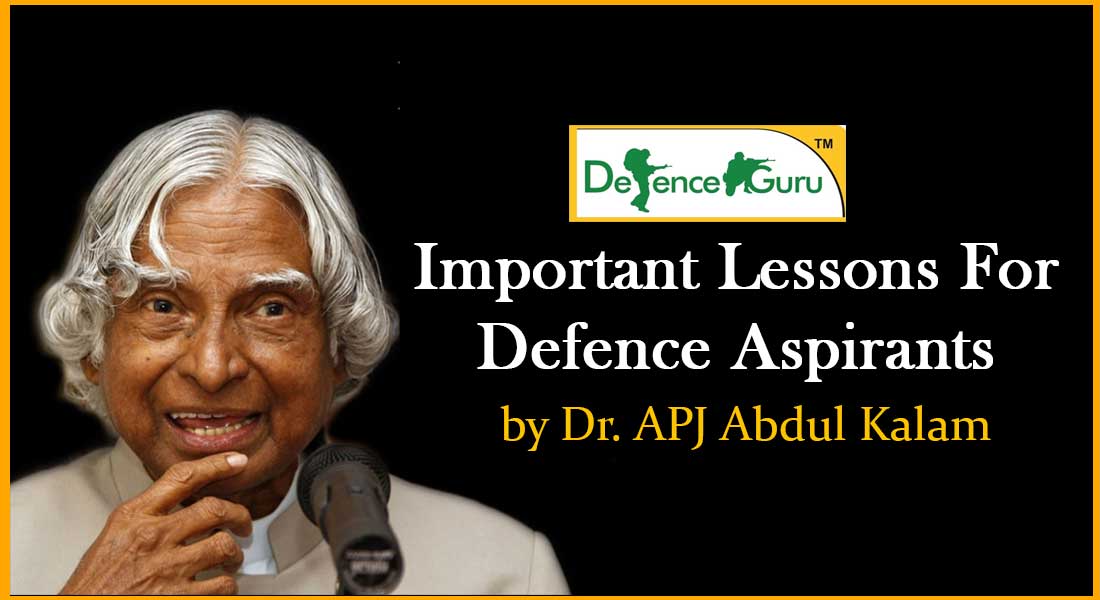 Dear Aspirants,
I thought to take you towards the sincerity level of Dr. APJ Abdul Kalam which he had while he was in his academic years and further also he kept on excelling in professional career. The life of Dr. Abdul Kalam is the best showcase of sincerity and hard work. Dr. Abdul Kalam was born in 1931 in Rameswaram in Tamil Nadu. He was very sincere for his work from childhood only. He studied, became an aeronautical engineer from Madras Institute of Technology and involved himself in research and development. He spent four decades as Science Administrator at DRDO (Defence Research and Development Organization) and ISRO (Indian Space Research Organization). In 1997, he was awarded "Bharat Ratna" for his good work. He became president of India in 2002. This all he could do because he was very sincere at his work.
There is a book "My journey" written by Dr. Kalam. In this book he has mentioned the experiences of his life. When his father used to built boat, young Abdul used to watch making that. He used to think how long pieces of wood were shaped into a boat. "I [later] learned how to make rockets and missiles," he wrote, Boat-building also brough Ahmed Jalalluddin, a cousine into his life. "He spoke to me about scientists and inventions, literature and medicine...my mind began to form ideas and ambitions."
His father was a boatman, who took passengers from Rameswaram to the holy island of Danushkodi. Once, a terrible cyclone hit the coast and the sea took their boat away. But his father stayed calm, and went about building another boat. In 1964, another cyclone struck and broke a part of Danushkodi. His father lost his boat again, but built another one. Later, while working on building SLV rockets, and when it rained during the rocket launch, Kalam recalled what his father had said: "The only way to survive is to face your troubles and rebuild your life."
When he was eight, Kalam decided to work. He had math tuition from 4-5 a.m., and Arabic class from 5-6 a.m. Then he would run to the railway station to collect the bundles of newspaper that came in the train and distribute them in the town. He would head home to get ready for school. In the evening, he collected the money for the paper distribution and did his homework. His work taught him to calculate distances, amounts and the importance of being on time.
Once his professor at MIT rejected his project design and gave him just three days to come up with a new one. Kalam worked hard and finished it before time. His professor called it outstanding.
"That day I learnt two lessons — a teacher who has the students' progress in mind is the best possible friend... And there is no such thing as an impossible deadline."
Kalam wanted to be an Air Force pilot, but decided to become a scientist when he wasn't selected. He put his heart and soul into it.
On Chidren's Day, 2007, Dr. Kalam launched Billion Beats , an e-paper for children. Read it at www.abdulkalam.com.
Sometimes, we are counselled a lot to be sincere but we often think that it is not the part of our track. That counselling sounds it to be of different track and no matter who counsels us, we are least bothered. One should understand the meaning of sincerity. Sincerity means doing the required work at the specified time with positivity. If we fail to do that work on the required time, the work done may not be of any use.
Seeing the competitive scenario, it has become necessary for each student to be sincere in studies. If that student is not sincere, he will have a reason of repentance whereas it does not happen with the one who does his work sincerely.
All exams of defence services NDA, CDS, AFCAT, MNS see the sincerity level you have for all the subjects. This is the reason the syllabus has involved all the topics and the one who is sincere will excel in it.
Basically carelessness comes due to comfort zone we have created around us. If we try to come out of it, perhaps we shall not find that it is lacking. So let's make important remarks in our efforts from the life of Dr. APJ Abdul Kalam.
By
Aditya Dubey
HOD (English and Interview Skills)
Centurion Defence Academy
Alambagh Branch, Lucknow