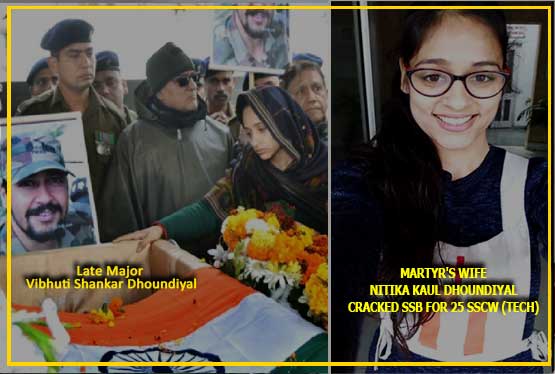 Meet Martyr's (Late Major Vibhuti Shankar Dhoundiyal) Wife Nitika Kaul Dhoundiyal, Cleared SSB For 25 SSCW (Tech)
A wife of a martyr Major Vibhuti Shankar Dhoundiyal, who has served his motherland untill his last breath is joining an Indian Army. Major had exhibited unparalleled valour and exceptional leadership qualities in various operations. Now his wife has joined his husband legacy, Nitika Kaul Dhoundiyal after his husband sacrifice has decided to serve for her motherland as well.
Keeping up the spirit of her husband, she left everything behind and started her preparation for SSCW (Tech) technical entry. Her courage and strength paid for her, she has cleared SSB Interview, 2020 for SSCW(Tech) 25 technical entry in Nov 2019. Aspiring wife of Major, Mrs Dhoundiyal has successfully cleared everything at one go with her SSB interview and medicals from SSB Allahabad and is ready to join the Officers Training Academy, Chennai for Indian Army.
A working professional in TCS holds well acclaimed academic degrees as well which include a post graduation degree in MBA had specialized in marketing and operations from UBS Panjab University, Chandigarh and engineering graduate in ECE from Manav Rachna Faridabad.
Major Vibhuti was deputed to serve with 55 RR battalion in 2019, deployed in J & K for counter insurgency operations. Following the terrorists attack on 14 Feburary in Pulwama, the security forces received input about the presence of terrorists in Pinglan village of Pulwama district on 17th February. The assault team was being led by Brigadier Harbir Singh himself and Major Vibhuti was part of the team. The terrorists opened fire and the 20-hour gun battle had claimed the life of Major Vibhuti. He was a valiant soldier and a fine officer who led from the front and laid down his life in the service of the nation, following the highest traditions of the Indian Army. Following Major Vibhuti footsteps his wife Nitika Kaul Dhoundiyal, is ready to join Indian Army displaying her bravery and unparalleled courage towards her motherland.
Heartiest Congratulations to #Nitika_Kaul_Dhoundiyal, for HER success in #SSB Interview. She is wife of #Major_Vibhuti_Shankar_Dhoundiyal who sacrificed his life for the motherland! Nitika Kaul attended the SSB interview for SSCW(Tech) 25 technical entry in Nov 2019 and cleared her SSB interview and medicals from Allahabad. Her Journey and success is an inspiration for all the Indians specially #Defence #aspirants in India ! As an #organization and a community, we cherish her wonderful efforts. She has worked hard to accomplish this goal to pay homageto her martyred husband. She stands as an inspiration and motivation to others who are struggling to achieve a similar goal. #FEEL_PROUD_TO_SHARE

A post shared by Centurion Defence Academy (@centuriondefenceacademy) on Feb 21, 2020 at 5:03am PST