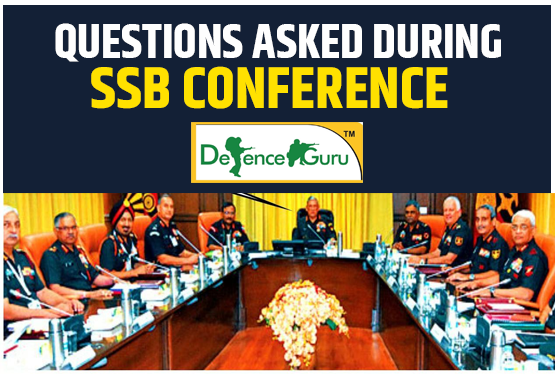 SSB Interview Conference Experience of NDA-145 Recommended Candidate
Innumerable SSB Interview aspirants wish to know the questions they would be liable to face or just get an idea as to what happens during the last day of SSB, i.e. during the SSB Conference. Well the Conference in SSB takes place on the 5th day of SSB Testing, particularly in which all the assessors of that particular Board including the President and Deputy President who are present to discuss and prepare the results of the candidates in the five days of SSB Testing sit and decide upon the fate of the candidates- to decide whether they are eligible to join the Armed Forces or not.
The prime objective of the conference is basically to arrive at a consensus related to the candidates. Each and every candidate's performance is discussed at length before their arrival to the conference room. It is a possibility that some assessors cleared you for selection and some did not. In this case, some situation based questions are asked which may relate to that test or may be from the areas that you lack or are weak at. The assessors discuss your positive points as well as weakness and finally reach on a unanimous consensus.
Here, we have tried to familiarize and bring forth you the expected and relatively unexpected questions that are asked during your Conference through the experience of Recommended Candidate, Ravi Prakash Yadav who has been recommended for NDA 145 from 24 SSB, Bangalore. Let us ponder over the same-
5 Important Pointers to keep in mind-
As per Ravi, there are certain things which he himself mentions are really important before you reach the conference room-
- To dress well in formals and wearing your chest neatly.
- To wish the person in front of you as soon as you enter the room mostly the IO takes the conference but sometimes some other person from the Board like the President may end up taking the charge, as faced by me because my conference was taken by the President whom I wished straight as I entered.
- To control your nerves, keep your mind in control and to stay calm and composed as well.
- To be focused and to listen questions carefully and answering them in an audible tone.
- Lastly to prepare for questions which are utterly unfamiliar and unexpected during the interview, as I was asked before entering the Conference room that what was I doing out- to which I had replied I was sitting outside with my eyes closed to which again they encountered back as to what was I doing with my eyes closed and I replied that I was praying and meditating as I have a habit to do meditation so was concentrating my focus. After which my conference started so just use your common sense and be prepared for almost any type of question that can be asked from you.
Questions Asked in SSB Interview Conference
Well, first of all the things since I had an inclination towards sports which was evident in my PIQ, I was made to answer questions related to that which were I must say definitely relevant to the sports as well as were contextual along with that I was asked certain offbeat questions, my inclination and passion towards the defence forces, certain learnings from my SSB experience and the general questions-
Ques-You have played cricket, football, hockey and you were the captain as well so mention your favorite sport?
Ans- I answered Football as my favorite sport.
Ques- What is corner kick in Football?
Ans- I explained what is corner kick.
Ques- Is the ball straight or curve in corner kick?
Ans- I replied as curve.
Ques- As per the Law of Physics applied in corner kick, what is Bernoulli theory?
Ans- I explained the principle.
Ques- Explain the Application of this principle.
Ans- I answered it has its application in aviation and is used in airplanes.
Ques- What is the name of the effect that causes a spinning object to curve as applied in corner kick?
Ans- The answer to this question was not known to me and I was hinted also that the same effect begins with an 'M word' but I had no clue of the same to which I was explained that it is called as the Magnus Effect.
Ques- What was your toughest challenge in your entire sports career?
Ans- The toughest challenge in my entire sports career was when I played Hockey at the District Level against many professional sports college teams including the AMC and being the Captain of my team we lost from 10-0 and this entire event was covered in the newspaper and I was much criticized for the same but again I played the same sport at my Inter School Hockey Level and I won by 2-1 and even was awarded with Man Of the Match Title and I was really happy so this phase from being defeated to winning as well as gaining my confidence was my toughest challenge.
Ques- Mention 5 uses of pen apart from writing.
Ans- Firstly, I said the other day while we were having our GTO Round, I helped one of my fellow mate with Chest No-11 with his 'Nara' of his lower which went inside the loop so in taking out the same I used a pen.
Secondly, while playing football at times, the refill of the same pen is used to fill air in the football. And soon after answering the same I was rolled out with another question and stopped midway.
Ques- What if we do not recommend you this time and you do not make it up to the final selections?
Ans- I replied that this is my fourth attempt and I have worked really hard and want to go through this time and have seen the change in myself from working upon my shortcomings and conquering my mistakes as well. Recently, on 4th of December I was selected for BIT, Jhansi but I denied the same as I was head bent to clear my NDA this time and as my father motivated me, I was confident so my only whole sole motivation was to clear NDA and get in the Defence Forces.
Ques- Immediately, I was asked I have come from Lucknow to Bangalore, what was the approximate distance?
Ans- I replied as 700 kms.
Ques- The total time that took you to reach the destination?
Ans- I answered as 2 hrs and 25 mins approximately.
Ques- What was the speed of the train?
Ans- I paused and requested for 2-3 minutes and calculated replying the same.
Ques- What were the learnings from your SSB experience?
Ans- I shared my entire SSB Experience and my previous year's failures and how I managed to pull off the same conquering my weaknesses and how confident and strong I have become.
Ques- How was my stay during the 5 day period?
Ans- I shared my experience that it was very good. I met really good people here and made a lot of friends also during my stay. Learnt many new things from here, discipline and the whole environment was really challenging and inspiring and gave me many things to learn. The mess and cafeteria time was really memorable.
With this my Conference round ended after a 15-20 minute of rigorous discussion and soon on the Result Declaration Day I stood there proudly as being one of the recommended candidates.