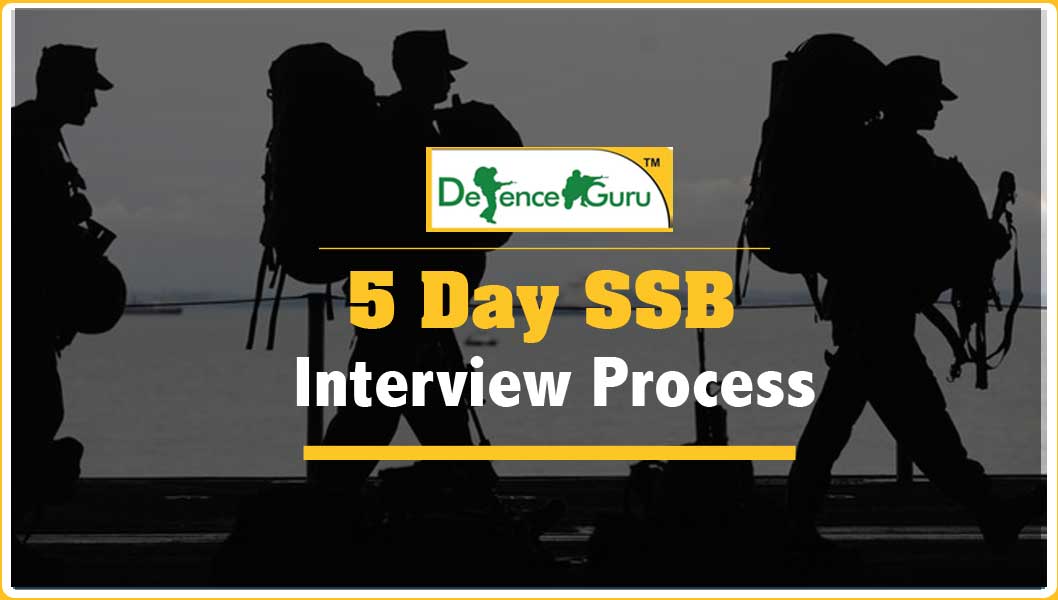 SSB Interview Procedure
SSB (Service Selection Board) is an organization which is set-up by the Ministry of Defence, India. Service Selection Board is the body that schedule, organize and conduct the SSB Interview of the candidates applying for Indian Military Forces. SSB Screens the candidates for the Army, Navy and Air Force.
If you want to become an officer in Indian Army, Air Force or Navy, you must crack the SSB interview. SSB interview is a 5 day Procedure to test all Officers Like Qualities in candidates.
How to Qualify for SSB Interview
There are two ways to qualify for the SSB Interview:

1. By applying and qualifying in the following entrance examinations:

National Defense Academy & Naval Academy examination (NDA & NA Exam)

Combined Defence Services Examination (CDSE)

Air Force Common Admission Test (AFCAT)
2. By applying for various Army, Air Force and Navy courses and qualifying to get an SSB interview call letter. For the following courses, direct SSB interview call letters are issued after shortlisting the candidates according to their academic marks :
- Technical Graduate Course (TGC)

- Tech Entry Scheme (TES)

- Joint Advocate General (JAG)

- Technical Short Service Commission courses - SSC Tech

- Non Technical Short Service Commission Courses - SSC Non Tech

- NCC Special Entry Scheme

- University Entry Scheme (UES)

- IAF's Meteorology Branch Course

- Navy's Executive and Technical Branch entry

- Navy's Pilot/Observer entry

- Navy's Education Branch entry
The candidates then fill up a form to enroll into the SSB interview on the official website. Before applying, it is important to check what courses you're eligible for. To gather a better understanding of how to join the Indian Army, check Join Indian Army/ Eligibility. Then, go to joinindianarmy.nic and login. Then you can apply and enroll yourself in area of your choice.
The SSB Interview continues for 5 to 6 days depending on the type of SSB Interview.
Reporting Day
On this day, candidates have to report to the selection center. Candidate's original documents along with photocopies will be verified. After the documents verification, Personal Information Questionnaire (PIQ) Forms will be filled.
PIQ Forms: In this form, candidates have to fill their personal details regarding educational profile, family background, etc. This form is very important. It forms a base of questions, which might be put to an aspirant at the individual interview round. The responses will be analyzed by the psychologist of the Board.
SSB Interview Day 1 - Screening Test
OIR Test (Officer Intelligence Rating):
This will be the first exam of the SSB Interview, consisting of two booklets. This exam will include General Aptitude, Verbal Ability and Non-Verbal Ability, where candidates will be given 17 minutes for each booklet.
Picture Prescription Description Test:
Followed by the OIR test, there will be a Picture prescription description test which consists of story writing and description.
Candidates will be shown a picture for 30 seconds and will be given around 3 minutes to write a story description based on the picture. After writing, every candidate will have to narrate their story in turns.
Group Discussion:
After story narration, there will be a GD round. Candidates will be divided into sub-groups of 12-15 members.
At around 2 pm, the results of Day 1 Screening of SSB Interview are declared by calling out the chest numbers. The number of selections for Day 1 would be 30 out of 300 based on previous statistics. With this, Day 1 of SSB Interview ends.
SSB Interview Day 2 - Psychological Day
On this day of SSB Interview, psychological tests are conducted to check the candidate's mentality and suitability to become an Officer, through a series of projective tests. Candidates report to the Examination Hall at around 8 AM in the morning.
WAT (Word Association Test):
The first test of the day will be WAT. Candidates will be shown 60 words back to back. Each word stays on the screen for 15 seconds, during which the candidate is required to write a sentence which pops in their mind when they see that word.
The candidates must do the same with 60 words without any pause in between.
TAT (Thematic Appreciation Test):
There will be 12 pictures shown (including a blank picture at last)
The pictures will be hazy and will lack in clarity, as they want to understand the candidate's imagination and interpretations.
Each picture will be shown for 30 seconds and the candidate will be given 4 minutes 30 seconds to write a story based on the picture. Likewise, this process will continue every 5 minutes.
Read - TAT TIPS FOR SSB
SRT (Situation Reaction Test):
A booklet which includes 60 situations will be given. Candidates are supposed to write a response to those situations. The time allotted will be 30 minutes.
PD (Personal Description):
Candidates are supposed to write a personal description based on opinions from parents, peers, enemies, etc, and also what they think of themselves and the qualities they would like to develop. Time allotted will be 15 minutes.
SSB Interview Day 3 and 4 - GTO
These 2 days will include Ground Task Obstacles (GTO) of the SSB Interview process. Remember, most of the tasks in this series are group tasks where you are required to support the group to the best of your ability and not compete with them in any manner.
GD: Group Discussion on two topics, mostly current affairs.
Read - Tips to Prepare for GD in SSB Interview
GPE (Group planning exercise):
Each candidate has to formulate a plan for the specified problem.
Later, group members are required to discuss the problem and come up with a common plan with consensus. Then, one of the group members has to explain the common plan with the help of a pointer and map.
Lecturette:
This test is conducted to judge the personality of the candidate.
All candidates are seated in a single row according to the chest numbers allotted to them. On a table, a few cards are kept. Group Testing Officer will instruct the first candidate of the group to pick up any one of the cards.
In the card, there will be 3 topics and 3 minutes will be given to the candidate to prepare to deliver a lecture.
Read - 100 Top Lecturette Topics For SSB Interview
PGT (Progressive Group Task):
Candidates are required to cross obstacles with the help of supporting materials like rope, plank, wood log etc. Certain rules are imposed at the start of the task.
Snake race/Group Obstacle Race:
This is a fun task in the stressful SSB Interview process. All group members are competing with other groups. Members will hold a snake like rope and are required to cross certain obstacles with the rope.
HGT (Half Group Task):
It is same as FGT, but the groups are divided in half. So, candidates have a better shot at demonstrating their potential.
Command Task:
Candidates will be Commanders in this task of the SSB Interview. The candidate is required to cross obstacles with the help of 2-3 subordinates. The candidates can choose 2-3 candidates from their own group based on who they think will help them clear the obstacles.
IOT (Individual Obstacles):
Candidates are required to attempt 10 obstacles individually. Each obstacle consists of certain points from 1 to 10.
FGT (Full Group Task):
All candidates need to carry a dummy load or a stretcher from start line to finish line. This the last chance for candidates to show their potential.
SSB Interview Day 5 - PI and Conference
PI (Personal Interview):
The personal interview plays a crucial role in the assessment of the candidate during the SSB interview and it is used to decide whether the candidate should be recommended or not.
Candidates should remember that one wrong move can tarnish their image and reduce their chances of getting recommended.
Conference:
Each candidate faces all SSB board members and will be asked a few general questions like how was your stay or what did you learn from this entire SSB interview experience.
Conference is the last step in the SSB Interview process in deciding whether or not to recommend you to become an officer in Indian Defence Forces. All assessors collectively decide the candidate's suitability.
Some candidates, those who are on the cusp of being recommended may face certain decisive questions. It continues for hardly 1-2 mins.
All the candidates who are recommended have to then clear the medical test which will be conducted a few days later. After clearing the medical test, candidates are given a letter of recommendation from the SSB Board.

Also Read this topics
How To Prepare For SSB Interview