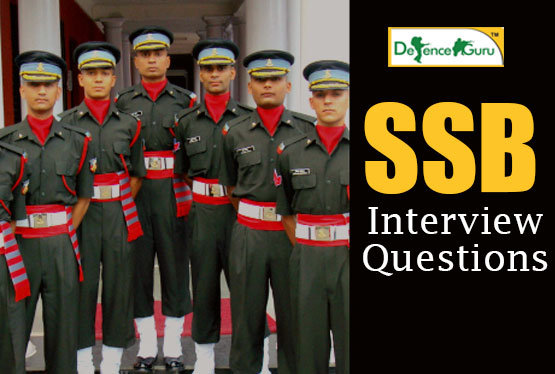 EXCEPTIONAL HITS OF SSB
SSB interview: how to crack it, most important questions, procedure of it, difficulty level…
These are some of the most googled questions by defence aspirants. But where no one lays notice are the basic questions that can pop up risk if not dealt smartly. Here is an exceptional list of the same:
SSB Interview Questions
Q. What is the meaning of your name? What is the meaning of your parent's name? What is the meaning of your sibling's name?
Direct isn't it? Learn something from the question. If the question is direct the answer must also be direct. For heaven's sake don't dive into mythical and historical details of the meaning. Give an explicit meaning, that's it!
Q. Tell me about your native place and current place of stay?
To answer this like a pro start with a historical fact: the founder, king or ruler of the place for starters. It's good to include the specialty, achievement, notable personality, and basic profession of the city. Give a finishing touch by adding your experience in the city, and it better be pleasing!
Q. Name the teacher you don't like and why?
Oh please don't name any. There is a reason they are called 'guru' so don't shame any of your mentor. In case the IO is adamant and you take a name then furnish it with a neutral reason not a negative one such as: highly ambitious, or workaholic. Yet another witty answer would be to talk about the subject you like the least and hence least interest in the respective teacher of that subject.
Q. If you fail in all your attempts then what will you do?
Tricky huh? While some students opt for 'success' quotes and talk about never giving up, trying till the last breath, and giving examples of personalities who got selected after tonnes of attempts such as Late Captain Vikram Batra others name an alternate career choice.
Ideal answer "Sir, I am confident enough to crack the SSB interview this time. By any chance if I fail I will go home and do a self introspection to come back with better preparation next time."
When persistently asked about alternate career choice you can say that you will try other entries such as territorial Army etc.
Q. Whom do you recommend from your batch for selection?
The answer here lies in your name. Talk about how much hard work you have put, the day and night preparation and contribution of sweat and blood all the past days certainly makes you the deserving candidate.
Q. Why did you fail in previous attempts? (for repeaters)
Commence your answer by saying that you did self- analysis which reflected certain areas where your preparation was feeble. You have improved your weak points and turned up with a better preparation this year.
Q. You have to organize a farewell party. How do you plan to conduct it?
Let me compose the exact words for you: "Sir, I will firstly take instruction from my immediate senior followed by chalking out a minute- to- minute rough draft which will include date, time, and venue to avoid any last moment loop hole. Next I will work upon the guest list, menu, theme, and dress code. I will ensure that there are entertainment rounds included as well. Moreover, for assistance I will call volunteers and insist on a thorough rehearsal. On the final day I will myself look after the functioning and management of the party."
Q. How do you contribute in your family?
Time for some self praise! Prove how obedient you are. Answer that you take instruction from your parents in case they need anything. You help your mother in grocery shopping, household work; you help your father in cleaning his vehicle, arranging things and files; and lastly you help your siblings in their studies.
Q. Why do you want to join Indian Armed Force?
Following are two answers for this crucial question+ a note on mistakes to avoid while answering it:
- Indian Armed Forces is three dimensional, constituting Indian Navy, Indian Army and Indian Air Force. I have a deep admiration for the Royal uniform. Not only is this a noble profession but also just and offers job security. With so many benefits the Armed Forces automatically becomes one's first choice.
- I have always been inclined to the dignity and personality of Army. My uncle was also a military man which inspired me more to choose this profession. I am thrilled to contribute to the safety and betterment of India while exploring my own capacities. It's an inborn interest, a childhood passion to work in Indian Armed Forces.
- Double frame your answers. While answering the above question you need to be vigilant about a few aspects such as: give a precise answer; say that much which impresses the interviewer and acknowledges the Indian Armed Forces and doesn't overpower your emotions. Don't at all use the phrase "serve the nation" as it's too common. Moreover speak with clarity and have an active, confident expression.
Equipped with smartest answers this crisp article assures you to bang the SSB interview!
Read More About
Frequently Asked SSB Interview Questions
Tips to Develop Speaking Skills for SSB Interview