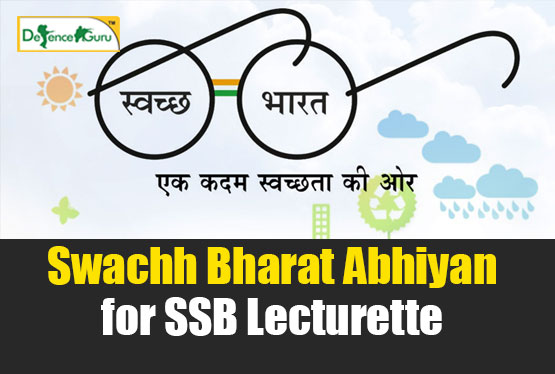 THE EMERGENCE OF CLEANLINESS- DRIVE
Reiterate the dream of Mahatma Gandhi for a while. Wasn't it a clean India, a prosperous India? An affirmative nod of head is the answer. Collating the same dream, our honorable Prime Minister initiated the Swach Bharat Abhiyan in 2014 as a tumultuous move towards hygiene.
While forging for the most predictable topics for SSB Lectureette, Swach Bharat Abhiyan stands at the forefront and hence it becomes mandatory to lodge its data in your mind.
Here is a panoramic view of the roots, growth and achievements of Swach Bharat Abhiyan:
1- The rising issue of unhygiene rode in the wave for a revolution. Realizing the seriousness, Shri Narendra Modi inaugurated Swach Bharat Abhiyan on 2nd October, 2014. The Secretary of DDWS, and Ministry of Jalshakti are designated to be the co-coordinators for this mission. It is further divided into Swach Bharat (gramin) and Swach Bharat (Urban).
2- The roots lay in venerating Mahatma Gandhi and serve him by serving the nation righteously. Modi ji said this is the best tribute we can give to the Father of the Nation.
3-So what does the macro picture shows? Well, it is centered upon: sanitation, eliminating open defecation and waste management.
Talking about the focused areas of the scheme let's discuss its objectives in- depth:
The foremost aim was to achieve a Swach Bharat by 2019.
As per the 2014 statistics only 30% of India had proper access to toilets and 530 million people indulged in open defecation which was the highest number. So to bring an end to open defecation by renovation of community toilets and establishment of new ones where needed (from households to streets) became the chief goal of this scheme.
Reach a sustainable developmental goal as planned in 2015.
Aware people about sanitation and importance of hygienic lifestyle.
Solid and waste management must be ensured
Assuring provision of water pipeline in every household.
Historical monuments are to be given extra care in terms of cleanliness as they are the major tourist- attraction spot and will eventually lead to economic betterment.
Each and every government ministry such as Agricultural ministry or Highway ministry must plan its own Swachata program.
Networking with health ministry and supported by UNICEF, the scheme also plans to work upon provision as well as sanitation of primary health centers.
Swach Barat Mission (SBM) mobile app has also been launched to link people in the cause of cleanliness.
With so much in mind the outcome is bound to be fruitful. Let's take a quick view at the achievements of this Abhiyan:
1-In August, 2018 the national sanitation coverage was recorded to be 90%
2-The number of places confirmed as Open Defecation Free (ODF) counted 11 states, 314 districts and 3.25 lakh villages.
3-Indore rose as the cleanest city in India followed by Chattisgarh and Jharkhand.
akh individual toilets have been well constructed.
5-From 550 to 320 the number of citizens practicing open defecation has achieved a sustainable depreciation in 4 years.
6-Various individual NGOs and cleanliness activities have also been initiated such as Sulabh.
7-There has been a behavioral change noticed in the citizens in terms of a hygienic lifestyle.
As the proverb goes "precaution is better than cure" so to safeguard your life and health get involved in the incredible step taken by our Prime Minister under the banner of "Swach Bharat Abhiyan" because intelligence lies not in nixing the problem but fixing it!
Hope the above information helps you through your SSB lecturette. Keep the spirits high.