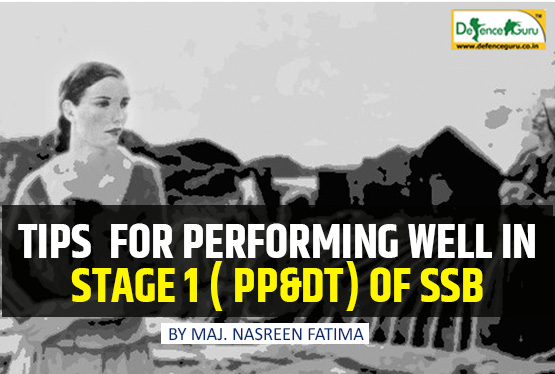 TIPS FOR PERFORMING WELL IN PP&DT OF SSB
I) FOCUS ON DEVELOPING AND WORKING ON ENHANCING AND ACQUIRING SOCIAL ABILITY /LEADERSHIP ABILITY/ COMMUNICATION SKILLS.
II) TO BE MENTALLY PREPARED AND ALERT TO RESPOND QUICKLY TO ANY GIVEN SITUATION.
III) IMBIBE THE FOLLOWING RIGHT HABITS IN ROUTINE TO INSTILL THE CHANGES IN YOUR PERSONALITY:
1. PRACTICING BEING PROACTIVE, PEOPLE CONTROL SITUATIONS BY CAUSING THINGS TO HAPPEN RATHER THAN WAITING TO RESPOND AFTER THINGS HAPPEN (REACTIVE).
2. TO START WITH A CLEAR UNDERSTANDING OF YOUR DESTINATION. ONCE WE HAVE CLARITY ABOUT OUR END GOAL, WE'LL NOT ONLY BE ABLE TO PINPOINT WHAT EXACTLY WE WANT BUT MORE IMPORTANTLY, WE'LL BE ABLE TO PINPOINT WHAT WE DON'T WANT.
3. PRIORITIZE WHICH ACTIONS WE SHOULD TAKE FIRST BY PLACING FIRST THINGS FIRST.
4. BEING POSITIVE AND THINKING WIN/WIN FOR SELF AND OTHERS. THIS SHOWS BALANCE OF THE TWO MENTALITIES ,CONSIDERATION AND COURAGE. THE CONSIDERATION IS YOUR CONSIDERATION FOR THE OTHER PERSON AND COURAGE IS YOUR COURAGE TO BACK YOURSELF.
5. THINK ON OTHER PEOPLE'S NEEDS AND IT IS TO BE UNDERSTOOD, ESTABLISH TRUST WITH THEM BY RECIPROCATING ACCORDINGLY, AND COMMUNICATING YOUR EMOTIONS, YOUR LOGIC AND TO GO INTO A CONVERSATION WITH THE AIM TO UNDERSTAND AND SEEK TO UNDERSTAND THE OTHER PERSON.
6. TO VALUE EACH PERSON'S DIFFERENT POINT OF VIEWS IN THE GROUP OR OTHERWISE. THE KEY TO SYNERGY AND LEADERSHIP IS NOT ABOUT LEADING ONLY , ARGUING ABOUT WHICH PERSON'S VIEW IS RIGHT OR WRONG, IT'S ABOUT REALLY VALUING THE DIFFERENCE IN POINT OF VIEWS BECAUSE THIS IS WHAT GIVES US NEW INSIGHTS .
7. TAKE THE TIME TO MAINTAIN AND RENEW YOUR MIND, BODY, EMOTIONS, SPIRIT AND TIME TO RENEW YOURSELF BEFORE PRACTICE I.E SHARPEN YOUR AXE AND PRACTICE.
8. CAREFUL LISTENING OF BRIEFING OF THE ASSESSSOR BEFORE PP&DT STARTS.
9. REMEMBERING THE BASICS OF PP&DT:
1. TO OBSERVE WITH ATTENTION THE PICTURE ESPECIALLY THE BACKGROUND /ACTIVITY SHOWN /NUMBER OF CHARACTERS.
2. YOU ARE REQUIRED TO WRITE YOUR STORY ON THE FOLLOWING POINTS:
- WHAT HAS LED UP TO THE SITUATION?
- WHO IS THE MAIN CHARACTER?
- WHAT THE CHARACTERS ARE FEELING AND THINKING.
- WHAT IS HAPPENING AT THE MOMENT.
- WHAT IS THE FINAL OUTCOME OF THE STORY?
- WHAT ACTIONS THE CENTRAL CHARACTER HAS TAKEN.
10. AVOID MENTIONING NEGATIVE MOOD OF CHARACTERS, INSTEAD NEUTRAL IS THE BEST OPTION. ENDEAVOUR SHOULD BE TO WRITE WELL CONSTRUCTED AND POSITIVE STORY.
11. THE ACTION OF THE STORY SHOULD BE WELL THOUGHT ON AND NOT MERELY A TITLE.
12. FOLLOWING THE GENERAL RULES OF DOS & DONTS OF PP&DT ( REFER PREVIOUS ARTICLES WRITTEN IN DEFENCE GURU.)
13. PAY ATTENTION TO STORIES i.e THE INDIVIDUAL NARRATION OF THE GROUP. THIS WILL HELP YOU IN MAKING COMMON GROUP STORY.
14. CONTRIBUTION IN THE GROUP TO YOUR BEST MUST BE YOUR AIM AND THEN GIVING CHANCE TO OTHERS.
15. PRACTISING STORY WRITING. THE MORE YOU PRACTICE BETTER IT IS WITH TIME LINES.
16. READ AND UPDATE ON SOCIAL/ POLITICAL/ ECONOMY/ GOVERNMENT POLICIES CUM MEASURES AND OTHER ASPECTS OF GENERAL AWARENESS FOR BETTER WRITING AND IDEAS FOR FRAMING STORY ON PICTURES GIVEN.
17. PREPARE WELL SO THAT YOU PERFORM WITH CONFIDENCE .
By,
Maj Nasreen Fatima
(sqn Ldr Retd.) Ex. NDA Instructor
Academic Head Centurion Education Pvt. Ltd.