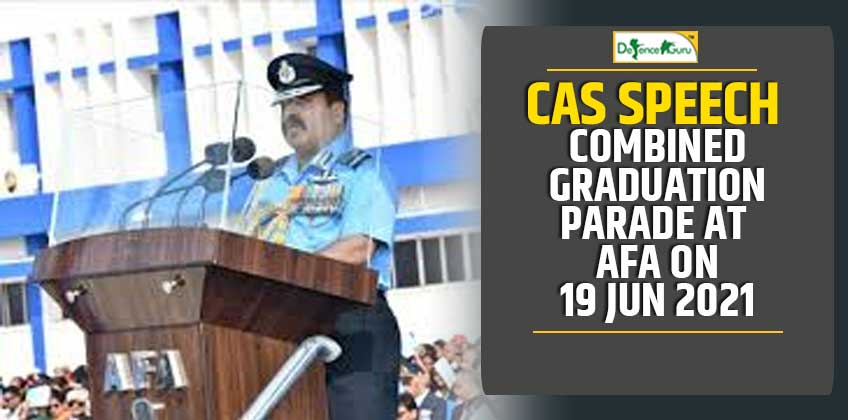 Air Officer Commanding-in-Chief Training Command, Commandant Air Force Academy, proud parents & relatives who are witnessing the Parade live on their screens, Instructors & Staff, Flight Cadets on parade, Ladies and Gentlemen.
A Very Good Morning and my congratulations to the 161 graduating officers for being awarded the President's Commission.
My congratulations also to the award winners for their outstanding performance during the training, and to the six officers from the Indian Navy as well as the five officers from the Indian Coast Guard for earning their coveted wings. Good Show and Keep it up.
Today's Combined Graduation Parade is historic because despite severe COVID constraints placed upon the training infrastructure you all have succeeded in completing your training, that too within the stipulated period. In fact, the Air Force Academy has flown over 20,500 hrs over the last one year – the highest ever in our history. My special compliments on achieving this milestone and implementing significant enhancements in our training curriculum.
Indeed, this day is a great testament to the grit and determination shown by each one of you as well as to the yeoman contribution by the instructors.
I take this opportunity to commend the efforts put in by all our Training Establishments and the faculty for guiding, mentoring and teaching; not only the fundamentals of being a Military Leader, but also instilling in you IAF's core values of 'Mission, Integrity and Excellence'.
Living by these core values and preserving our glorious traditions through selflessness and sacrifice will be your sacred duty from this day on.
I would like to express my deep gratitude to all the proud parents who stood by their daughters and sons during an extremely rigorous training schedule. I am mindful of the fact that your wards did not come home during the term break and have been toiling non-stop in pursuit of their dreams. You - as their parents and their family - should be proud of the fact that your guidance, support and encouragement are here for all to see; as your children stand on the parade ground- resplendent in their blue uniforms and transformed into spirited and confident officers of the Indian Air Force.
To all these graduating officers, I have this to say. In a short while from now,
you will take your first steps into the IAF as Commissioned Officers. As you do so, it is essential for you to know where you are headed and the huge responsibilities that will come to rest on your young shoulders.
IAF is undergoing a monumental transformation. Rapid infusion of niche technology and combat power in every facet of our operations has never been as intense as it is now!
This is primarily because of the unprecedented and rapidly evolving security challenges that we face, coupled with a rising geo-political uncertainty in our neighbourhood and beyond.
The last few decades have clearly established the critical role of Air Power in achieving victory in any conflict. It is in this backdrop that IAF's on-going capability enhancement assumes tremendous significance.
All of you are very fortunate to be joining the Air Force at this juncture. The Pilots will get to fly fighters carrying an array of potent standoff precision weapons and connected in networks. The transport and helicopter fleets are equipped with C-17, C-130, ALH, Chinook and Apache aircraft which are state of the art and capable of contributing equally effectively in war or HADR situations. Engineers will need to master e-MMS, which is one of the largest networked aircraft maintenance management systems in the world that we have established across diverse type of aircraft. Controllers will have to adapt to vectoring fighters in large formations using digitised and networked IACCS systems in the MAFI environment. Logisticians will use automation to drive procurement and resupply through totally automated and computerised networks on inventory management. All of you will be tied together with a completely paperless e-governance suite to enhance the efficiency of basic administration across the entire Air Force.
I have always believed that the generation you belong to is technologically adept and well versed with exploiting the digital space. Now is the time for you to prove it. I can assure you that the environment you will step into, when you cross these portals will not only challenge, but stretch your capabilities. You will need to hit the ground running and work hard to deliver what the Air Force expects of you. It was with this focus that B Tech degree was introduced compulsorily for the Air Force cadets in NDA and I am happy to note that 81 of the 87 graduating officers from the Flying branch are B.Tech. I am sure this will facilitate rapid comprehension and exploitation of modern platforms, weapons, sensors and technologies. Notwithstanding all these advances in technology, as young leaders, you must know that IAF's core strength is in "OUR PEOPLE" and you must always nurture this strength.
While maintaining operational readiness, IAF has also been proactively assisting in the national fight against the COVID-19 pandemic. Proactive vaccination and strict COVID discipline within IAF enabled us to undertake all COVID tasks on a war-footing. IAF's heavy lift capability was put into action for airlift of crucial COVID related equipment; wherein our transport fleet flew more than 3800 hours within two months in a huge effort across the globe and domestically to transport critical oxygen Tankers, and all related medical equipment and supplies. You all are joining the field that operates at this level, across the spectrum.
It is also essential for all of you to bear in mind that as future leaders, you will stand shoulder to shoulder with your comrades in Olive Greens and Whites and prosecute integrated operations. You will be an integral part of this important transition in the years ahead.
Before I conclude, I once again congratulate the newly commissioned officers for your achievements. As you grow in your career, face each challenge with determination and courage, conduct yourself with dignity and honour and aim for the highest professional standards. Lead by personal example and uphold the ethos and culture of IAF – always and every time.
Jai Hind!
By,
Gurkirat Kaur
Personality Development Coach, Defence Career Mentor,
Center Head-Centurion Defence Academy