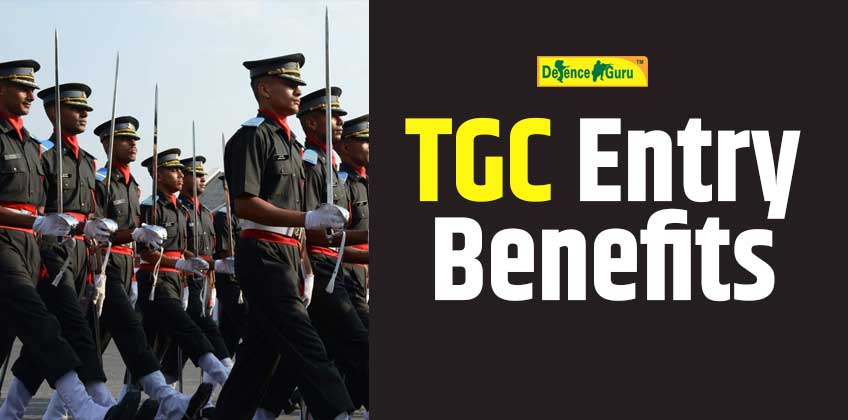 TGC Entry BENEFITS
If any Benefit could come close to that of joining IMA, I'm sure there is none !!
Well talking about TGC, it stands for Technical Graduate Course. Indian Army Invites unmarried Male Engineering Graduates To undergo Indian Military Academy (IMA), Dehradun for Permanent Commission in the Indian Army. This Entry occurs twice a year.
There are numerous benefits That comes with TGC :
Firstly TGC is a direct entry, meaning that there is No Written Exam and so we get Direct calls for the SSB Interview . The written examinations for SSBs is in itself a challenge , with TGC engineering graduates ( also in final year ) can apply for Direct SSB . The cutoff for various seats are released after the filling up of forms and all who clear it are eligible for SSB.
Grant of Commission: Selected candidates will be granted Short Service Commission on probation in the rank of Lt from the date of commencement of the course or the date of reporting at IMA, whichever is later and will be entitled to full pay and allowances admissible to Lt during training period. Pay & allowances will be paid after successful completion of training.
TGC is a Permanent commission : On successful completion of training cadets will be granted Permanent Commission in the Army in the rank of Lt.
Ante Date Seniority. One year ante date seniority from the date of commission will be granted to Engineering Graduates of TGC Entry in the rank of Lt.
The benefits provided by 'ante date' seniority are immense. It ensures that TGC entrants become captains within 6 months of commissioning, while CDS entrants will usually take around 1.5 years for the same. This seemingly nominal difference in seniority, also manifests itself as a major blessing during consideration for senior ranks like Brig.,Maj Gen., Lt. Gen, due to the fact that the stringent promotional criteria in the Armed Forces includes both merit and age.
The Duration of training is 49 weeks which when compared to other courses is quite Brief.
Chances of further Education at Govt. Expenditure.
Fixed Stipend for Cadet Training : Stipend to Gentlemen Cadets during the entire duration of training in Service Academy i.e. during training period at IMA. ₹56,100/- Per month* (Starting pay in Level 10)
Pay and allowances :

Lieutenant : Level 10 ;Pay - 56,100
Military Service Pay (MSP) : ) to the officers from the rank of Lt to Brig : ₹15,500/- Per month fixed.
The Army Aviators (Pilots) serving in the Army Aviation Corps are entitled to flying allowance : ₹25,000/- Per month fixed
Other Allowances : DA , Transport Allowance , technical Allowance etc,