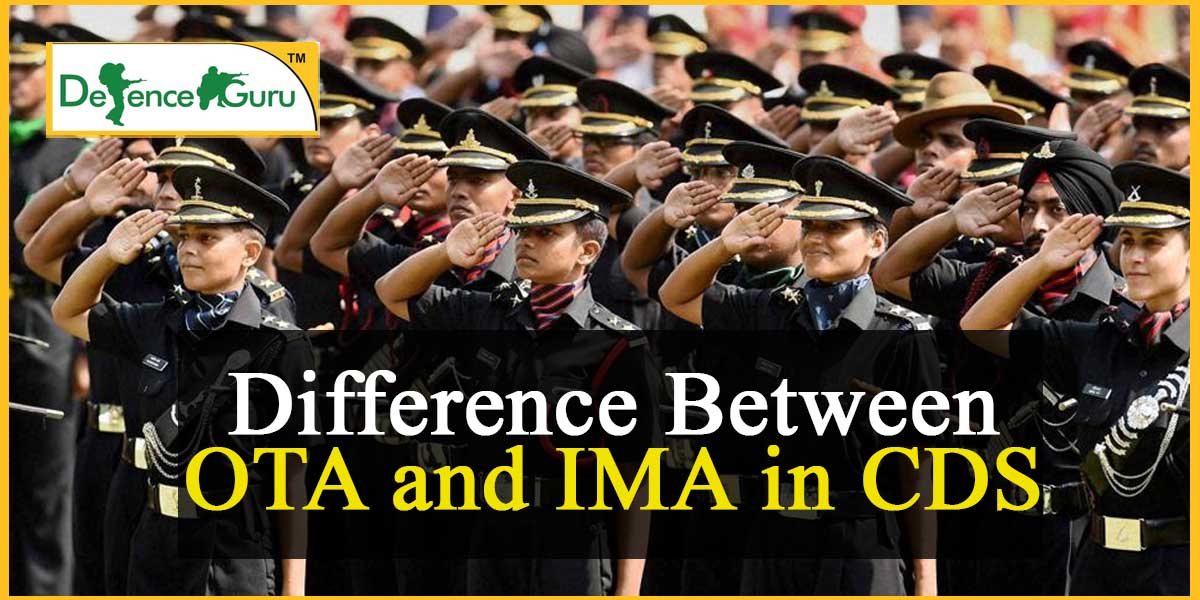 Combined Defence Services (CDS) Examination is conducted twice a year by the Union Public Service Commission for recruitment into the Indian Military Academy, Officers Training Academy, Indian Naval Academy and Indian Air Force Academy. The notification for these two examinations is usually released in the month of August and November and the examinations are conducted in the month of February and November. Those Candidates qualified in the written exam. Then they are shortlisted for an interview by a Services Selection Board which evaluates a candidate's suitability for a career in the Indian Armed Forces.
Difference Between OTA and IMA in CDS
If you are going to apply for CDS in Indian Army then there are two terms with which you'll come across a number of times. These two terms are OTA and IMA. To be able to fill the application correctly, understanding and matching with your preference it is necessary that you are clear with the meaning and the difference between these two terms. OTA stands for Officers Training Academy and IMA stands for Indian Military Academy, both are honorable institution for developing, changing and training the young guns of India and transforming them into Army officers.
Mostly the educational qualifications for joining both of these institutions of Army are same but there are some other differences between the two. You have to pass a written test and get recommended from the SSB for joining any of the two.
Some major differences between OTA and IMA
Age Criteria IMA ---- 19 to 24 years
OTA ------19 to 25 years
Mathematics Exam For OTA do not have to appear for the paper of Mathematics whereas those who are for IMA have to appear for.Thus for OTA you have to appear for English and GK in CDSE but for IMA you have to appear for English, GK and Mathematics in CDSE.
Maximum service : IMA provide you opportunity to join army and serve for 30 years maximum. Where as OTA is for only 14 years and not for life term service (in some cases the service is extensible to Permanent Commission).
Cutoff marks : The cutoff marks for IMA is generally higher than that for OTA in CDSE. This is obvious also since in IMA there are three papers which a candidate has to appear in whereas in OTA there are only two.
Training centre: There are two OTA's one in Chennai and other one in Gaya (male Cadets of NDA and 10+2 TES are sent here in last year of their training), there is only one IMA which is in Dehradun. OTA is where Female and male both are trained into officers but in IMA only male can be trained. The Officers Training Academy, Chennai (OTA) is a training establishment of the Indian Army that trains officers for the Short Service Commission. The Indian Military Academy, Dehradun (also known as IMA) is the officer training Academy of the Indian Army that trains officers for the Permanent Commission.
Which Is Better in CDS OTA or IMA ?
There is nothing better or worse when we talk about the Army; it's just your eligibility and your own will. Well of course women aspirants don't have an option except OTA to join the Indian Army. The gentlemen however have an option. Without saying much I would like to ask you that if given a chance to be in the prestigious Indian Army how much would you like to stay? Longer I guess? Then I hope you have got it that which one to join!
Read More
CDS 2019 Syllabus Details For IMA and OTA
Top Five CDS Coaching in India
How To Prepare For CDS Exa