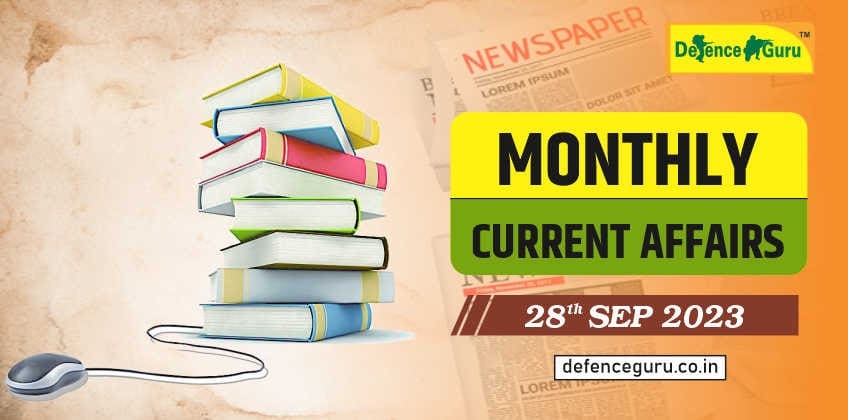 Defence Guru is a dedicated platform for daily current affairs updates to defence aspirants and candidates preparing for other competitive exams. Here you can get today's latest current affairs. We have covered all the latest current affairs including daily defence current affairs, national current affairs, international current affairs, latest current affairs on economy, sports current affairs, awards and honors, books, appointments, etc. You can follow us for regular current affairs updates. Our current affairs section is very useful for candidates preparing for NDA, CDS, AFCAT, MNS and other competitive exams. Thus, it becomes very important for competitive exam aspirants to cover daily current affairs updates on a regular basis. The Defence Guru current affairs update is accurate, reliable, and useful for every defence exam as well as other competitive exams in India.
Here are the latest current affairs of 28th September, 2023.
Events

Details

Latest Sports Current Affairs

Leander Paes, 1st Asian man nominated as player to Tennis Hall of Fame

Leander Paes is the first Asian man to be nominated for the International Tennis Hall of Fame in the player category.
He was one of the six nominees announced for the Class of 2024.
He will be competing with Cara Black, Ana Ivanovic, Carlos Moya, Daniel Nestor and Flavia Pennetta in the Player Category.
Li Na became the first Asian player to get nominated to the ITHF in 2019.

Defence News

'Bharat Drone Shakti 2023' inaugurated by Raksha Mantri

Bharat Drone Shakti 2023, a first-of-its-kind drone exhibition cum display was inaugurated by Rajnath Singh at Air Force Station, Hindan in Ghaziabad, Uttar Pradesh on September 25.
It has been jointly organised by Indian Air Force (IAF) and Drone Federation of India.
The two-day event, which is being held on September 25 & 26, 2023, features over 75 drone start-ups from across the country.

Government Schemes & Policies Current Affairs 2023

Govt extends AFSPA in parts of Arunachal, Nagaland for six months

The Armed Forces (Special Powers) Act, under which an area is declared as "disturbed" for the convenience of security forces, was on 26 September 2023, extended in some parts of Arunachal Pradesh and Nagaland.
The AFSPA gives armed forces personnel, operating in disturbed areas, sweeping powers to search, arrest.
The AFSPA has been in force in Arunachal Pradesh and Nagaland for many years.

International Current Affairs 2023

Google Doodle celebrates South African jazz pianist, Todd Matshikiza

Google Doodle celebrates South African jazz pianist and composer Todd Matshikiza.
Matshikiza was born in Queenstown, South Africa in 1921 and came from a musical family.
He established the Todd Matshikiza School of Music in Johannesburg in 1947.
Matshikiza was a writer for Drum magazine and wrote columns on jazz.
"King Kong" was an all-Black jazz musical that premiered in 1958.

Appointments Current Affairs 2023

Media Research Users Council India elects Shailesh Gupta as Chairman

Shailesh Gupta and Shashank Srivastava have been elected as chairman and vice chairman of Media Research Users Council India, respectively.
The new appointees replace Shashidhar Sinha, CEO of Mediabrands.
Rajeev Beotra and Anupriya Acharya have been appointed new members of the Board of Governors.
Media Research Users Council India was founded in 1994.
Read Also:
27th September 2023 GK Updates