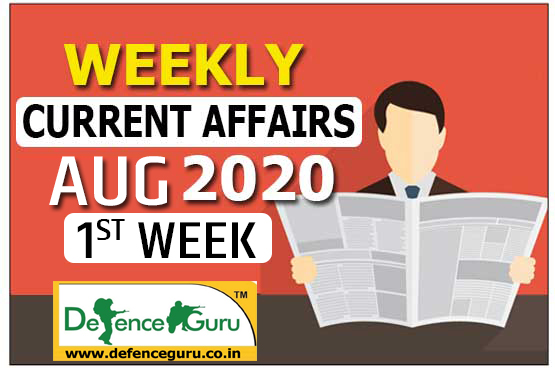 Current Affairs Aug 1st Week 2020
APPOINTMENTS
1.Girish Chandra Murmu
Former Lieutenant Governor of Jammu and Kashmir, Girish Chandra Murmu will be the new Comptroller and Auditor General of the country. Mr Murmu will succeed Rajiv Mehrishi. An IAS officer of Gujarat cadre, Mr Murmu resigned as Lieutenant Governor of Jammu and Kashmir. The Comptroller and Auditor General (CAG) of India is an authority, established by Article 148 of the Constitution of India, which audits all receipts and expenditure of the Government of India and the state governments. The CAG is also the external auditor of Government-owned corporations and conducts supplementary audit of government companies.
2.Manoj Sinha
The President Ram Nath Kovind has appointed Manoj Sinha as the Lieutenant Governor of Jammu and Kashmir. The President accepted the resignation of Girish Chandra Murmu as Lieutenant Governor of Jammu and Kashmir. Mr Murmu, a 1985 batch Gujarat cadre IAS officer was appointed as the LG in October last year. Murmu had sent his resignation to President Ram Nath Kovind.
3.Ajay Tyagi
Ajay Tyagi has been given an 18 month extension as the chairman of markets regulator Securities and Exchange Board of India, SEBI. His term will continue till February 2022. The Appointments Committee of the Cabinet has approved the extension of Ajay Tyagi's term for 18 months with effect from 1st September 2020 to 28th February 2022. Tyagi, a 1984 batch retired IAS officer of Himachal Pradesh cadre was appointed as the SEBI chairman in March 2017 for three years.
4.Guyana's Irfaan Ali
Former Guyanese housing minister Irfaan Ali was sworn in as president of the newly oil-producing South American country, He was declared winner of a disputed March 2 election following a recount. Ali, a member of the opposition People's Progressive Party (PPP), had won the initial poll, and Washington last month called on current President David Granger to resign.
Guyana Capital: Georgetown
Currency: Guyanese dollar(GYD)
5.V R Chaudhari
Air Marshal V. R. Chaudhari took over as Air Officer Commanding-in-Chief of Western Air Command of Indian Air Force. The Air Marshal took over command from Air Marshal B Suresh. Air Marshal V. R. Chaudhari was commissioned into the fighter stream of the IAF in 1982 as a Fighter Pilot. During his career, he has flown a wide variety of fighter and trainer aircraft. He has a flying experience of MiG-21, MiG-23 MF, MiG 29 and Su-30 MKI fighter aircraft.
Awards
6.DIAT bags 1st prize in Smart India Hackathon 2020
Defence Institute of Advanced Technology, DIAT, has bagged 1st prize in Smart India Hackathon, SIH, 2020. It was held from 1st to 3rd of this month at Noida Institute of Engineering and Technology, Uttar Pradesh. This 36-hour non-stop digital product building competition was a national level competition for software edition, which was organized jointly by the Ministry of Human Resource Development and All India Council for Technical Education. During the competition, Prime Minister Narendra Modi interacted with the participants in a live event. Six- member team of the institute received one lakh rupees as prize money for solving a technical problem using artificial intelligence.
Books
7.'RAW: A History of India's Covert Operations' ------- Yatish Yadav launched
The new book, titled "RAW: A History of India's Covert Operations", has been launched. The book gives a peep into the heroic covert operations carried by India's external spy agency Research and Analysis Wing (RAW). The book has been written by investigative journalist and author Yatish Yadav. It has been published by Westland. The book provides a deeper insight and understanding of how covert operations are carried out in the uncharted territory.
8.'Swachh Bharat Kranti'-Union Ministers Gajendra Singh Shekhawat and Smriti Irani
The book "The Swachh Bharat Revolution", edited by Parameswaran Iyer, Secretary of Department of Drinking Water and Sanitation has been translated into Hindi and published as the Swachh Bharat Kranti. The book was officially launched by Union Minister of Jal Shakti, Gajendra Singh Shekhawat, and Union Minister of Textiles and Women & Child Development Smriti Irani in New Delhi. The Swachh Bharat Kranti captures the remarkable journey of the SBM through 35 essays by a diverse range of stakeholders and contributors to the SBM, sharing their perspective on this social revolution.
9.Biography of India's youngest Basketball captain 'Vishesh Bhriguvanshi'
The inspirational story on the life of Vishesh Bhriguvanshi, India's youngest basketball team captain, is set to be released on August 29, the National Sports Day. The book, titled "Vishesh: Code To Win", has been written by sportswoman-turned-author Nirupama Yadav and published by the publishing house Bluerose.The book narrates the mindset of a basketball player in a cricket-dominated nation and brings to light the strenuous journey of the 29 year-old Bhriguvanshi, for becoming the captain against all odds. Bhriguvanshi hails from Varanasi, Uttar Pradesh and has been playing for India since 2007. He first became the captain of the Indian team in 2010.
10.Bihar CM released book "Siyasat Mein Sadasyata" by Speaker Vijay Kumar Choudhary
Bihar Chief Minister Nitish Kumar released a book - "Siyasat Mein Sadasyata" . Written by Bihar Assembly Speaker Vijay Kumar Choudhary. The book published by Bihar Assembly Secretariat is a compilation of Choudhary''s views, three dozen articles on different important issues and his life journey. It also mentions various developmental works in different sectors and welfare measures taken by Nitish Kumar government in Bihar. The book "Siyasat Mein Sadasyata" has also talked about various other important activities of assembly, successful completion of 6th Commonwealth Parliamentary Association (CPA) India Region, Prohibition law, debate on climate change, reforms in the procedure and business advisory rules of the assembly.
DEATHS/RESIGNS
11.Sameer Sharma
Sameer Sharma, a 44-year-old television actor, was found dead in his Malad apartment. Malad police officials said that the actor died by suicide. The actor had also appeared in the shows Kahaani Ghar Ghar Ki and Kyunki Saas Bhi Kabhi Bahu Thi, Jyoti, Iss Pyaar Ko Kya Naam Du, and Left Right Left, among others. He is also listed as a cast member in films such as Hasee Toh Phasee and Ittefaq.
12.Shyamal Chakraborty
Veteran Communist Party of India (Marxist) leader and former West Bengal Minister Shyamal Chakraborty died of Corona infection in Kolkata.He was 77. Shyamal Chakraborty was elected four times consecutively in the State Assembly since 1981. He was Transport Minister in the Jyoti Basu cabinet in the State. He was also elected in Rajya Sabha. Shyamal Chakraborty was also the State President of CITU and member of the Central Committee of CPIM till his death.
13.Ram Pradhan
The former Union Home Secretary Ram Pradhan has passed away due to age-related ailments. Mr Pradhan served as the governor of Arunachal Pradesh during the Rajiv Gandhi government. Pradhan was an IAS officer of the Maharashtra cadre. He also headed a two-member committee set up in December 2008 to probe the security forces' response to the 26/11 Mumbai terror attack.
14.Shivajirao Patil Nilangekar
Former Maharashtra chief minister Shivajirao Patil Nilangekar died after a brief illness. He recently tested coronavirus positive but had recovered and was discharged after testing negative. Nilangekar, senior Congress leader from Latur in Marathwada region, was the state chief minister from June 1985 to March 1986. He resigned from the post when the Bombay high court passed strictures against him after fraud was alleged in the results of the MD examination in 1985.
15.Manikyala Rao
Andhra Pradesh former minister and BJP senior leader M Manikyala Rao succumbed to Covid-19 infection. He struggled for almost one month before passing away. He joined the district Covid-19 hospital in Eluru, West Godavari district. He was shifted to a private hospital as he was facing serious breathing problems. Rao (59) had served as endowments minister in N Chandrababu Naidu cabinet between 2014 and 2018.
16.Lee Teng-hui
Former Taiwanese President Lee Teng-hui has died. He was 97. He brought direct elections and other democratic changes to the self-governed island despite missile launches and other fierce saber-rattling by China. He was also considered as the "father of Taiwan's democracy". He served as president of Taiwan from 1988 to 2000.
SPORTS
17.BCCI suspends title sponsorship deal with Vivo for upcoming IPL
The Board of Control for Cricket in India (BCCI) has suspended the title sponsorship deal with Chinese mobile phone company Vivo for the upcoming edition of the Indian Premier League. Vivo will not be associated with the IPL this year. VIVO had won the IPL title sponsorship for five years from 2018 to 2022 for a reported sum of 2190 crore rupees. The IPL this year has been shifted to the UAE because of the prevailing COVID-19 situation in India. The tournament will be held from September 19 to November 10 amid COVID-19 protocols laid down by the ICC and BCCI.
18.Govt gives nod for IPL 2020 in UAE
The BCCI in its Governing Council meeting of IPL has decided that the 13th edition of the league will commence from September 19 to November 10. The BCCI finally got the government's permission for the IPL season 13 to take place outside the country in the United Arab Emirates (UAE). The league will include 10 doubleheaders. The evening matches will start at 7:30 p.m. IST. All the games will be played inside a secure bio-bubble with no spectators in the initial phase of the league. The Indian Premier League's Governing Council also approved the women's IPL. The squad size of each franchise is capped at 24 players. Dubai, Abu Dhabi and Sharjah will be the three venues of the tournament.
19.India withdraws from women's world team Squash championship in Kuala Lumpur
India has withdrawn from the women's world team Squash championship scheduled in Kuala Lumpur, Malaysia from 15th to 20th December. Indian team cited lack of preparation, time and match-readiness of its players. The coronavirus case count continues to rise in the country with Mumbai, Delhi and Chennai — all major squash centres — badly hit by the virus, making resumption of training difficult. The Asian Junior Individual Championship 2020 has also been cancelled by the Asian Squash Federation due to the pandemic. The event was scheduled to be held at Qingdao, China in June but was postponed to December before being finally cancelled.
20.India holds good chance of reaching QFs of Thomas Cup & Uber Cup in Badminton
India holds a good chance of reaching the quarterfinals of the Thomas Cup and Uber Cup team Badminton championship scheduled at Aarhus, Denmark, from 3rd to 11th October. Following the draw for the premier team event made in Kuala Lumpur, India is in Group 'C' with host Denmark, Germany and Algeria in the Thomas Cup. In the Uber Cup, the Indian women are in Group 'D' in the company of China, France and Germany.
21.Lewis Hamilton wins British Grand Prix 2020
Mercedes driver Lewis Hamilton has won the Formula One British Grand Prix 2020 held at the Silverstone Circuit, United Kingdom. Max Verstappen (Red bull) ended up second in this F1 race while Charles Leclerc (Ferrari) came third. This is the third win for Hamilton in this season of F1 races.
INTERNATIONAL
22.Sri Lankan Ruling party led by PM Mahinda Rajapaksa registers landslide victory in Parliamentary elections
In Sri Lanka, the ruling party led by Prime Minister Mahinda Rajapaksa registered a landslide victory in the general elections. Mr Rajapaksa's Sri Lanka People's party (SLPP) has won 145 seats in the 225-member Parliament, nearing a two-thirds majority. Samagi Jana balawega (SJB) led by former minister Sajith Premadasa has emerged as the main opposition party with 54 seats. Also the oldest party in the country United National Party (UNP) led by former Prime Minister Ranil Wickremsinghe has got only a single seat. SLPP got around 59 percent of the popular vote while SJB was able to garner around 24 percent. President Gotabaya is the younger brother of Mahinda Rajapksa who became Prime Minister after the victory of Mr Gotabaya in the Presidential election in November last year.
23.US Conducts Test Flight of Unarmed Minuteman 3 Missile
An unarmed Minuteman 3 intercontinental ballistic missile was launched from California on a test flight to a target in the Pacific Ocean. Test launches are essential to sustaining the aging Minuteman 3 nuclear weapon system. Minuteman III, manufactured by Boeing is a long-range, is a three-stage ICBM with the capability to carry single or multiple nuclear warheads. As of 2020, the LGM-30G Minuteman III version is the only land-based intercontinental ballistic missile in service in the United States. The Minuteman entered service in 1962 as a deterrence weapon that could hit Soviet cities.
24.Hiroshima marks 75th anniversary of world's first atomic bombing
Japan on 06 August marks 75 years since the world's first atomic bomb attack. The atomic bomb, nicknamed "Little Boy", exploded on August 6, 1945, obliterating Hiroshima and killing 140,000 of an estimated population of 350,000. Thousands more died later of injuries and radiation-related illnesses. This bomb attack was done in the motive to end the Second World War in 1945. Hiroshima was one of the army headquarters of Japan. Also, it was the largest military supply depot for troops and supplies.
25.Massive blast shakes Lebanon's capital Beirut, hundreds injured
A huge explosion near the centre of Beirut killed at least 10 people and sending shockwaves across the Lebanese capital. The blast shattering glass in people's homes and causing apartment balconies to collapse. The blast occurred in the city's port area, where there were warehouses housing explosives. Footage of the blast shared around by residents on social media showed a column of smoke rising from the port district followed by an enormous blast.
Lebanon capital: Beirut
Currency: Lebanese pound
26. UAE becomes first country in Arab World to produce nuclear energy
As the Barakah Nuclear Plant's 1st Unit got operational, UAE became the first country in the Arab World to produce nuclear energy. The new plant is part of the UAE's graph to become less reliant on oil and gas, the current source of the vast majority of its energy. UAE is among the world's biggest fossil fuels producers. Barakah plant situated in the Al Dhafrah region of Abu Dhabi started producing heat. The plant, powered by South Korean technology , hopes to produce 5.6 gigawatts of electricity and supply up to 25% of the UAE's electricity needs.
27.World Sanskrit Day: 03 August 2020
The World Sanskrit Day is being celebrated on 03 August. It is celebrated on Shravan Poornima, that is the Poornima day of the Shravan month in the Hindu calendar. In the year 2020, this day is celebrated on August 03. In India, the University Grants Commission (UGC) has asked all its affiliated universities and colleges to mark World Sanskrit Day or World 'Samskrita' Day with appropriate celebrations on August 3. The objective of the day is to illuminate the younger generation about the ancient Indian language which is believed to have originated about 3,500 years ago. The idea is to advocate people about the Sanskrit language and the need to preserve our national heritage.
28.Over 120 countries celebrate World Breastfeeding Week; India plans online activities to sensitise citizens about its importance
Over 120 countries around the world are celebrating the week-long World Breastfeeding Week from 1-7 August. In India, the Women and Child Development Ministry has planned to organise online activities to sensitise citizens about the importance of breastfeeding. The theme of World Breast-feeding Week this year is to support breastfeeding for a healthier planet and taking precautionary measures in light of the global pandemic. Exclusive breastfeeding for the first 6 months of child's birth and continuing thereafter for at least 2 years is crucial to combat malnutrition. Mother's Milk also known as 'liquid gold' is the protective shield a child receives in his early days. Mother's milk acts as first immunization providing holistic nutrition and immunity against infections.
29.Russia chaired 6th BRICS Environment Ministers' Meeting
The Environment Ministers of the five BRICS countries participated in the 6th BRICS Environment Ministers' Meeting. Union Environment Minister Prakash Javadekar represented India at the meeting along with the Ministers of the other BRICS nations- Brazil, Russia, China and South Africa. The video conference was held under the Presidency of Russia. The meeting was preceded by the BRICS Working Group meeting. India will host the next meeting in 2021.
30.Muslim women's rights day: 01 August
Muslim Women's Rights Day celebrated across the nation on 01 August to commemorate the first anniversary of the law against instant triple talaq. One year ago on 30th July, 2019, the Narendra Modi government abolished TripleTalaq. It has contributed to women empowerment and given them the dignity they deserve in our society. The Muslim Women (Protection of Rights on Marriage) Act prohibits the practice of instant divorce by Muslim men. Any violation of the law is punishable by jail term of up to three years. The Narendra Modi government made the law against triple talaq following the Supreme Court's judgement of 2017 that declared as unconstitutional the instantaneous practice, followed by Muslim men, of divorcing a wife by uttering the word 'talaq' thrice.
NATI ONAL
31.National Handloom Day: 07 August
National Handloom Day is being organised on 07 August by the Ministry of Textiles. 7th August was chosen as the National Handloom Day to commemorate the Swadeshi Movement which was launched on the same date in the year 1905. The objective is to generate awareness about the Handloom Industry among the public and its contribution to socio-economic development. To mark the occasion and to instil pride in the workmanship of handloom weaving amongst citizens, a social media campaign is planned for the handloom weaving community.
32.India's first Kisan Special Parcel Train to provide seamless supply of perishable produce
India's first Kisan Special Parcel Train or Kisan Rail started from 07 August 2002. The train will transport material between Maharashtra's Devlali and Bihar's Danapur Railway station. The Kisan Rail will carry fruits and vegetables and will make stoppages at several stations and pick-up and deliver them. With the launch of Kisan Rail, the Railways aims to help double farmers' income. This will help in bringing perishable agricultural products like vegetables, fruits to the market in a short period of time. The Kisan Rail train with frozen containers is expected to build a seamless national cold supply chain for perishables, inclusive of fish, meat and milk. Finance Minister Nirmala Sitharaman had announced to start 'Kisan Rail' in the current year's Budget, for providing a seamless supply chain of perishable produce.
33.CBIC directs Customs to check within 48 hours safety of explosives in warehouses, ports
The CBIC has urgently directed Customs and field formations to immediately verify and confirm within 48 hours that any hazardous or explosive material lying in warehouses and ports across the country meets all safety and fire standards and presents no danger to life and property. The precautionary step has been taken in view of the recent incident of explosion at Beirut in Lebanon caused by such material. The Central Board of Indirect Taxes and Customs (CBIC) is the nodal national agency responsible for administering Customs, GST, Central Excise, Service Tax & Narcotics in India.
CBIC Chairperson: M. Ajit Kumar.
34.YSR Cheyutha, the game-changer in Andhra Pradesh rural economy
The Andhra Pradesh government is all set to launch YSR Cheyutha on August 12. The scheme will provide financial benefit of Rs 75,000 to those women who come under the age of 45 to 60 years. It aims to empower women from minority castes. The amount of Rs 75,000 is to be distributed in four equal installments of Rs 18,750 each per year. The amounts are to be transferred to the bank accounts of the beneficiaries. The State Government has allocated Rs 4,500 crores to implement the scheme.
35.India contributes over $15.46 mn to India-UN Development Partnership Fund
India has contributed $15.46 million to the India-UN Development Partnership Fund, underscoring the country's commitment to supporting developing nations in their developmental priorities across all the Sustainable Development Goals. India's Permanent Representative to the UN Ambassador T S Tirumurti handed over a cheque of $15.46 million. The tranche of $15.46 million includes $6 million to the overall fund, in which all the developing countries are eligible for partnership, and $9.46 million dedicated to the Commonwealth countries. The India-UN Development Partnership Fund is managed by the UNOSSC and implemented under the leadership of partner developing countries leveraging the strengths of United Nations Agencies, Funds and Programmes.
36.India extends Line of Credit worth 18 million dollars to Maldives
India has extended Line of Credit worth 18 million US dollars to the Government of Maldives for the expansion of fishing facilities at Maldives Industrial Fisheries Company (MIFCO). The project envisages investment in fish collection and storage facilities and the setting up of a tuna cooked plant and fishmeal plant. It is part of the 800 million US dollars line of credit offered by India with repayment tenor of 20 years and a 5-year moratorium.
Maldives Capital: Malé
Currency: Maldivian rufiyaa
37.Atal Innovation Mission declares results of ATL Tinkering Marathon 2019
Atal Innovation Mission (AIM) has declared the results of its flagship national annual innovation marathon challenge. The ATL Tinkering Marathon 2019 was held over fifty thousand Atal Tinkering Labs across the country and announced 150 winners of the Marathon. The challenge was executed by AIM in partnership with MyGOV on MyGov's Innovate Platform this year. 42 percent of the winning teams are from rural areas and 57 percent are from government schools. About 45 percent of the winning team students are girls. This year's marathon was uniquely designed by the students themselves. The Marathon had a strong focus on Research preceding the Innovations. The final phase of solution development received over 1191 entries from students across 29 States and UTs.
38.NIDM in collaboration with IMD organises webinar series on "Hydro-Meteorological Hazards Risk Reduction"
National Institute of Disaster Management in collaboration with India Meteorological Department organised a webinar series on "Hydro-Meteorological Hazards Risk Reduction". The webinar series include four webinars focusing on Thunderstorms and Lightning, Cloudburst and Floods, Cyclones and Storm Surges and Climate Change and Extreme Weather Events. Minister of State for Home Affairs, Nityanand Rai inaugurated the first webinar on "Thunderstorms and Lightning". He highlighted the major interventions carried out by the Government departments and agencies for reducing the adverse risks of Hydro-Meteorological disasters. National Institute of Disaster Management is a premier institute for training and capacity development programs for managing natural disasters in India. NIDM works under the aegis of the Ministry of Home Affairs, Government of India.
39.Karnataka Medical Education Minister inaugurates nation's first ICMR approved mobile RTPCR COVID lab
Nation's first ICMR approved mobile RTPCR COVID lab developed by Indian Institute of Science in Bengaluru was inaugurated by Karnataka Medical Education Minister Dr.K Sudhakar. Packed with all the safety features, this unique lab is capable of producing accurate results within four hours. In a month the mobile lab can conduct 9000 tests. The lab can be utilised for testing H1N1,HCV,TB,HPV,HIV virus also. Called as Mobile Infection Testing and Reporting lab, MITR can be deployed in Corona hot spots quickly. Another innovative project fructified in Bengaluru when a bus stand was converted into 200 bed Covid Care Centre.
40.Haryana CM launches Parivar Pehchan Patra
Haryana chief minister Manohar Lal Khattar launched Parivar Pehchan Patra in the state. A brain child of team CMO, the PPP will enable the citizens to get the benefits of various central and state government schemes at their door-step in a fair and transparent manner. The PPP will be now linked to Mukhya Mantri Parivar Samridhi Yogna (MMPSY). All the departments will be linked with e-Parivar Pehchan Patra (PPP) within the next three months. At present, the MMPSY, which was launched on January 26, 2020 and three pension schemes - Old Age Samman Allowance Scheme, Divyang Jan Pension Scheme, and Widow and Destitute Women Pension Scheme, have been integrated with Parivar Pehchan Patra.
41.Union Agriculture Minister launches Sahakar Cooptube NCDC Channel
Agriculture Minister Narendra Singh Tomar launched the Sahakar Cooptube NCDC Channel, a new initiative by National Cooperative Development Corporation. The Minister also launched guidance videos produced by NCDC on 'Formation and Registration of A Cooperative' for eighteen different states in Hindi and regional languages. The Union Government under Atma Nirbhar Bharat has recently announced a series of transformative measures and sector specific financial packages to help agriculture. The initiatives are steps towards One Nation One Market with the objective for India to become a food factory of the world.
42.Petroleum Minister Dharmendra Pradhan tests positive for COVID-19
Petroleum and Natural Gas Minister Dharmendra Pradhan has tested positive for Covid-19 and has been admitted to a hospital. In a tweet, Mr Pradhan said, after seeing symptoms of COVID-19, he got tested and the report has come positive. On the advice of doctors, he has been admitted to hospital. Mr Pradhan is the second Union Minister in the Cabinet to test positive for Covid-19. Earlier, Home Minister Amit Shah had tested positive and was admitted to hospital.
43.Western Railway loads onion in goods train for its transportation to Bangladesh
In Gujarat, the Bhavnagar division of Western Railway successfully loaded onions in a goods train for its transportation to Bangladesh. This is the first time that agriculture goods have been sent to neighbouring country through the train route. The first rake of such goods train has been loaded with onions at Dhoraji Railway Station of Bhavnagar division. The first such goods train loaded with onions was sent to Darshna Railway Station in Bangladesh from Dhoraji Railway station of Saurashtra.
44.413 mask banks set up so far under 'Ek Mask-Anek Zindagi' campaign in Madhya Pradesh
In Madhya Pradesh, 413 mask banks have been set up so far under an 'Ek Mask-Anek Zindagi' campaign aimed at protecting citizens from corona infection. Mask banks have been set up with the help of voluntary organizations, public representatives and citizens. The mask is the simplest and cheapest means of preventing corona infection. So far, over one lakh 30 thousand masks have been donated by various institutions and citizens in this campaign.
45.HRD Minister lays foundation stone of IIM at Dhaula Kuan in Sirmour district
In Himachal Pradesh, Union Minister of Education Ramesh Pokhriyal Nishank laid the foundation stone of Indian Institute of Management (IIM) at Dhaula Kuan in Sirmour district through video conferencing. The first phase of this Institute would be completed by spending an amount of 392.51 crore rupees. Union Government would provide all possible help to ensure that the institute emerges as the best institute of the region. In 2014 Union Government had taken decision to establish seven new IIMs including IIM Sirmaur.
46.Security of Kushak Bakula Rinpoche Airport in Leh to handed over to CISF
Security responsibilities of Kushak Bakula Rinpoche Airport in Leh will be handed over to Central Industrial Security Force (CISF) from 5th August. Keeping Covid-19 SOPs in view, after flight operations are completed, the induction of CISF will take place at Leh airport. Due to Covid-19 at present daily 3 -4 flights, with 400-500 passengers, are operating in Leh-Delhi sector, in comparison to 13 flights during the non Pandemic times. Along with the Ladakh police, CRPF was performing Security of the airport as the runway is under the control of the Indian Air Force in Leh. 130 CISF personnel specially trained in Aviation security will guard the Leh airport.
47.National Bank of Bahrain selects Infosys Finacle to digitally transformation
National Bank of Bahrain (NBB) has selected Infosys Finacle to digitally transform its transaction banking business. NBB will be implementing the Finacle Liquidity Management Platform, and upgrading its existing Finacle Corporate Online Banking platform to a full-fledged Digital Engagement Suite – with the latest versions of the Finacle Corporate Online and Mobile Banking solutions, along with the Finacle Digital Engagement Hub. Finacle is the industry-leading digital banking solution suite from EdgeVerve Systems, a wholly-owned product subsidiary of Infosys. Infosys is engaged in consulting, technology, outsourcing and next-generation services.
48.Sports Minister Kiren Rijiju chairs 1st General Council meeting of Khelo India Scheme
Sports Minister Kiren Rijiju chaired the 1st General Council meeting of the Khelo India Scheme. Mr Rijiju urged the states to organise State-level Khelo India Games annually with an effort to identify a larger number of grassroot-level talents. The annual competitions being organized at the national level under the Khelo India Scheme, like the Khelo India Youth Games and University Games, have helped to identify sporting talent from all states. Mr Rijiju has asked the states to organise competitions at the district, block and panchayat-level to identify young talent.
49.eVIN ensures essential immunization services during COVID pandemic
The Electronic Vaccine Intelligence Network (eVIN) has ensured essential immunization services during the COVID pandemic. eVIN is an innovative technological solution aimed at strengthening immunization supply chain systems across the country. This is being implemented under the National Health Mission by the Ministry of Health and Family Welfare. It aims to provide real-time information on vaccine stocks and flows, and storage temperatures across all cold chain points in the country. eVIN has reached 32 States and Union Territories and will soon be rolled-out in the remaining States and UTs of Andaman and Nicobar Islands, Chandigarh, Ladakh and Sikkim. eVIN India is helping the State and UT governments monitor the supply chain of COVID response material.
50.All 23 urban towns of Mizoram take initiatives to achieve ODF plus
In Mizoram, all 23 urban towns have taken initiatives to achieve ODF plus. These 23 urban towns were declared as Open Defecation Free (ODF) by the Ministry of Housing & Urban Affairs in 2017. Presently, to become ODF-Plus, all 23 urban authorities are executing initiatives through refurbishment and renovation of the already existing toilets and improved construction of new toilets. ODF-Plus status is given if at any point of the day, not a single person is found defecating and/or urinating in the open, and all community and public toilets are functional and well maintained.
51.DNHDD launches E-Gyan Mitra mobile app for online education
Union Territory of Dadra and Nagar Haveli and Daman and Diu bordering Gujarat has launched E-Gyan Mitra mobile app for online education. The E-Gyan Mitra app launched by the Education Department of Daman Administration is becoming popular among the students and parents. DNHDD was created through the merger of the former union territories of Dadra and Nagar Haveli and Daman and Diu. Plans for the proposed merger were announced by the Government of India in July 2019 and came into effect on 26 January 2020.
52.NIT Trichy to offer MA in English Literature
The National Institute of Technology (NIT) Trichy has started an MA programme in English Literature. It is the first step in removing barriers between arts, sciences and Technology, in line with the recently announced National Education Policy (NEP). The Institute has also plans to start an online programme which will increase the number of students in a big way, in alignment with NEP 2020.
53.Hyderabad 16th among 20 cities globally in CCTV Surveillance, tops in India
Hyderabad has been ranked 16 th among the "Top 20 Most Surveilled Cities globally" according to a report published by a UK-based firm. Hyderabad with its 3 lakh CCTV cameras being used to keep tab on a city that has a population of a little over 1 crore, figured 16th in the most surveilled cities. Taiyuan in China was ranked first with 4,65,255 CCTV cameras. Hyderabad was ranked first in India.
54.DCGI gives permission to Serum Institute of India to conduct phase 2 and 3 human clinical trial of Corona vaccine developed by Oxford university
Drugs Controller General of India (DCGI) has given nod to the Serum Institute of India (SII) to conduct phase 2 and 3 human clinical trials of COVID-19 vaccine developed by Oxford University. The approval for conducting phase 2 and 3 clinical trials by the SII was granted by DCGI thorough evaluation based on the recommendations of the Subject Expert Committee on COVID-19. Currently, phase 2 and 3 clinical trials of the Oxford vaccine are going on in the UK, phase 3 clinical trials in Brazil and phase 1 and 2 clinical trials in South Africa.
55.Swachh Bharat Mission (Rural) moves towards 2nd phase, ODF-Plus
The Swachh Bharat mission has focused on rural and urban areas separately and played a crucial role in ensuring sanitation in the country. Since the launch of the mission in 2014, more than 10 crore individual toilets have been constructed across the country and as a result, rural areas in all the States have declared themselves Open Defecation Free ODF on 2nd October, 2019. The Swachh Bharat Mission (Rural) has moved towards its second phase which is also called ODF-Plus. This phase will continue till 2024-25. More than 66 lakh individual household toilets and over 6 lakh community and public toilets have also been constructed or are under construction.
56.Khadi Agarbatti Atma Nirbhar Mission approved by Govt. to generate employment and make India self-reliant in agarbatti production
MSME Minister Nitin Gadkari has approved a unique employment generation program proposed by Khadi and Village Industries Commission, KVIC to make India Atma Nirbhar in Agarbatti production. The program named as Khadi Agarbatti Atma Nirbhar Mission aims at creating employment for unemployed and migrant workers in different parts of the country. Under the scheme, KVIC will provide Automatic Agarbatti making machines and powder mixing machines to the artisans through the successful private Agarbatti manufacturers who will sign the agreement as business partners. KVIC will provide a 25 per cent subsidy on the cost of the machines and will recover the remaining 75 per cent of the cost from the artisans in easy installments every month.
57.VP M Venkaiah Naidu pays tribute to freedom fighter Pingali Venkayya on his birth anniversary
Vice President M Venkaiah Naidu paid tribute to legendary freedom fighter and the designer of India's national flag, Pingali Venkayya on his birth anniversary. Pingali Venkayya was a polymath with interests in geology, education, agriculture and languages. Our national flag is a symbol of our sovereignty, great history and culture. The Vice President said, the nation will always be grateful to the designer of the Tricolour, the pride and glory of our nation.
58.Karnataka Chief Minister BS Yediyurappa tests positive for COVID-19
Karnataka Chief Minister BS Yediyurappa has tested positive for Covid-19. He has been admitted to Manipal Hospitals on the advice of doctors as a precautionary measure. He has requested those who have come in contact with him recently to be observant and exercise self quarantine. The CM recently met governor Vajubhai Vala and the latter is likely to undergo tests. A few days back the ministers CT Ravi, Anand Singh and BC Patil were tested positive.
59.Rajasthan to provide meals at ₹8 under Indira Rasoi Yojana from this month
The Rajasthan government is going to start with the 'Indira Rasoi Yojana' in urban areas of the state from August 20. Under the scheme, 358 kitchens in 213 urban localities will be operationalised wherein people will get food for ₹8. It is another step towards realising the resolve of Rajasthan government's 'no hunger no sleep. The state government will spend ₹100 crore per year on this scheme.
60.Andhra Pradesh CM YS Jagan Mohan Reddy to launch e-Rakshabandhan
Chief Minister YS Jagan Mohan Reddy launched e-Rakshabandhan, a month-long awareness programme on the safety of women and children in cyberspace. The programme will be conducted jointly by the State police and CID to bring awareness among the public, especially women, youth and children through webinars and AP CID's official YouTube channel. The programme is aimed at creating awareness among the public on cybercrimes across the State. The participants will be explained different types of cybercrimes, and tackling techniques and alarm raising methods.
61.Kotak Mahindra Bank launches 'Kona Kona Umeed' Campaign
Kotak Mahindra Bank has announced the launch of a two-month-long campaign called 'Kona Kona Umeed'. With this it will offers huge discounts to lift up hope and optimism among its customers in the midst of the Coronavirus pandemic. The bank will provide a range of offers and deals on its products including loans, savings accounts, current accounts, corporate salary accounts as well as Kotak debit cards, credit cards and digital payments. Kotak has tied up with over 100 brands to provide exclusive deals to its customers in categories such as shopping, essentials, personal care, education, fitness, health & wellness, kids & parenting, entertainment, cyber care & security, among others.
62.Atma Nirbhar Bharat Logo Design Contest by MyGov
Government is looking to have a distinct identity for 'Atma Nirbhar Bharat Abhiyan' by developing a logo based on creative and innovative inputs from the citizens of the country. MyGov.in platform has started the Atma Nirbhar Bharat Logo Design Contest on its website where Indian Citizens can submit their entries without any hassle through online medium. The last date of submission of entries is 5th of August 2020 till 11.45 PM. The winning logo will be awarded a cash prize of 25 thousand rupees. MyGov is a citizen engagement platform which was launched by Prime Minister Narendra Modi to promote active participation of Indian citizens in Nation's governance and development. MyGov has crowdsourced many logos of various departments and initiatives including Swachh Bharat, DekhoApnaDesh, Lokpal and several others.
63.One Nation One Ration card scheme extended to four more states including J&K
Ambitious One Nation One Ration card scheme has been extended to four more states. They are Manipur, Nagaland, Jammu and Kashmir and Uttarakhand. With this, now 24 states have the facility of ration card portability covering more than 65 crore beneficiaries of National Food Security Act. These beneficiaries can now lift their entitlement of ration from any Fair Price Shop across these states. By 31st March next year, all the states will be covered under One Nation One Ration card so that all 81 crore beneficiaries can avail benefit under this scheme.
64.Amit Shah inaugurates international webinar on 'Lokmanya Tilak - Swaraj to Self-reliant India' organized by ICCR
Union Home Minister Amit Shah inaugurated a two-day international webinar on the theme of 'Lokmanya Tilak - Swaraj to Self-reliant India' organized by the Indian Council for Cultural Relations. It was organised on the 100th death anniversary of the great freedom fighter Lokmanya Bal Gangadhar Tilak. Lokmanya Bal Gangadhar Tilak played a key role in the making of the Indian Independence movement complete in letter and spirit. The slogan of 'Swaraj is my birthright and I shall have it' given by Lokmanya Tilak, will always be written in golden letters in the history of the Indian Independence Movement.
65.Dr Harsh Vardhan launches 'Vidyarthi Vigyan Manthan 2020-21
Health and Family Welfare Minister Dr Harsh Vardhan launched 'Vidyarthi Vigyan Manthan, 2020-21. This initiative is a national programme for popularizing science among school students of Class 6th to 11th. It was designed to identify the bright minds with a scientific aptitude among the student community. This is a platform to identify the talent in the field of science and to promote the scientific acumen among the students. Students will help in creating New India and this initiative will play a leading role in it.
66.Free bus travel for women on Raksha Bandhan in UP
In Uttar Pradesh Chief Minister Yogi Adityanath has announced free travel concession to women in government buses on the occasion of Raksha Bandhan. This will give relief to poor and destitute women visiting their relatives. In the wake of covid-19, the CM has appealed to people to maintain social distancing norms while celebrating the festival. Like the previous three years, women can avail free travel in all categories of Uttar Pradesh State Road Transport Corporation run buses in the state on the occasion of Rakshabandhan festival.
67.Tamil Nadu celebrates its monsoon festival 'Aadi Perukku'
Aadi Perukku, also known as the Aadi monsoon festival, is being celebrated in Tamil Nadu. The festival falls on the 18th day of the Tamil month of Adi (mid-July to mid-August) and is celebrated as a tribute to water's life-sustaining properties. It takes the form of thanking Cauvery river for flowing in plenty, thus ensuring a good agricultural harvest during the year. The festival assumes added significance in the Cauvery Delta region, where farmers also pay homage to Mother nature in the form of the majestic Cauvery river.
68.Gujarat based dairy starts innovative project to produce CNG from animal dung
Gujarat based and Asia's largest Banas dairy had come up with an innovative project to produce CNG from animal dung. The Chairman of Banas dairy made an official announcement of the project which is claimed to be the country's first such endeavour. Banas dairy started the country's first CNG pump in which Gober gas is being produced, purified and converted into CNG. The dairy is collecting over 40 tonnes of cow dung from the farmers of around 25 villages. The sale of CNG will begin from the pump in the coming week.
69.Northern Railway runs first-ever Vyapar Mala Express train
Northern Railway ran the first-ever Vyapar Mala Express train. This train destined for Jirania in Tripura has 46 wagons. Wheat was loaded in 34 wagons at Guniana station of Firozpur Division by Food Corporation of India and in the remaining Rice and Pulses have been loaded. Railways has earned more than 94 lakh rupees from this Vyapar Mala Express train. This is an express service where piece-meal stock will reach its destination in a shorter time. The train departed from Delhi Kishanganj for Jirania and it will cover a distance of two thousand 673 Kilometres from Punjab to Tripura. It will help small traders in moving their cargo through Railways, in a short time, cost effective, convenient and environment-friendly mode of transportation.
70.Walmart-owned Flipkart supports 6 lakh artisans in India through Samarth programme
Walmart-owned Flipkart said it supports over six lakh artisans, weavers and craftsmen across the country through its Samarth programme and is working on onboarding more such sellers to the platform. The Samarth programme was launched last year, wherein the e-commerce major had partnered with five non-governmental organisations (NGOs) to help artisans use the online marketplace to sell their products. Samarth supports the livelihood of over six lakh artisans, weavers and craftsmen through partnerships with NGOs and government entities, and provides the artisans an access to a pan-India customer base of more than 200 million. With the help of government partnerships, Flipkart has been able to bring artisans online from the remotest parts of Odisha, Andhra Pradesh, Uttar Pradesh, Bihar, Gujarat, Punjab and Karnataka till now.
71.ITBP became first CAPF to have supplies from KVIC
Indo Tibetan Border Police, ITBP became the first Central Armed Police Force CAPF to have supplies from the Khadi & Village Industries Commission, KVIC. Total 1200 Quintal of Mustard Oil is being procured from KVIC by ITBP with a total financial implication of 1 Crore 73 Lakh 80 Thousand rupees. It was decided during a meeting of the Directors General of the CAPFs held at Home Ministry in October last year that use of Terry Khadi Uniform and other items of swadeshi origin should be made available to the CAPFs. The ITBP had suggested that Durrie, Blankets, Towel, Mustard Oil, Yoga Kit, Hospital Bed Sheets, Pickles etc can be purchased for jawans of the Force through KVIC.
72.Films Division to pay documentary tribute to Munshi Premchand and Mohammad Rafi
Films Division to pay documentary tribute to Munshi Premchand and Mohammad Rafi. Films Division Mumbai will be screening two special documentaries to mark the 140th birth anniversary of most accomplished writer and storyteller, Munshi Premchand and the 40th death anniversary of legendary playback singer, Mohammed Rafi. The documentaries, 'Premchand' and 'Rafi - We Remember You' will be streamed on Films Division Website and YouTube channel for free. The documentary, 'Premchand' is directed by P C Sharma. It is a short biography on Munshi Premchand who is popularly known as 'Upanyas Samrat' or the King among novelists. Memories of immortal singers come alive in 'Rafi - We Remember You' is directed by Kuldeep Sinha. The hour-long documentary shares special moments from Rafi's life, his everlasting songs and tributes by contemporaries.
73.ADB signs Dollar 200 million financing deal with Reliance for power plant in Bangladesh
The Asian Development Bank (ADB) has signed a dollar 200 million financing deal with the Reliance Bangladesh LNG and Power Limited (RBLPL) to build and operate a 718 megawatt combined-cycle gas-fired power plant in Bangladesh. The project will ease ongoing energy shortages and drive further private sector investments in the country's power sector. A combined-cycle power plant is a relatively more efficient way of producing electricity. It uses both a gas and a steam turbine together to produce up to 50 percent more electricity from the same fuel than a traditional simple-cycle plant. The financing deal has two components of dollar 100 million each. While ADB will provide dollar 100 million, it will also administer the other part worth dollar 100 million from the Leading Asia's Private Infrastructure Fund (LEAP). The power plant will reduce dependence of Bangladesh on electricity imports.
74.Madhya Pradesh to begin 'Ek Mask-Anek Zindagi' public awareness campaign
A public awareness campaign called 'Ek Mask-Anek Zindagi' means one mask-many lives will be conducted in many districts of Madhya Pradesh. During this campaign, people will be informed about measures to prevent COVID-19 infection. The Municipal Corporation will also run a public awareness chariot in the city on the same theme. Masks are the simplest and most effective means to prevent Corona infection. The Mask Bank will also be established under the Ek Mask-Anek Zindgi Campaign. In this mask bank, masks will be collected from donors and distributed free of cost to the poor people.
Business
75.Eight core industries' output shrinks 15% in June
Contracting for the fourth consecutive month, the output of eight core infrastructure industries shrank by 15 per cent in June this year due to fall in the production of coal, crude oil, natural gas, steel, cement and electricity. According to the data released by the Commerce and Industry Ministry, the output of coal sector fell 15.5 per cent, crude oil declined by 6 per cent , natural gas by 12 per cent, refinery products fell by 8.9 per cent, steel sector plunged by 33.8 per cent, cement by 6.9 per cent and electricity declined by 11 per cent. In May this year, the sectors' output contracted by 22 per cent. The eight core sectors had expanded by 1.2 per cent in June last year. These eight industries account for 40.27 per cent in the Index of Industrial Production (IIP).