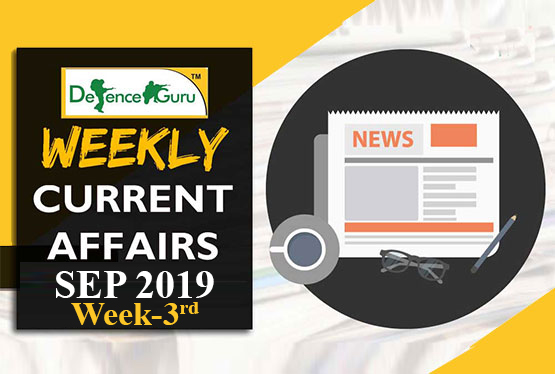 Current Affairs September 2019
Appointments
1.Air Marshal RKS Bhadauria
Air Marshal RKS Bhadauria, who is currently serving as the Vice Chief of Air Staff, will take over as the new Chief of Air Staff, succeeding Air Chief Marshal BS Dhanoa. Dhanoa took over as the Chief of the Air Staff on January 1, 2017, as the 25th Chief of the Air Staff of the Indian Air Force. Bhadauria has been awarded the Param Vishisht Seva Medal (PVSM), Ati Vishisht Seva Medal (AVSM), Vayu Sena Medal (VM), and has also been the Air Defense Commander (ADC). Days before his retirement from the Indian Air Force, Air Chief Marshal BS Dhanoa on September 2 undertook his last combat sortie on a MiG-21 aircraft with Wing Commander Abhinandan Varthaman at the Pathankot airbase in Punjab.
2.Justices Krishna Murari, SR Bhat, V Ramasubramanian and Hrishikesh Roy
Justices Krishna Murari, SR Bhat, V Ramasubramanian and Hrishikesh Roy were appointed as judges of the Supreme Court of India. The Supreme Court Collegium had recommended their names to the government last month. With a huge backlog of cases in the top court, the government had recently increased the strength of its judges from 31 to 34, including the Chief Justice of India.
3.R Ramamoorthy
Cognizant has appointed Ramkumar Ramamoorthy as the chairman and managing director of Cognizant India. Ramamoorthy, who has been with the company for more than 21 years, played a leading role in developing many of the company's India-based portfolios. He also spearheaded the company's CSR initiatives through his work at the Cognizant Foundation and Cognizant Outreach.
4.Justice P Lakshman Reddy
Justice P Lakshman Reddy was sworn in as the first Lokayukta of Andhra Pradesh. The oath was administered by Governor Biswabhushan Harichandan. Justice Reddy will be holding the position for the next five years. He is the first Lokayukta to be assuming charge since the state bifurcated in 2014. Justice Reddy had begun his career as an advocate in the district court and later elevated to the status of the judge in the High Court.
5.Abhijit Guha
UN Secretary-General Antonio Guterres appointed a veteran Indian Army official as the head of the world body's observer mission in Yemen's port city of Hodeidah. Lieutenant General (retired) Abhijit Guha has been appointed as the Chair of the Redeployment Coordination Committee (RCC) and head of the UNMHA. He will succeed Lieutenant General Michael Lollesgaard, who served as RCC Chair and head of UNMHA from January 31 to July 31.
Awards
6.IIFA Awards 2019
The 20th Edition of NEXA International Indian Film Academy Awards (IIFA Awards) for 2019 was held at Sardar Vallabhbhai Patel Indoor Stadium, Mumbai, Maharashtra.
Complete list of winners of IIFA Awards 2019:
Best Actor (Male): Ranveer Singh for Padmaavat
Best Actor (Female): Alia Bhatt for Raazi
Best Film: Raazi
Best Director: Sriram Raghavan for Andhadhun
Best Story Award: AndhaDhun.
Best Supporting Actor (Female): Aditi Rao Hydari for Padmaavat
Best Supporting Actor (Male): Vicky Kaushal for Sanju
Best Lyrics: Amitabh Bhattacharya for Dhadak
Best Playback Singer (Male): Arijit Singh for Ae Watan from Raazi
Best Debut Award (Female): Sara Ali Khan for Kedarnath
Best Debut Award (Male): Ishaan Khatter for Dhadak
20 Years Best Actor (Female): Deepika Padukone
Best Playback Singer (Female): Harshdeep Kaur and Vibha Saraf for Dilbaro from Raazi
Outstanding performance by a director in last 20 years: Rajkumar Hirani for Sanju
20 Years Best Actor (Male): Ranbir Kapoor.
Best Music: Sonu Ke Titu Ki Sweety
Best music in the last 20 years: Pritam
Best film of the past 20 years: Kaho Na Pyaar Hai
Lifetime Achievement Award: Legendary actor and comedian Jagdeep Jaffery
8.Education Excellence Award -2019
Super 30 founder and noted mathematician Anand Kumar has been felicitated in the US with a prestigious teaching award for his contributions towards imparting education to the country's needy students. The Education Excellence Award 2019 was presented to Kumar by the Foundation For Excellence (FFE) at a function on the occasion of the organisation's 25th anniversary gala in San Jose, California. Anand has been running a highly innovative Super 30 programme for the last 18 years to mentor 30 students free off cost through year-long residential coaching for India's premier IIT-JEE.
9.A documentary film based on the life of Uttarakhand farmer nominated for Oscars
A documentary film based on life of a Uttarakhand farmer has been nominated for Oscars. The documentary film named Moti Bagh is based on the life of Vidyadutt, a farmer living in Pauri Garhwal region of the state. The state Chief Minister Trivendra Singh Rawat congratulated the director, Nirmal Chander Dandriyal, and said it will inspire youths to stay in their villages and work for their communities.
11.Vishwakarma Rashtriya Puraskar & National Safety Awards 2017
The Vishwakarma Rashtriya Puraskar & National Safety Awards for the Year 2017 were given away. 28 awards were given for Vishvakarma Rashtriya Puruskar while 81 winners bagged the National Safety Awards. The Ministry of Labour and Employment has been operating the "Vishwakarma Rashtriya Puraskar (VRP)" (Previously known as ShramVir National Awards) and "National Safety Awards (NSA)" since 1965.
12.Bill & Melinda Gates Foundation to honour PM Modi
Bill and Melinda Gates Foundation will honour Prime Minister Narendra Modi for Swachh Bharat Mission, a sanitation initiative that improved access to toilets. PM Modi will receive its annual Goalkeepers Global Goals Award for providing 500 million people in India safer sanitation. The Swachh Bharat Mission was launched in 2014 and its components include the construction of household toilets, community and public toilets and solid waste management. According to the latest government data, the rural sanitation coverage has reached 99.99 per cent till now from 39 per cent in 2014. Over ten crore household toilets have been built so far under Swatch Bharat Mission.
13.newly instated international photography award-2019
Renowned Indian photographer Raghu Rai has been chosen as the first recipient of the inaugural edition of the Acadmie des beaux-arts Photography Award - William Klein. Established this year, the award is in honour of the celebrated American-born French photographer and filmmaker William Klein, best known for his unusual photography techniques. As a consecration award, the prize is intended to reward a photographer for their entire career and commitment to photography.
14.Dr Kalam Smriti International Excellence Award-2019
Prime Minister Sheikh Hasina of Bangladesh conferred the Dr Kalam Smriti International Excellence Award 2019 in Dhaka. The award has been instituted in the memory of former President Dr A.P.J. Abdul Kalam. The award citation lauded Prime Minister Hasina for her vision of a peaceful and prosperous South Asia, free of tension, conflicts and terrorism. It acknowledged her contribution to fostering cooperation between India and Bangladesh. The award is given every year to honour statesmen or leaders who have shown excellence in respective fields to achieve the best for their countries.
15.Agnes Kharshiing Gets Hrant Dink Award in Istanbul
Meghalaya's Right to Information (RTI) activist Agnes Kharshiing was awarded the 11th International Hrant Dink Award at the Lutfi Kirdar International Convention and Exhibition Centre, in Istanbul. Kharshiing, who was assaulted by a group of 40 people for complaining against illegal mining and transport of coal in the East Jaintia Hills district. The Hrant Dink Award is an annual award presented by the Hrant Dink Foundation on the birth anniversary of Hrant Dink, a Turkish journalist.
16.Neena Gupta wins two awards at Boston Film Festival
Bollywood actor Neena Gupta registered a double victory at Indian International Film Festival of Boston. The 'Badhaai Ho' actor won Best Actress award while her film 'The Last Color' emerged victorious in Best Feature Film category. The directorial debut of world-renowned chef Vikas Khanna 'The Last Color' deals with taboo surrounding widows in Vrindavan and Varanasi in India. The film's first look was unveiled at the Cannes Film Festival and has since travelled around the world to various film festivals including New York Indian Film Festival 2019 and Indie Meme Film Festival among others.
17.Dr Kalam Smriti International Excellence Award-2019
Prime Minister Sheikh Hasina of Bangladesh conferred the Dr Kalam Smriti International Excellence Award 2019 in Dhaka. The award has been instituted in the memory of former President Dr A.P.J. Abdul Kalam. The award citation lauded Prime Minister Hasina for her vision of a peaceful and prosperous South Asia, free of tension, conflicts and terrorism. It acknowledged her contribution to fostering cooperation between India and Bangladesh. The award is given every year to honour statesmen or leaders who have shown excellence in respective fields to achieve the best for their countries.
18.Hrant Dink Award-2019
Meghalaya's Right to Information (RTI) activist Agnes Kharshiing was awarded the 11th International Hrant Dink Award at the Lutfi Kirdar International Convention and Exhibition Centre, in Istanbul. Kharshiing, who was assaulted by a group of 40 people for complaining against illegal mining and transport of coal in the East Jaintia Hills district. The Hrant Dink Award is an annual award presented by the Hrant Dink Foundation on the birth anniversary of Hrant Dink, a Turkish journalist.
19.Boston Film Festival-2019
Bollywood actor Neena Gupta registered a double victory at Indian International Film Festival of Boston. The 'Badhaai Ho' actor won Best Actress award while her film 'The Last Color' emerged victorious in Best Feature Film category. The directorial debut of world-renowned chef Vikas Khanna 'The Last Color' deals with taboo surrounding widows in Vrindavan and Varanasi in India. The film's first look was unveiled at the Cannes Film Festival and has since travelled around the world to various film festivals including New York Indian Film Festival 2019 and Indie Meme Film Festival among others.
20.Eminent Engineers Award-2019
The Union Minister for Skill Development & Entrepreneurship, Dr. Mahendra Nath Pandey, awarded Shri Vinod Kumar Yadav, Chairman, Railway Board with Eminent Engineers Award. The award was presented at the special event to mark the 52nd Engineers' Day organised by the Institution of Engineers in New Delhi. The award was for his outstanding contributions in the field of engineering.
21.Aga Khan Architecture Award-2019
An innovative project for constructing a floating school for children in Bangladesh has been awarded the prestigious Aga Khan Architecture Award 2019. The award was given away in Kajan, the republic of Tatarstan for the Arcadia Education Project in South Kanarchor of Bangladesh. The project involved the construction of a school in an area which is underwater during the monsoon months. Five other projects from other countries were also given the award.

Sports
22.Amit Panghal becomes first Indian to enter World Men's Championship finals
In Boxing, Asian Champion Amit Panghal became the first Indian to make the finals of the World Men's Championship. In 52 kilogram category, second seed Panghal prevailed 3-2 against Kazakhstan's Saken Bibossinov in the last-four stage but Kaushik lost 0-5 to top-seeded Cuban Andy Gomez Cruz in 63-kilogram category. Panghal will take on Uzbekistan's Shakhobidin Zoirov, the reigning Olympic champion. India had never won more than one bronze medal in a single edition of the world championships but Panghal and Manish Kaushik changed that by making the semifinals. The past Indian medal-winners at the world meet are Vijender Singh (2009), Vikas Krishan (2011), Shiva Thapa (2015) and Gaurav Bidhuri (2017).
23.Bajrang Punia, Ravi Dahiya qualify for the 2020 Tokyo Olympics
Bajrang Punia and Ravi Dahiya qualified for the 2020 Tokyo Olympics winning their respective quarterfinal matches in World Wrestling Championships at Nur-Sultan in Kazakhstan. However, they lost their semi-final bouts in the men's freestyle category. Bajrang lost the semi-final home wrestler Daulet Niyazbekov while Ravi Dahiya lost his match to reigning world champion Zaur Uguev from Russia. Vinesh Phogat had already booked an Olympic quota for India in women's 53 kilograms.
24.FIFA rankings: India drops one spot to 104th position
The Indian football team has dropped one spot to 104 in the latest FIFA rankings. The side last played in the 2022 World Cup and 2023 AFC Asian Cup second round joint preliminary qualifiers. India is playing alongside Oman, Qatar, Bangladesh and Afghanistan in Group E of the qualifying tournament. Belgium has maintained its top spot in the rankings, while France has surpassed Brazil to reach the second spot.
25.Bajrang Punia, Ravi Kumar book 2020 Tokyo Olympics berth
Two more Indian wrestlers book 2020 Tokyo Olympics ticket; Bajrang Punia seals Olympics berth in the 65-kilogram category while Ravi Kumar books Olympics quota in the 57-kilogram category. Bajrang Punia and Ravi Kumar reached their respective semi-finals at the World Wrestling Champions and also secured themselves quotas at the 2020 Tokyo Olympics. In quarter-finals, Punia defeated Jong Son of North Korea 8-1. Meanwhile, Ravi Dahiya defeated former world champion Yuki Takahashi 6-1 in the quarter-finals of 57kg freestyle event.
26.Vinesh Phogat becomes first Indian wrestler to qualify for the 2020 Tokyo Olympics
India's star wrestler Vinesh Phogat qualified for the 2020 Olympics after beating fancied American Sarah Hildebrandt in the World Championships in Nur Sultan, Kazakhstan. She scored an impressive 8-2 win over the world championship silver medalist to secure her place at the Tokyo Games. Vinesh will wrestle in the bronze-medal bout against Maria Prevolaraki of Germany later.
27.The mascot for the 2020 Beijing Winter Olympics unveiled
A smiling panda and a walking Chinese lantern will be the mascots for the 2022 Winter Olympics and Paralympics in Beijing. The panda, named Bing Dwen Dwen, is the Olympic mascot. Colourful circles around its face symbolize skating tracks and 5G technology, according to the website of the Beijing organizing committee. The giant panda was one of the five mascots for the 2008 Beijing Summer Olympics, and it also was the symbol for the Asian Games in Beijing in 1990.
28.Dinesh Mongia announces retirement from all forms of cricket
Former India all-rounder Dinesh Mongia announced his retirement from all forms of cricket. Mongia is best known for being chosen over VVS Laxman in the Indian team that finished runner-up in the ICC World Cup 2003 in South Africa. Mongia was last seen on a cricket field in 2007, playing for Punjab, before being banned by the BCCI for joining the Indian Cricket League (ICL). Mongia played 121 first-class matches and has 21 centuries to his name.
29.US swimmer crisscrosses the English Channel in 54-hour feat
An American breast cancer survivor Sarah Thomas, became the first person to swim across the English Channel four times non-stop in a 54-hour feat of endurance. Thomas completed treatment for cancer a year ago. Thomas told that the hardest part of the swim was dealing with the saltwater, which left her throat and mouth sore.
30.Smith creates a record of scoring most runs in a series this century
Australia batsman Steve Smith has now become the highest run-scorer in a Test series of this century. In the ongoing fifth Ashes Test against England, Smith went past his own record of scoring 769 runs against India during the 2014-15 season. Smith now has a total of 774 runs in the series. Smith has made his comeback in the international cricket in the ICC Men's World Cup after serving a 12 months suspension for his involvement in the ball-tampering scandal at Newlands in March 2018. Smith recently attainted the number one batsman spot in the ICC Test rankings.
31.Pankaj Advani clinches record 22nd world billiards title
Pankaj Advani increased his tally of world titles to 22 by winning a fourth straight final in the 150-up format at the IBSF World Billiards Championship. The 34-year-old has brought home a world trophy every year ever since returning from a professional stint in the UK in 2014. With another trophy in the bag, Advani extends his remarkable run of winning a global crown since 2003. The Bengaluru-based Advani has won more world titles in his sport than anyone else.
32.Sourabh Verma clinches Vietnam Open Super 100 title
In Badminton, Sourabh Verma clinched the Vietnam Open Super 100 title, defeating China's Sun Fei Xiang in a thrilling Men's Singles summit clash at the Ho Chi Minh City. Second seed Verma recovered from a mid-game slump to beat Sun 21-12, 17-2, 21-14. This victory marks Verma's second Super 100 win in the ongoing calendar year. He had won the Hyderabad Open earlier in August.
33. Indian shuttler Lakshya Sen clinches men's singles title of Belgian International Challenge
In Badminton, rising Indian shuttler Lakshya Sen stunned second seed Victor Svendsen of Denmark in straight games to clinch men's singles title at the Belgian International Challenge. Lakshya was at his best as he notched up a comfortable 21-14, 21-15 win over Svendsen in the title clash. The 18-year-old Lakshya had earlier beaten Denmark's Kim Bruun 21-18, 21-11 to win in a 48-minute semifinal clash.
34.India beat Bangladesh by five runs, clinch U-19 Asia Cup title
India clinched the Under-19 Asia Cup title, with a thrilling five-run win over Bangladesh in a low-scoring final at Colombo. Defending a paltry total of 106, India dismissed Bangladesh for 101 in 33 overs. Left-arm spinner 18-year-old Atharva Ankolekar, emerged as the star of the Indian team, with figures of 5 for 28 from 8 overs.
35.2020en's FIFA U-17 World Cup to be held from Nov 2-21
The FIFA U-17 Women's World Cup, to be hosted by India, will be held from 2nd to 21st November next year. The of FIFA will be held in four cities across the country. Last month, the Kalinga Stadium in Bhubaneswar has been provisionally confirmed as a venue, pending FIFA approval. Kolkata, Navi Mumbai, Panaji and Ahmedabad are in the running for the other three host cities. India was announced as the host country in March this year. Spain is the defending champions, having won the title of the biennial tournament in 2018.
International
36.International Day of Peace: 21 September
The International Day of Peace, also known as World Peace Day, is a United Nations-sanctioned day observed annually on 21 September. It is dedicated to world peace, and specifically the absence of war and violence, such as might be occasioned by a temporary ceasefire in a combat zone for humanitarian aid access. The day was first celebrated in 1981 and is kept by many nations, political groups, military groups, and people.
37.World Bamboo Day: 18 September
World Bamboo Day is observed every year on the 18th of September by the World Bamboo Organization to generate awareness about conserving and promoting the bamboo industry. Known as poor man's timber, bamboo is omnipresent in tribal cultures and community living. Restructured National Bamboo Mission was approved by the Cabinet Committee on Economic Affairs in 2018. India is the world's second-largest cultivator of bamboo after China with over 130 species.
38.Sri Lanka unveils South Asia's tallest tower
Sri Lanka unveiled South Asia's tallest tower, costing over $100 million, 80% of which has been funded by China under the controversial Belt and Road Initiative (BRI). The 350-metre-tall 17-storey Lotus Tower, located in the heart of Colombo city, comprises a television tower, a hotel, a telecommunications museum, restaurants, auditorium, an observation deck, a shopping mall and a conference centre. The tower spread over an area of 30,600 sq. metres was constructed at a cost of over $100 million, 80% of which was funded by China.
39.Mongolian President arriving in New Delhi on a five-day state visit
President of Mongolia Khaltmaagiin Battulga is arriving in New Delhi on a five day State visit. He will be accompanied by a high-level official and business delegation. Mr Battulga will be accorded ceremonial reception at the forecourt of Rashtrapati Bhavan. During his stay, the Mongolian President will visit Agra, Bodh Gaya and Bengaluru. Mr Battulga's visit to India will be the first State visit by a Mongolian President in last 10 years.
40.World Ozone Day: 16 September
World Ozone Day is observed on 16 September every year to spread awareness among people about the depletion of the Ozone Layer. In 1994, the UN General Assembly proclaimed this day as the International Day for the Preservation of the Ozone Layer, commemorating the date of the signing, in 1987, of the Montreal Protocol on Substances that Deplete the Ozone Layer. The theme of World Ozone Day 2019 is '32 years and Healing'.
41.Poland's Foreign Minister unveils memorial dedicated to Polish World War 2 refugees in Kolhapur
Deputy Foreign Minister of Poland Marcin Przydacz inaugurated the museum in Kolhapur, where around 5000 Polish people took asylum during the World War-2. A Memorial Museum was built to commemorates the asylum seekers. When Poland was caught between Adolf Hitler's Germany and Josef Stalin's Russia during the Second World War, a stream of refugees made their way to Valivade village in Kolhapur district, 235 km from Pune.
42.St. Vincent and Grenadines become 79th country to join India-led International Solar Alliance
Saint Vincent and Grenadines became the 79th country to join the International Solar Alliance (ISA). The International Solar Alliance is a group of 121 solar resource-rich countries with headquarters in Gurugram, India. The organisation aims to deploy over 1,000 gigawatts of solar energy and mobilise more than USD 1,000 billion into solar power by 2030.
Points to remember
St. Vincent and Grenadines Capital: Kingstown
Currency: Eastern Caribbean dollar
43.The UK announces two-year post-study work visa for all foreign students
The UK government announced a two-year post-study work visa for all international students who will be coming into the country from the academic year 2020-21. This new graduate immigration route will be open for all international students, including those from India, who have completed a degree at an undergraduate level or above at an institution approved by UK Higher Education Provider. This will allow international students to stay in the UK after they complete their studies for a period of up to 2 years to work, to look for work.
44. Scientists identify the largest flying animal in history
Scientists unveiled a new species of pterosaur, which is among the largest ever flying animals, according to a study from the Queen Mary University of London. The pterosaur's name 'Cryodrakon boreas' roughly translates to 'frozen dragon of the north wind' in tribute to the landscape of the Albertan winter. Cryodrakon boreas was a flying reptile with a wingspan of up to 10 metres which lived during the Cretaceous period around 77 million years ago.
National
45.PM Modi, Mongolian President unveil Lord Buddha statue in Mongolia
Prime Minister Narendra Modi and Mongolian President Khaltmaagiin Battulga jointly unveiled Lord Buddha statue. They unveiled the statue via video-conferencing in Delhi. The statue is built at Gandan Monastery in Ulaanbaatar, Mongolia. Battulga will also participate in an India-Mongolia Business Forum in New Delhi.
46.Modi to embark on a seven-day visit to the US
Prime Minister Narendra Modi will embark on a seven-day visit to the United States. During his visit, Mr Modi will be in Houston and New York and address the United Nations General Assembly on 27th of this month. Prime Minister will address the Indian community on 22nd of this month and President Donald Trump will also be there. On 24th September, India will organize an event to commemorate the 150th Birth Anniversary of Mahatma Gandhi in the UN. During the visit, Mr Modi will also be honoured with Bill and Melinda Gates Foundation's Global Goalkeeper's Award for his leadership in the field of sanitation through Swachh Bharat Abhiyan.
47.Ooty to host 2nd flower festival during North-East Monsoon
Udhagamandalam-Ooty- in Tamilnadu will be hosting the second flower festival of the year during the North-East Monsoon in October and November. Preparatory works for the elaborate exhibition of colourful and fragrant flowers have started in the famous Botanical Gardens in Udhagamandalam. More than eighty-five exotic varieties, including predominantly English flowers like Dahlia, Merigold, Calendula and Daisy will be exhibited during the festival. Flower plants are being replanted in two and a half lakh small pots, which will be kept in environmentally ideal conditions to ensure that the maximum number of flowers are ready by the time of the month-long festival.
48.Meeting of Northern Zonal Council chaired by Home Minister Amit Shah begins
The meeting of the Northern Zonal Council under the chairmanship of Union Home Minister Amit Shah began. The Northern Zonal Council comprises Haryana, Himachal Pradesh, Punjab, Rajasthan, Jammu and Kashmir, Ladakh and National Capital Territory of Delhi. Haryana Chief Minister Manohar Lal Khattar is the vice-chairman and host of the meeting. The council will discuss the issues pertaining to boundary disputes, security, infrastructure, transport, industries, water, power, housing, education, food security, tourism and forests and environment.
49.Pradhan Mantri Matru Vandana Yojana crosses one crore beneficiaries
Pradhan Mantri Matru Vandana Yojana (PMMVY) has achieved a significant milestone by crossing one crore beneficiaries. The PMMVY is a direct benefit transfer scheme under which cash benefits are provided to pregnant women in their bank account directly to meet enhanced nutritional needs and partially compensate for wage loss. The scheme, under which the beneficiaries receive a cash benefit of five thousand rupees in three instalments, was launched on 1st of January in 2017. The eligible beneficiaries also receive cash incentive under Janani Suraksha Yojana.
50.Ramesh Pokhriyal launches waste management summit for women entrepreneurs
Union Human Resource Development Minister Ramesh Pokhriyal 'Nishank' launched 'WAWE Summit 2019': Waste Management Summit for Women Entrepreneurs. The Minister informed that the WAWE Summit will be held in November-December 2019. It will be jointly organized by All India Council for Technical Education (AICTE) and Institute of Waste Management (IIWM) in Jaipur. He further said that this conclave will be part of a series of activities to encourage entrepreneurship amongst young graduates.
51.India Post expands speed post service to six new foreign countries
India Post expanded speed post service to six new foreign destinations in Asia, Europe and South America. The Department of Posts has announced commencing of International Speed Post (EMS) Service to Bosnia and Herzegovina, Brazil, Ecuador, Kazakhstan, Lithuania and North Macedonia. EMS or Express Mail Service is a premium service that enables its users to send documents and merchandise faster and with the added facility of being able to track the movement of the item on the internet. India Post currently provides speed post service to 100 countries, as per the information available on its website.
52.International Ramayana Festival concludes in Delhi
The 5th edition of the International Ramayana Festival concluded in the national capital Delhi with performances from Bangladesh and Fiji. The three-day-long festival, which commenced on September 17 was held at Kamani Auditorium. In the event, around nine countries including Bangladesh and Fiji participated and rendered their versions of Ramayan. On September 17, Thailand, Indonesia and Sri Lanka participated in the event while on September 18, Cambodia, Mauritius and Trinidad and Tobago showcased their version of Ramayana to the audience. Last year in January, India hosted the Ramayana Festival in coordination with ASEAN countries.
53.Telangana to observe 2020 as the "Year of AI"
The Telangana government has decided to declare 2020 as Artificial Intelligence year by organising various activities related to the emerging technology. The state government has signed up with NITI Aayog, which has come out with the 'National Strategy for Artificial Intelligence' to run pilot projects in Telangana. IT industry body NASSCOM is setting up a Centre of Excellence in Data Sciences and AI here, which is expected to start its activities in 2020. The IIT, Kharagpur, which is coming up with its regional centre here, would take up the first programme in AI.
54.Skill India, IBM join hands for nationwide Train-the-Trainer programme in AI
The Directorate General of Training (DGT), under the skill development and entrepreneurship ministry, has signed an agreement with IT major IBM to carry out a nationwide Train-the-Trainer programme in basic artificial intelligence. As part of the programme, ITI trainers will be trained on basic artificial intelligence (AI) skills towards using technology in their day-to-day training activities. IBM aims at training 10,000 faculty members from ITIs across the country and the programme will be executed over a period of one year with 14 trainers across 7 locations with over 200 workshops.
55.At 17.5 million, Indian diaspora largest in the world: UN report
India is the leading country of origin of international migrants in 2019 with a 17.5 million-strong diaspora. The International Migrant Stock 2019, a dataset released by the Population Division of the UN Department of Economic and Social Affairs provides the latest estimates of the number of international migrants by age, sex and origin for all countries and areas of the world. The report says that India hosted 5.1 million international migrants in 2019, less than 5.2 million in 2015. Migrants from Mexico constituted the second-largest diaspora with 11.8 million people followed by China with 10.7 million people.
56.Union Minister Gehlot launches MIS portal under Accessible India Campaign
The Department of Empowerment of Persons with Disabilities, under Ministry of Social Justice and Empowerment, has developed a Management Information System, MIS for stakeholders of Accessible India Campaign. Union Minister for Social Justice and Empowerment Thaawarchand Gehlot launched the MIS portal in New Delhi. The MIS portal will bring all the nodal ministries and States and Union Territories on a single platform for monitoring the progress being made against each target of Accessible India Campaign. The portal will be useful in maintaining all the function on a digital platform and capture data on a real-time basis.
57.Government issues ordinance to ban e-cigarettes
The Government issued an ordinance to ban e-cigarettes making the production, import, export, transport, sell or advertisements of such "alternative" smoking devices a cognizable offence attracting jail term and fine. First-time violators will face a jail term of up to one year and a fine of Rs 1 lakh. For subsequent offences, a jail term of up to three years or a fine of Rs 5 lakh, or both according to the ordinance. The storage of e-cigarettes shall now be punishable with imprisonment of up to six months or a fine of up to Rs 50,000 or both.
58.Delhi Police launches 'Tatpar' app for citizens
In order to provide safety and a convenient online mode on a 24x7 basis to its citizen, Delhi Lieutenant Governor Anil Baijal on launched newly-integrated one-touch mobile app 'Tatpar'. The app has included all the important websites, mobile applications and helpline numbers of Delhi Police besides, 50 other services. With the help of this app, people can also share information to police about a suspicious vehicle or person or of a crime. The police have claimed that there are more than 50 citizen-centric services in it with just a single click.
59.1st anniversary of Ayushman Bharat scheme on 23 September
Ayushman Bharat-Pradhan Mantri Jan Arogya Yojna scheme will be completing one year on September 23. Within one year, more than 45 lakh poor people have been treated under Ayushman Bharat scheme.18,073 hospitals have been empanelled, and more than Rs 70,500 crore has been spent. One important aspect of Pradhan Mantri Jan Arogya Yojana (PMJAY) is that benefits of the scheme are portable across the country and a beneficiary can visit any empanelled public or private hospital for cashless treatment.
60.ISRO and DRDO ink MoUs to provide technologies for human-centric systems for Human Space Mission
Indian Space Research Organisation (ISRO) has joined hands with Defence Research and Development Organisation (DRDO) for the development of human-centric systems for the Human Space Mission to demonstrate its human space flight capabilities. The technological capabilities existing in DRDO laboratories for defence applications will be customised to meet the requirements of the human space mission of ISRO. ISRO aims to demonstrate human spaceflight capability before the 75th anniversary of India's independence in 2022.
61.Kerala govt inks MoU with the Maldives on cancer care
Kerala inked a memorandum of understanding (MoU) with the Maldives to strengthen cancer care in the island nation. Maldives has also sought RCC's support to create a cancer registry in that country. The MOU was signed between Maldivian Minister Abdulla Ameen and Kerala Health Minister K K Shylaja in the presence of the state Chief Minister Pinarayi Vijayan.
62.Air-to-Air Missile Astra successfully flight tested from Su-30 MKI
India's indigenously designed air-to-air missile Astra was successfully test-fired from the Bay of Bengal off the coast of Odisha. The beyond-visual-range missile was launched from Sukhoi-30 MKI as a part of user trials. Various radars, electro-optical tracking system and sensors tracked the missile and confirmed its engagement with the target. Astra has been designed by the DRDO, the premier research and development organisation of the armed forces in the country. The Astra is capable of engaging targets of different ranges and altitudes including long-range as well as short-range targets.
63.Union Minister Prakash Javadekar flags off 'Jaldoot' bus for water conservation initiative in Pune
The union minister for environment, forest and climate change Shri Prakash Javadekar flagged off a bus named "Jaldoot" in Pune, Maharashtra. It showcases the importance of water conservation. This bus which is redesigned to create "Jaldoot: Travelling Exhibition on Jalshakti Abhiyan", would travel to 8 districts of Maharashtra for 2 months.
64.Trilateral Exercise "SITMEX" Commences at Port Blair
A maiden trilateral exercise SITMEX, involving Republic of Singapore Navy (RSN), Royal Thailand Navy (RTN) and Indian Navy (IN) started at Port Blair. The exercise aims to bolster the maritime inter-relationships among Singapore Thailand and India, and contribute significantly to enhance the overall maritime security in the region. This would also strengthen the mutual confidence amongst three navies in terms of interoperability and development of a common understanding of procedures.
65.Indo-Thailand Joint Exercise 'Maitree' in Umroi
Opening Ceremony of Indo-Thailand Joint Exercise Maitree was conducted at Joint Training Node, Umroi. Indian Army and Royal Thailand Army contingents put up a brilliant march past demonstration & weapons and equipment were displayed for the RTA Contingent. The exercise will culminate with a 48 hours joint exercise which will showcase the planning and execution of joint skills of soldiers while conducting any counter-terrorism operation.
66.India to fund 1000 PhD fellowships for ASEAN students at IITs
India formally launched an initiative to fund 1,000 scholars from south-east Asian countries to pursue PhD at its 23 Indian Institutes of Technology (IITs). The move will help internationalize its premier technology campuses and boost academic ties with East Asian neighbours. The move comes after Prime Minister Narendra Modi had promised to enhance academic ties with the East Asian nations in 2018.
67.Arunachal Pradesh CM dedicates Dikshi Hydroelectric Project to people of the state
Arunachal Pradesh Chief Minister Pema Khandu dedicated the Dikshi Hydroelectric Project to the people of the state. The 24 Mega Watt Hydroelectric Project has been installed at Dikshi Village in West Kameng District. It is a Run-of-the-River project constructed on the river Phudung by Devi Energies Private Limited. It was completed in a record time of four years with an investment of about 430 crore rupees. Government of Arunachal Pradesh is the sole beneficiary of the power generation from this project.
68.Traditional Neermahal Jal Utsav concludes in Tripura
In Tripura, the three-day-long traditional Neermahal Jal Utsav concluded with eye-catching boat race and swimming competitions at Rudrasagar lake. Chief Minister Biplab Kumar Deb flagged off the boat race. Neermahal is a water palace built at the middle of Rudrasagar lake by Maharaja Bir Bikram Kishore Manikya in 1930 as his summer resort is inspired by the Mughal style of architecture.
69. 'Great Ganga Run 2019' flagged off in New Delhi
Jal Shakti Minister Gajendra Singh Shekhawat and Sports Minister Kiren Rijiju flagged off 'Great Ganga Run-2019' at Jawaharlal Nehru Stadium in New Delhi. The event was organised by Ministry of Jal Shakti. A large number of people from all age groups participated in the marathon.
70.Hindi Diwas: 14 September
Hindi Diwas is observed every year on 14 September to mark the popularity of Hindi as an official language of India. On the occasion, the International Hindi Conference was also organised by the World Hindi Council in New Delhi. Under Article 343 of the Indian Constitution, Hindi written in Devanagari script was adopted as the official language.
71.Engineers Day: 15 September
Engineers Day in India is observed every year on 15 September. It is celebrated as a tribute to the greatest Indian engineer and Bharat Ratna Sir Mokshagundam Vishweshvaraya. He was an engineering pioneer of India whose genius reflected in harnessing of water resources and building and consolidation of dams across the country. Visvesvaraya was also the chief engineer responsible for the construction of the Krishna Raja Sagara Dam in Mysore, the biggest in Asia at that time. However, the Telangana state celebrates Engineers day on July 11th on the birthday of Ali Nawaz Jung Bahadur.
72.14th Conference of Parties to UNCCD adopts Delhi Declaration
The 14th Conference of Parties (COP-14) to the United Nations Convention to Combat Desertification (UNCCD) came to a close with the adoption of the Delhi Declaration. During the extensive deliberations that lasted for 12 days, COP-14 witnessed widespread participation from over 9,000 participants from across the globe at Greater Noida. In Delhi Declaration, the parties expressed support for new initiatives aiming to improve human health and well-being, the health of ecosystems and to advance peace and security. During the 12-day conference, COP 14 held thought-provoking discussions on land management, restoration of degraded land, drought, climate change, renewable energy, women empowerment, gender equality, water scarcity and various other issues.
73.India joins the global antimicrobial resistance research hub
India has joined the Global Antimicrobial Resistance (AMR) Research and Development (R&D) hub as a new member. This would expand the global partnership working to address challenges and improve coordination and collaboration in global AMR research. AMR is the ability of a microbe to resist the effects of medication that once could successfully treat the microbe. Global AMR research and development hub was launched in May 2018 on the margins of the 71st session of the World Health Assembly, following a call from G20 leaders in 2017.
74.NCST recommends 'tribal area' status for Ladakh under Sixth Schedule
The National Commission for Scheduled Tribes (NCST) wrote to Home Minister Amit Shah and Tribal Affairs Minister Arjun Munda, recommending that Ladakh be declared a tribal area under the Sixth Schedule of the Constitution. The Sixth Schedule provides for the administration of tribal areas after setting up the autonomous district and regional councils. The Home Ministry is the central authority for declaring an area as a "tribal area". The Scheduled Tribes that inhabit the region include Balti, Beda, Boto, Brokpa/Drokpa, Changpa, Garra, Mon and Purigpa.
75.DRDO hands over second 'Netra' early warning system to IAF
The Defence Research Development Organization (DRDO) handed over the second airborne warning plane, Netra, to the Indian Air Force. The Netra, an Airborne Early Warning and Control (AEWC) aircraft, had played a stellar role during the Balakot airstrikes that had been carried out by the IAF in February this year. It provided surveillance and radar coverage to the five Mirage jets that bombed terror launch pads in Balakot in Khyber-Pakhtunkhwa province in Pakistan. Designed and developed by scientists of the DRDO, with assistance from the Bengaluru-based Centre for Airborne Systems, the Netra is fitted with indigenously developed electronics and hardware.
76.Tata Group private partner in Indian Institute of Skills, Mumbai
Mahendra Nath Pandey, Minister for Skill Development and Entrepreneurship (MSDE), on laid the foundation stone for Indian Institute of Skills (IIS) at Mumbai. The objective of the institute is to provide skill training in highly-specialised areas to students who want to pursue technical education after completing Class X and XII. Tata Education Development Trust (TEDT) was selected as the private partner for setting up IIS at NSTI campus in Mumbai through a competitive bidding process. The Tata Group is investing about ₹300 crore in the 4.5-acre campus. The Union Cabinet had given its nod to set up Indian Institute of Skills (IISs) in three cities, Mumbai, Ahmedabad and Kanpur to give wings to the Skill India Mission.
Business
77.Corporate tax rates slashed to 22% for domestic companies
Union Minister for Finance and Corporate Affairs Nirmala Sitaraman announced that corporate tax rates have been slashed to 22% for domestic companies and 15% for new domestic manufacturing companies. This relief in tax has been done through an ordinance to make certain amendments in the Income-tax Act 1961 and the Finance (No. 2) Act 2019. The effective rate for domestic companies shall be 25.17 per cent inclusive surcharge and cess and for new companies (i.e companies incorporated on or after 1st October 2019 with a condition to commence production on or before 31st March 2023) is 17.01 % inclusive of surcharge and cess. The Minister also said that the Government has also decided to expand the scope of Corporate Social Responsibility two per cent spending.
78.Government notifies 8.65% interest rate for EPFO members
Government has approved 8.65 per cent interest rate on deposits in Employees Provident Fund for 2018-19. Ministry of Labour and Employment has notified 8.65 per cent rate of interest on EPF deposits for its over six crore subscribers. The EPFO has been settling EPF withdrawal claims at 8.55 per cent interest rate, approved for 2017-18. Now, the EPFO will settle accounts on the higher rate of 8.65 per cent for 2018-19.
79. World Bank to provide Rs 3,000 crore aid for food parks
Union Minister of State for Food Processing Industries Rameswar Teli has said that the World Bank will provide three thousand crore rupees assistance to finance, mini and mega food parks across the country. He was addressing the 15th Indo-US Economic Summit organized by the Indo-American Chamber of Commerce-North India Council (IACC-NIC) in New Delhi. The government is trying its best to double the income of farmers and is laying lot of focus on mega and mini food parks.
80.GST Network decides to make Aadhaar authentication mandatory for new dealers from January 2020
The GST Network has decided to make Aadhaar authentication or physical verification mandatory for new dealers from January 2020 to check malpractices in GST. This was announced by Deputy Chief Minister of Bihar Sushil Kumar Modi, who heads the Group of Ministers of GST Network. Aadhaar authentication was earlier optional.
81.ONGC to invest over Rs 13,000 crore in Assam to drill over 220 wells
State-owned Oil and Natural Gas Corporation (ONGC) will invest over Rs 13,000 crore in Assam over the next five years. The oil and gas company has signed a memorandum of understanding (MoU) with the Assam government for boosting its exploration and production activities in the state. The company will make the investment for drilling more than 220 oil and gas wells across the state.
82.IDBI to launch a co-branded credit card with LIC
IDBI Bank is planning to launch a co-branded credit card, which will be marketed to customers, agents, and employees of the corporation and its subsidiaries. The co-branded credit card will be launched in association with LIC's wholly-owned subsidiary, LIC Credit Cards Services (LIC CSL) Currently, IDBI Bank offers five credit card variants. LIC CSL, which has a tie-up with Axis Bank and Corporation Bank for issuance of credit cards under co-branded/white label agreements.