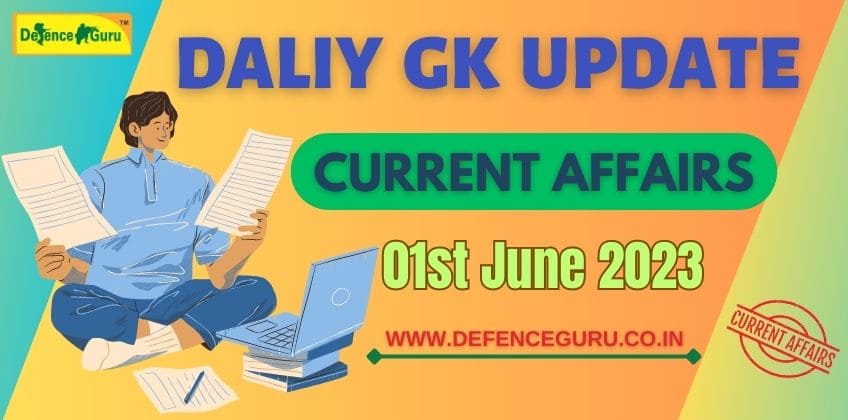 Defence Guru is a dedicated platform to provide DailyCurrent Affairs Updates to Defence Aspirants. Our Daily Current Affairs Update covers National Affairs, International Affairs, Economy, Sports, Awards and Honours, Books, Appointments, etc. You can follow us for regular current affairs updates. Current Affairs cover almost 15-20% of all defence exam syllabus. That's why It becomes very important for Defence Aspirants to cover Daily Current Affairs Updates. Our Current Affairs Update is accurate, reliable, and useful for every defence exam and other exams in India.
Current Affairs

National Affairs

The government is going to set up the world's largest grain storage plant.

World's largest grain storage in the cooperative sector will be built with an outlay of 1 lakh crore.
This grain storage will be set up by converging schemes run by three ministries.
The stored grain will be provided to people under the national food security act.

Government makes it mandatory for OTT Platforms to show Tobacco Warnings.

According to the new rule, it is now mandatory for Over the Top (OTT) platforms to show tobacco warnings on their platforms.

Ramayan Mohotsav is going to be held in Chhattisgarh.

Chhattisgarh Government is also developing 2226 km of 'Ram Van Gaman Circuit'.
Ram Van Gaman Tourism Circuit Project includes Sitamarhi Harchowka (Koriya), Ramgarh (Surguja), Shivrinarayan (Janjgir-Champa), Turturiya (Balodabazar), Chandkhuri (Raipur), Rajim (Gariaband), Sihawa Saptarishi Ashram (Dhamtari), Jagdalpur (Bastar). ) and Ramaram (Sukma)

Indian Institute of Science names Hypersonic Wind Tunnel after Prof Roddam Narasimha.

The Indian Institute of Science (IISc), Bengaluru, paid rich tribute to late scientist and leader Professor Roddam Narasimha, with the Aerospace Engineering Department naming their 0.5-meter diameter enclosed free-jet hypersonic wind tunnel after him.

Ahmednagar in Maharashtra to be re-named, Ahilya Nagar.

Chief Minister of Maharashtra Eknath Shinde has announced that Ahmednagar will be renamed as 'Ahilya Nagar'.
Ahilya Bai Holkar was 18th Century Maratha Queen.

International Affairs

Japan has set up a childcare fund of 26 billion $.

The Japanese PM orders $26 billion to be set aside for childcare.
The measures are aimed at supporting higher education, preventing child abuse in poverty, and ensuring medical care for handicapped children.

Recep Tayyip Erdogan was re-elected as President of Turkey.

The Turkish President, Recep Tayyip Erdogan, has emerged victorious in the recent presidential election.

Bola Tinubu becomes the president of Nigeria.

Nigeria's Bola Tinubu sworn in as President of Nigeria.

Economy

GDP Growth Rate reaches 6.1% in the fourth quarter.

According to the data released by the National Statistics Office, the Gross Domestic Product Growth Rate is going to be 6.1%.
The National Statistics Office estimates that the growth rate for 2023-24 is going to be 7.2%.
This growth rate resulted mainly due to a boost in the service sector, construction sector, tourism, and hospitality sector.

Appointment

Justice Rao Sworn In As Himachal Pradesh High Court Chief Justice.

Justice Mamidanna Satya Ratna Sri Ramachandra Rao has officially become the 28th Chief Justice of the Himachal Pradesh High Court.

Days and their Themes

World Milk Day- 1st June

World Milk Day is an international day established by the Food and Agriculture Organization of the United Nations to recognize the importance of milk as a global food.
The theme of World Milk Day 2023 is "Showcasing how dairy is reducing its environmental footprint, while also providing nutritious foods and livelihoods."

Awards and Honors

Kannada Writer Damodar Mauzo wins the 57th Jnanpith Award.

Damodar Mauzo, a Goan short story writer, novelist, critic, and scriptwriter in Konkani, has been awarded the 57th Jnanpith Award, India's highest literary honor.

Sports

Max Verstappen wins Monaco Grand Prix.

Max Verstappen won the 2023 Monaco Grand Prix, leading all 78 laps from pole position. The victory was Verstappen's fourth of the season and extended his lead in the Drivers' Championship to 39 points.
Read More:
Daily GK Update - 31st May 2023 Current Affairs
Daily GK Update - 30th May 2023 Current Affairs