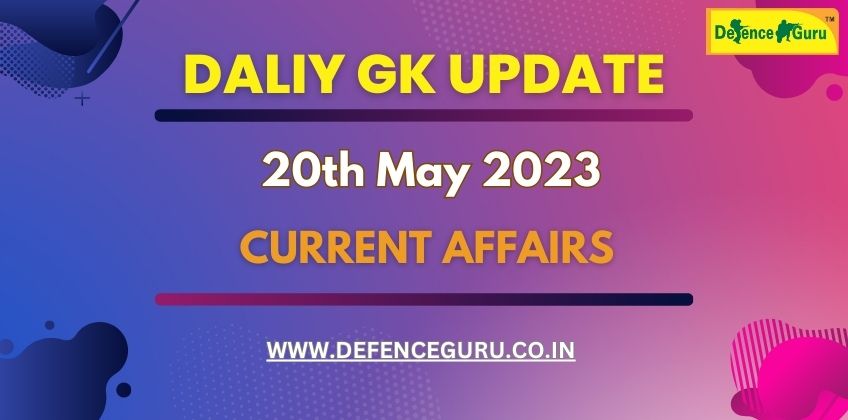 Defence Guru is a dedicated platform to provide DailyCurrent Affairs Updates to Defence Aspirants. Our Daily Current Affairs Update covers National Affairs, International Affairs, Economy, Sports, Awards and Honours, Books, Appointments, etc. You can follow us for regular current affairs updates. Current Affairs cover almost 15-20% of all defence exam syllabus. That's why It becomes very important for Defence Aspirants to cover Daily Current Affairs Updates. Our Current Affairs Update is accurate, reliable, and useful for every defence exam and other exams in India.
Current Affairs

National Affairs

Reserve Bank of India withdraws a currency of 2000 rupees out of circulation.

The Reserve Bank of India has withdrawn the 2000 rupees note out of circulation.
RBI has given a deadline of 30 September for the exchange of the note.
20,000 rupees can be exchanged at a time.
The 2000 rupee notes were withdrawn by RBI because, after 2017 RBI had stopped printing 2000 rupee notes. Notes have a life span of 4-5 years that's why RBI has withdrawn it.

The President appoints two people as Judges in the Supreme Court of India.

Advocate KV Vishwanathan and Justice Prashant Kumar Mishra have been appointed as Judges of the Supreme Court of India.
There are a total of 34 judges in the supreme court including the chief justice of India.

25-year-old Yaashi Jain climbs Mount Everest and Mount Lhotse.

Yaashi Jain is the youngest woman in India to climb Mount Everest and Mount Lhotse.

Tamil Nadu CM M.K. Stalin Inaugurates One of India's Biggest Skywalk Bridge

The recently inaugurated skywalk bridge, spanning 570 meters in length and 4.2 meters in width, was officially opened by Tamil Nadu Chief Minister MK Stalin.

PM Modi inaugurates International Museum Expo 2023.

PM inaugurates International Museum Expo 2023: During the inauguration of International Museum Expo 2023, PM Narendra Modi emphasized his government's commitment to safeguarding India's heritage.

Uttarakhand Government has launched an App for potholes reporting.

Uttarakhand Government has launched 'Patch Reporting App' which allows reporting of potholes on the road.

India and Israel have partnered to establish the Center of Water Technology at IIT Madras.

The Center of Water Technology will allow the use of technology from each other's technology and facilitate innovation among both countries.

International Affairs

Prime Minister Narendra Modi and Other World Leaders arrive in Hiroshima for the G-7 Meeting.

Prime Minister Narendra Modi unveiled a bust of Mahatma Gandhi at Hiroshima, Japan during the G-7 Meeting.

Economy

RBI has approved the transfer of Rs 87,416 crore to the government.

RBI periodically transfers profit earned from

Important Days

World Bee Day 2023- 20th May

World Bee Day is an annual event held on May 20th to increase understanding and recognition of the vital role bees and other pollinators play in our ecosystem.
The chosen theme for World Bee Day 2023 is "Engaging in Pollinator-Friendly Agricultural Production."

Awards and Honours

Kerala Startup Mission has been ranked as World's Top Public/Private Incubator.

Kerala Startup Mission was honoured for its role in making Kerala a hub of Startups.
This award was presented during the world incubation summit, Ghent Belgium.

Trichy Airport gets the International Safety Award from the British Safety Council.

Trichy Airport got 1st class merit category from British Safety Council for Safety and Health Management.
Read More:
Daily GK Update - 19th May 2023 Current Affairs
Daily GK Update - 18th May 2023 Current Affairs