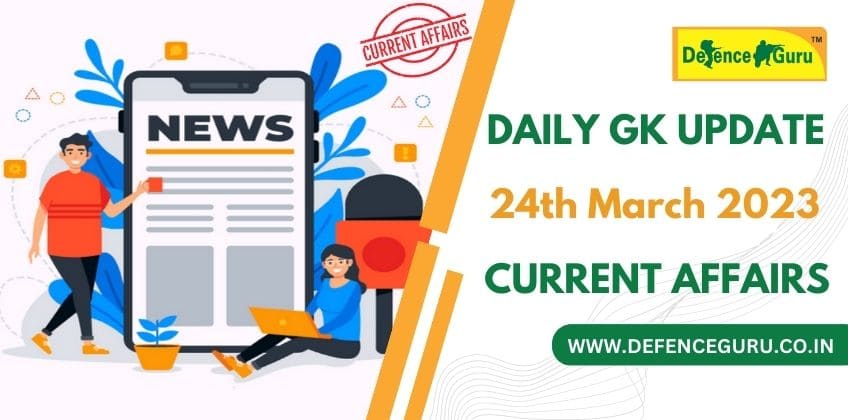 Daily GK Update - 24th March 2023 Current Affairs
Defence Guru is a dedicated platform to provide DailyCurrent Affairs Updates to Defence Aspirants. Our Daily Current Affairs Update covers National Affairs, International Affairs, Economy, Sports, Awards and Honours, Books, Appointments, etc. You can follow us for regular current affairs updates. Current Affairs cover almost 15-20% of all defence exam syllabus. That's why It becomes very important for Defence Aspirants to cover Daily Current Affairs Updates. Our Current Affairs Update is accurate, reliable, and useful for every defence exam and other exams in India.
Current Affairs

National Affairs

Govt approves installation of 'Statue of Knowledge' dedicated to Ambedkar.

On April 13, a 70-feet tall statue of Dr. Babasaheb Ambedkar will be unveiled in Latur city, Maharashtra.

India aims at becoming a 'Global Hub for Green Ship' building by 2030.

India is aiming to become a leader in the global shipbuilding industry by launching the Green Tug Transition Programme (GTTP) and setting a goal of becoming a 'Global Hub for Green Ship'.

PM Modi inaugurates the new ITU Area Office and Innovation Center in New Delhi.

ITU (International Telecommunication Union (ITU), a specialized agency of the United Nations for information and communication technologies, has its headquarters in Geneva and operates a vast network of regional, field, and area offices.

'Exostoma Dhritiae' is a species of catfish that has been discovered in Arunachal Pradesh.

This catfish is known as Ngorang by the Local People of Arunachal Pradesh.

Sajibu Nongma Panba is a lunar new year celebrated by the followers of Sanamahism in Manipur.

Sajibu Nongma Panba also called Meitei Cheiraoba or Sajibu Cheiraoba is celebrated to mark the advent of the traditional new year.

Union Minister Ports, Shipping and Waterways has launched the 'Green Tug Transition Programme'.

Under this programme, India will develop India as a hub of Green Shipping buildings.
India will replace fossil fuel-powered tug boats with hybrid fuel-powered tug boats.

International Affairs

Bangladesh commissions its first submarine base.

Prime Minister Sheikh Hasina inaugurated the first submarine base of Bangladesh 'BNS Sheikh Hasina' at Pekua in Cox's Bazar.

Polio cases were recorded in Burundi for the first time in 30 years.

Poliovirus type 2 was confirmed from environmental surveillance of wastewater in the region.
Polio is transmitted through contaminated water and food, or by contact with an infected person.

Appointment

Arnab Banerjee has been appointed as Managing Director and Chief Executive Officer of CEAT.

Arnab Banerjee as its new Managing Director (MD) and Chief Executive Officer (CEO) following the resignation of Anant Goenka.

Manmeet K Nanda has been appointed as Managing Director & Chief Executive Officer of Invest India.

The Ministry of Commerce and Industry has released a statement announcing the approval of Nanda's appointment by Invest India's board, following Deepak Bagla's decision to step down.

Economy

Hindenburg releases a report against former Twitter CEO Jack Dosrsey's Company.

Shares of Jack Dorsey's Company declined by 20% after the release of the report by Hindenburg.

Bernard Arnault becomes the richest person on the planet- According to Hurun Global Rich List 2023.

Mukesh Ambani is India's and Asia's wealthiest person with a $82 billion net worth.
Gautam Adani who was the 3rd richest person has fallen from his ranking to the 11th spot after the Hindenburg Report.

Important Days

World Tuberculosis Day- 24th March

World Tuberculosis Day is observed on March 24th every year to raise awareness about the global epidemic of tuberculosis (TB) and efforts to eliminate the disease.
The theme for World Tuberculosis Day is "Yes! We can end TB!".

Sports

Nikhat Zareen, Lovlina Borgohain, Nitu Ghanghas and Saweety are the four female boxers of Indian origin who have reached the finals of the Women's World Boxing Championships.

The 2023 IBA Women's World Boxing Championships are the 13th edition of the championships and will be held in New Delhi, India from 15 to 26 March 2023.

World Athletics Association has said that Transgender Athletes will not be allowed on Female Tracks.

Transgender women will no longer be allowed to compete in female track and field events regardless of their levels of testosterone, World Athletics president Sebastian Coe.
Read More:
Daily GK Update - 22nd March 2023 Current Affairs
Daily GK Update - 21st March 2023 Current Affairs