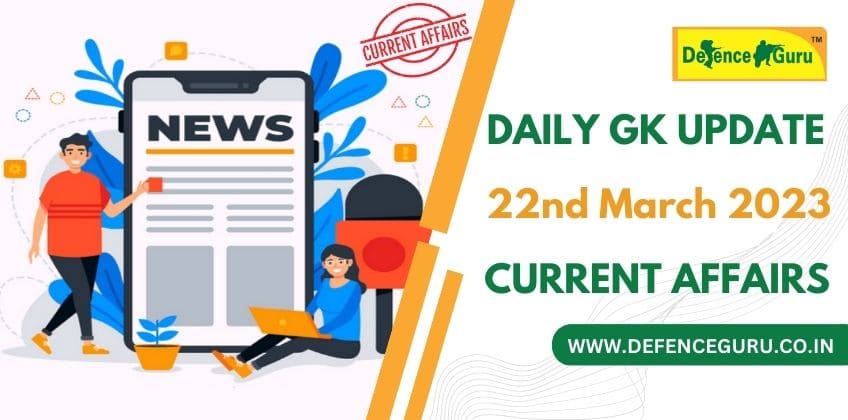 Daily GK Update - 22nd March 2023 Current Affairs
Defence Guru is a dedicated platform to provide DailyCurrent Affairs Updates to Defence Aspirants. Our Daily Current Affairs Update covers National Affairs, International Affairs, Economy, Sports, Awards and Honours, Books, Appointments, etc. You can follow us for regular current affairs updates. Current Affairs cover almost 15-20% of all defence exam syllabus. That's why It becomes very important for Defence Aspirants to cover Daily Current Affairs Updates. Our Current Affairs Update is accurate, reliable, and useful for every defence exam and other exams in India.
Current Affairs

National Affairs

Rajasthan becomes the first state in India to pass the "Right to Healthcare" Bill.

Under this Bill, the People of Rajasthan will be entitled to free medical treatment in case of emergency in any hospital.

Anti-Submarine Warship INS Androth launched.

This Anti-Submarine Ship has been built by Garden Reach Shipyard Limited.

With a 182 Million $ Brand Value, Ranveer Singh is India's most Valued Celebrity.

Top Most Valued Celebrity in India and their Brand Value-
1st- Ranveer Singh- 182 Million $ Brand Value
2nd- Virat Kohli- 181.7 Million $ Brand Value
3rd- Akshay Kumar- 153.6 Million $ Brand Value

The Supreme Court asks the Centre Government to explore less painful methods of capital punishment.

The Supreme Court has said that It will declare hanging unconstitutional once there is a less painful method of execution.

International Affairs

Google launches 'Bard' to counter ChatGPT.

Bard is Google's experimental, conversational, AI chat service. It is meant to function similarly to ChatGPT

Srilanka gets a loan from the International Monetary Fund.

Sri Lanka defaulted over its debts a month ago.
Now, the International Monetary Fund (IMF) gave a $330 Million Loan.
The International Monetary Fund (IMF) is a major financial agency of the United Nations, and an international financial institution, headquartered in Washington DC.

Sports

ATK Mohun Bagan defeats Bengaluru FC to win Hero ISL 2022-23.

Awards in Hero Indian Super League 2022-23
Golden Boot- Diego Mauricio (Odisha FC)
Golden Glove- Vishal Kaith (ATK Mohun Bagan).
Hero of the League- Lallianzuala Chhangte.

Indian Archers win 10 Medals in Asia Cup 2023.

Total Medals- 10
Gold Medal- 5
Silver Medal- 4
Bronze Medal- 1

Rani Rampal becomes the first woman player in India to have a stadium named after her.

Rani Rampal Hockey Stadium is the only stadium in India that has been named after a woman player.
Read More:
Daily GK Update - 20th March 2023 Current Affairs
How to Join the Indian Army after the 12th Class?
MNS vs NEET Exam-Best Career Options for Biology Girls Student