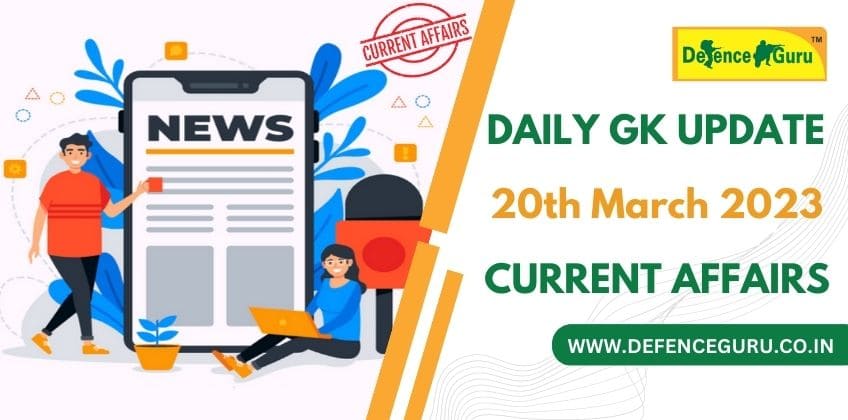 Daily GK Update - 20th March 2023 Current Affairs
Defence Guru is a dedicated platform to provide Daily Current Affairs Updates to Defence Aspirants. Our Daily Current Affairs Update covers National Affairs, International Affairs, Economy, Sports, Awards and Honours, Books, Appointments, etc. You can follow us for regular current Affairs updates. Current Affairs cover almost 15-20% of all defence exam syllabus. That's why It becomes very important for Defence Aspirants to cover Daily Current Affairs Updates. Our Current Affairs Update is accurate, reliable, and useful for every defence exam and other exams in India.
Current Affairs

National Affairs

Agriculture Minister Narender Singh Tomar inaugurates 'AgriUnifest' in Bangalore.

This 'AgirUnifest' was organised by Banglore Agriculture University.

2 Indian Places get a place in TIME Magzines's World's 50 Great Places.

These two Indian Places are Mayurbhanj District in Bihar and Ladakh in Leh and Ladakh Union Territory.

Kochi becomes the first Indian City to start Water Metro.

This will be a unique transport system that will combine road, rail, and water transport.

PM Modi and Bangladesh PM Sheikh Hasina to inaugurate 131.5 Km Diesel Oil Pipeline.

This pipeline will connect Numaligarh situated in Siliguri, India to Parbatipur in Bangladesh.

Savya Robotics, a Hyderabad-based company has developed an Exoskeleton for the Indian Army with DRDO.

These Exoskeletons will be provided to Soldiers of the Indian Army to enhance their physical strength.

International Affairs

Japanese Prime Minister Fumio Kishida to visit India.

He has an agenda to discuss issues related to G-7 and G-20.

Awards and Honours

Sangita Kalanidhi Award 2023 (Singing)

Bombay Jayashri, a Carnatic Singer.

Nritya Kalanidhi Award 2023 (Dancing)

Vasanthalakshmi Narsimhachari.

Economy

India's GDP Growth Rate is going to be 5.9% in Financial Year 2024.

The Organisation for Economic Co-operation and Development is an intergovernmental organization with 38 member countries, founded in 1961 to stimulate economic progress and world trade.

Books and Authors

Snakes in the Ganga: Breaking India 2.0 has been written by Shri Rajiv Malhotra and Mrs Vijaya Vishwanathan.

This Book has been written to shed light on the various threats to India's national security from the United States, which is not typically perceived as a major risk by the average Indian.

Sports

Rohan Bopanna becomes the oldest player to win an ATP Tournament in Indian Wells.

He won this title in doubles with Australian Badminton Player Mathew Ebdin.

Pankaj Adwani has won the Asian Billiards Championship.

He defeated Brijesh Damani to win this title.

Sergio Perez has won the Arabian Grand Prix.

Bahrain Grand Prix Winner, Max Verstappen came second in the Saudi Arabian Grand Prix.