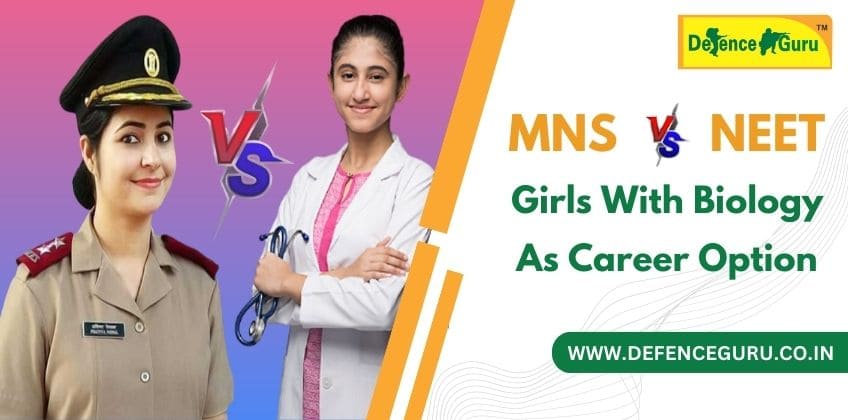 MNS vs NEET Exam - Best Career Options for Biology Girls Student
Healthcare is a common concern for all of us in today's time. The scenario has changed compared to the past when not many were keen to know much about their body, biology, and well-being. For all aspiring girls to find themselves in this discipline, it is first important to realize the power that lays beneath every women's bosom.
Medicinal Science was here in all the previous times that gone past, yet it was not well known to most. With the drifting time and awareness, it is now gaining more attention from all interested students. All careers pursuant should be aware of medicinal science and the roads we can embark on through the different fields of study we go for.
For all girls seeking to enter the field of Medicine, ample opportunities exist which is much beyond our imagination.
At first, they can appear for the NEET exam (National Eligibility cum Entrance Test). Giving this exam will give them a wide number of career opportunities apart from just being a doctor as is most commonly known.
Now, ever since the enforcement of the Medical Council Act, of 2019, no one can get admission to any government medical institution without having appeared for this paper.
A student must be at least 17 years of age with at least 50% marks in Physics, Chemistry, and Biology for taking this entrance test conducted by NATIONAL TESTING AGENCY (NTA).
Career Opportunities for Girls After Given NEET Exam:
1. MBBS- Aspirants become a Doctor after this extensive and laborious course. They have to do a specialization in an area of their interest during MBBS. This field is highly saturated which is why it is advisable to look for other opportunities after Qualifying for the NEET Exam.
2. MD/ MS/ DIPLOMA- Those who successfully complete the MBBS course can pursue this to be a doctor or specialist in a particular area of medicine.
3. BAMS- To become an Ayurveda doctor, this exam needs to be given. Their treatment and ideologies are all surrounded by the Ayurveda mantra and text. We find physicians and surgeons in this field.
4. BDS- All those wishing to be a dentist have to pursue this course. Dentists are very commonly available in all hospitals and they have their clinic establishments also. The names of doctors become a Brand name that the public must reckon with.
5. NUTRITIONIST- People are very keen to be attached to a known nutritionist nowadays. These are specialists who monitor and advise medically about their patient's and clients' lifestyle-related issues, and health parameters related to food and intake. They are found in the fields of sports, actors and actresses, multinational companies, etc.
6. BHMS- This is the field of Homeopathy Medicine. It is a branch of medicine pursued by many who believe this is the best and to-the-depth healer of all health issues. Many famous homeopathic doctors are found around us.
7. FOOD SCIENCE/TECHNOLOGY- This is the field of medicine that finds its existence in almost all branded food companies. They monitor food safety, sources and purity of raw materials, innovations and ingredients, and health hazard-avoiding measures.
8. CLINICAL RESEARCHER- This is in great demand worldwide with promising job prospects for all entering this line. Never-ending research is been done in every field nowadays. So we have huge research that will always be the need in the most attractive and happening Food Business and Food Science.
9. ANTHROPOLOGISTS- Anthropologists are found in diverse branches as social anthropologists, environmental, medical as well as public anthropologists in medicinal science with excellent career opportunities.
10. NURSING- Nurses are found and are in very huge demand everywhere. Not only in hospitals, but they are in demand for individual patients in homes. Private nurses are needed by many families who don't have the manpower to look after them.
11. PHARMACIST- B.PHARM course is done to pursue a career in this field. All hospitals have pharmacies and there are innumerable business options for these disciplinarians in the medicine industry.
A promising career option for the hardest working and enduring Indian girls is to follow this road to serve and care for the patriotic military servicemen of India. Girls can opt for a four-year B.Sc. Course in Nursing at any College of Nursing of Armed Forces Medical Services. After having:
Passed class XIIth with Biology as one the main subjects.
They must be Indian.
Their age must be between 17 to 25 only.
They must clear the medical Fitness criteria for entry to this.
Ability to work and face stressful situations.
They will appear for a written exam followed by an interview round and a medical examination round. They are taught the same basic nursing skills that a nurse learns. But they enjoy a greater edge in learning.
1. SERVE THE SERVICEMEN WHO SERVE THE NATION:
They look after the wounded and ill people on military bases. It is an extremely stressful and difficult job to perform compared to any normal nurse in a hospital, clinic, or nursing home. They work in areas where military forces are on duty. They may encounter war resulting in injuries, and dangerously wounded personnel. They must have the ability to work in this keeping them composed and open to the complexities of the job.
2. SALARY AND ALLOWANCES:
Despite the under-mentioned consecutive ranks of jobs available for them since entry which are named as under:
LIEUTENANT
CAPTAIN
MAJOR
LIEUTENANT COLONEL
MAJOR
BRIGADIER
MAJOR GENERAL
They enjoy a very good package for their devoted and complex-natured job demands. They stand as strong contributing hands to support not just their own parents and families, but also deliver help to the needy if they come across any.
3. RESPECT IN SOCIETY:
They are given tremendous respect for the nature of with they do in the military-based locations of India. Although not all have the composure to get into this difficult threatening job environment, they are considered great warriors in a way who work in difficult situations. They are hard to the core to absorb the challenges of their environment yet deliver warmth and courage to the ones around to motivate them to never feel as if they have lost the battle.
4. EXPOSURE TO ADVENTUROUS ACTIVITIES:
They witness the real battlefield remaining near to it in many wars if posted or deployed in war zones or areas of threat and danger to the country's defense ground. They are highly trained to treat and attend war resulting injuries and revive patients in the quickest way.
5. FIT LIFESTYLE:
To be in the Military Services, it is no doubt, imperatively binding that the health and fitness edibility requirements are met and they are maintained all throughout. They have a strict fitness regime to follow which gives them a very impressive personality and get up. They resemble the nation on the national front in a big way. And just imagine. Is it not a feeling of extreme honor to be an example and motivation for the whole nation?
Read More:
Everything About MNS 2023 Exam - Eligibility Criteria, Syllabus & Exam Pattern
MNS PAT (Psychological Assessment Test) Questions
MNS Panel Interview Questions List for 2022 MNS Aspirants
What is MNS PAT - Know All About Psychological Assessment Test in MNS Exam