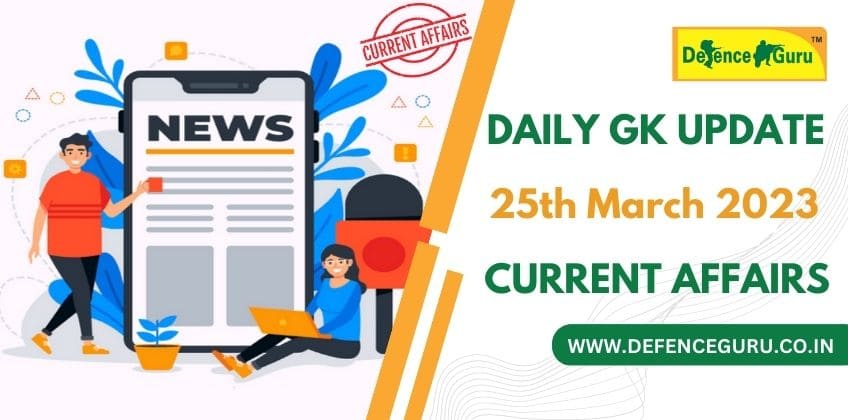 Daily GK Update - 25th March 2023 Current Affairs
Defence Guru is a dedicated platform to provide DailyCurrent Affairs Updates to Defence Aspirants. Our Daily Current Affairs Update covers National Affairs, International Affairs, Economy, Sports, Awards and Honours, Books, Appointments, etc. You can follow us for regular current affairs updates. Current Affairs cover almost 15-20% of all defence exam syllabus. That's why It becomes very important for Defence Aspirants to cover Daily Current Affairs Updates. Our Current Affairs Update is accurate, reliable, and useful for every defence exam and other exams in India.
Current Affairs

National Affairs

Andhra Pradesh passes a resolution to give SC Status to Dalit Christians.

This resolution will not have any legal effect as Scheduled Caste Status is allotted to communities by Central Government.
SC Status was provided for Hindus Scheduled Castes only recognizing only Hindus as SCs, to address the social disability arising out of the practice of untouchability.
The Order was amended in 1956 to include Dalits who had converted to Sikhism and once more in 1990 to include Dalits who had converted to Buddhism.

The government is going to organise Tamil Sangam in Saurashtra and Uttrakhand.

Tamil Sangam will celebrate Civilizational Links between the Southern Part of the country and the sacred shrines of the North.

Annual Bilateral Bilateral Naval Exercise "Konkan Shakti' concluded.

Exercise Konkan Shakti

Participants- Indian Navy and British Navy
Venue- Arabian Sea
Ships Participated- INS Trishul from the Indian side and HMS Lancaster from the British side.

A Joint Military Exercise "Vayu Prahar" concluded between Indian Army and Indian Airforce.

Exercise Vayu Shakti was conducted near the Line of Actual Control.
The Indian Army and Air Force have conducted a 96-hour multi-domain air and land exercise, called 'Vayu Prahar', in the eastern sector.
The main aim of the Vayu Prahar exercise was to enable coordination and rehearsal among various agencies for quick mobilisation, transportation and deployment of forces within a theatre, which can be executed across theatres.

International Affairs

North Korea has tested an underwater Drone "Haeil" that can trigger a nuclear tsunami.

The new underwater weapon "Haeil" which means Tsunami in the Korean Language can be deployed near the coast or port.

Egypt becomes the 9th member of the BRICS New Development Bank.

There are 9 members of the BRICS New Development Bank:
Brazil, Russia, India, China, South Africa, Bangladesh, UAE, Uruguay, and Egypt.

BRICS New Development Bank.

Established in- 2015
Headquarters- Shanghai China
Total Members- 9

Books and Authors

The book "Chhatrapati Shivaji Maharaj" has been written by Shrimat Kokate

Shrimant Kokate, a well-known Marathi author and historian, has recently released his first English book titled "Chhatrapati Shivaji Maharaj (illustrated)", which has been translated by Dilip Chavan.

Economy

Central Government approves an increase in Dearness Allowance by 4% from 38% to 42%.

Central Government pays Dearness Allowance to its employees and pensioners to adjust their income with the cost of living.

Government increases the Minimum Support Price of Jute by 300 ₹.

The government on Friday increased the minimum support price of raw jute by Rs 300 to Rs 5,050 per quintal for the 2023-24 season. The decision was taken at the Cabinet Committee on Economic Affairs (CCEA) meeting chaired by Prime Minister Narendra Modi.

Agriculture

Rubber Board has launched a mobile app "CRISP" to inform Growers about Rubber Cultivation.

CRISP stands for Comprehensive Rubber Information System Platform.

Central Government launches "DigiClaim" for quicker settlement of Crop Insurance Claims.

Central Government launches "DigiClaim" for quicker settlement of Crop Insurance Claims.

Sports

Mumbai Indian defeats UP Warriorz to enter Women Primer League Final.

Mumbai Indians won by 72 runs and set up a final with Delhi Capitals.
Nat Sciver scored 72 Runs in 38 Balls.
Read More:
Daily GK Update - 24th March 2023 Current Affairs
Daily GK Update - 23rd March 2023 Current Affairs