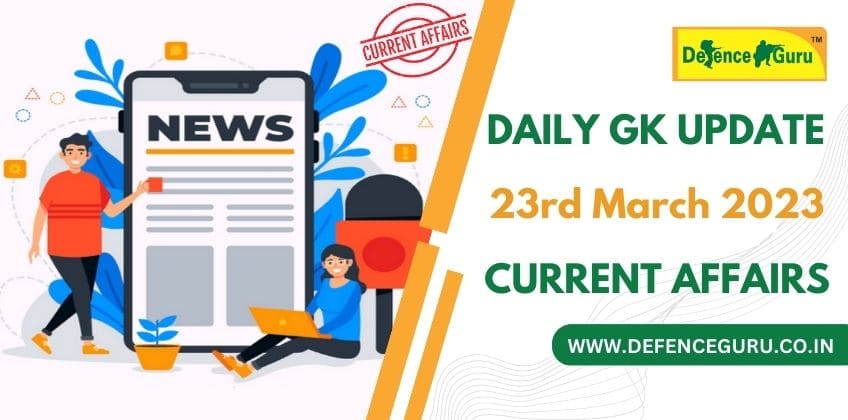 Daily GK Update - 23rd March 2023 Current Affairs
Defence Guru is a dedicated platform to provide DailyCurrent Affairs Updates to Defence Aspirants. Our Daily Current Affairs Update covers National Affairs, International Affairs, Economy, Sports, Awards and Honours, Books, Appointments, etc. You can follow us for regular current affairs updates. Current Affairs cover almost 15-20% of all defence exam syllabus. That's why It becomes very important for Defence Aspirants to cover Daily Current Affairs Updates. Our Current Affairs Update is accurate, reliable, and useful for every defence exam and other exams in India.
Current Affairs

National Affairs

India launches 'Bharat 6G Vision Document'.

This Document was launched to develop a roadmap and action plan for the 6G Network in the country.
India aims to roll out a 6G Network by 2030.

First PM MITRA Textile Park set up in Tamil Nadu.

First PM MITRA Park was set up in Virudhunagar Tamil Nadu.
PM MITRA (Pradhan Mantri Mega Integrated Textile Region and Apparel).
PM MITRA Parks inspired by the 5F vision of the Hon'ble Prime Minister - Farm to Fibre to Factory to Fashion to Foreign

India is the largest Arms Importer in the world.

Top Arms Importer in the World:

1st- India
2nd- Saudi Arabia
3rd- Qatar

Top Arms Exporter in the World:

1st- USA
2nd- Russia
3rd- France

The Indian Army is going to introduce Millet in rations of soldiers.

Three popular varieties of millet flour--bajra, jowar and ragi--will be issued to troops duly considering preference. Millets have the benefit of being a good source of proteins, micro-nutrients, and phytochemicals, thus boosting the nutritional profile of a soldier's diet.

'One World TB Summit' was inaugurated in Varanasi.

To mark World Tuberculosis Day, the Ministry of Health and Family Welfare (MoHFW) and the Stop TB Partnership are organising the summit where international delegates from over 30 countries are scheduled to be present.

International Affairs

The Swedish Parliament voted in favour of joining NATO.

The North Atlantic Treaty Organization, also called the North Atlantic Alliance, is an intergovernmental military alliance between 30 member states – 28 European and two North American countries.

Uganda criminalises Same-Sex Marriage and LGBTQ

Uganda and 30 African countries have officially banned Same-Sex Marriage.

Important Days

23rd March- Shaheed Diwas

Shaheed Diwas or Martyrs' Day is observed in India on 23rd March every year to pay homage to the martyrs who sacrificed their lives for the freedom of India. This day marks the anniversary of the execution of three Indian freedom fighters- Bhagat Singh, Sukhdev Thapar, and Shivaram Rajguru in 1931.

23rd March World World Meteorological Day 2023

World Meteorological Day 2023 was observed on 23rd March.
Every year on March 23, World Meteorological Day is celebrated to mark the official formation of the World Meteorological Organisation (WMO) in 1950.

Awards and Honours

The Abel Prize for Mathematics was awarded to "Luis Cafarelli".

He was awarded the Abel Prize for research in Partial Differential Equations.
Abel Award is given by Norwegian Academy.

Sports

Australian Bowler Josh Hazlewood becomes the No. 1 ODI Bowler.

Top ICC ODI Bowlers:

1st Rank- Josh Hazlewood- Australia
2nd- Mitchell Starc- Australia
3rd- Mohammed Sirj- India

Germany's Football Player Mesut Ozil announces retirement from International Football.

Mesut Özil is a German former professional footballer who played as an attacking midfielder. Özil at his peak was known for his technical skills, creativity, passing skills, and vision. He could also play as a wide midfielder

Nepali cricketer Asif Sheikh wins the 2022 Christopher Martin-Jenkins Spirit of Cricket Award.

He refused to run out Ireland's Andy McBrine, who was accidentally tripped over by Kamal Airee, the bowler.
Read More:
Daily GK Update - 21st March 2023 Current Affairs
How to Join the Indian Army after the 12th Class?