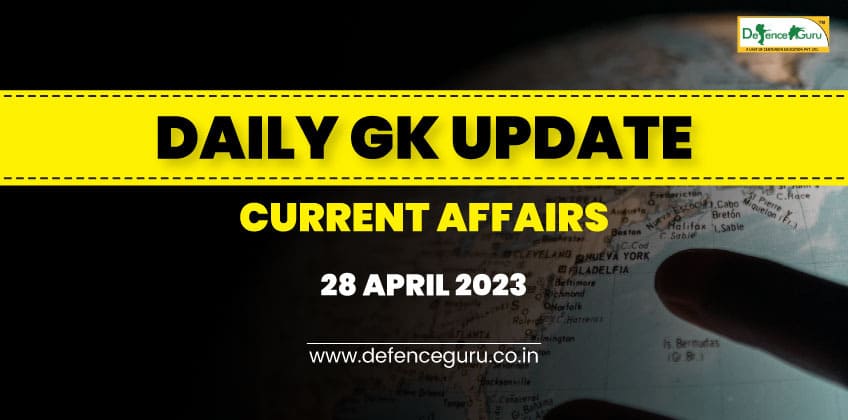 Defence Guru is a dedicated platform to provide DailyCurrent Affairs Updates to Defence Aspirants. Our Daily Current Affairs Update covers National Affairs, International Affairs, Economy, Sports, Awards and Honours, Books, Appointments, etc. You can follow us for regular current affairs updates. Current Affairs cover almost 15-20% of all defence exam syllabus. That's why It becomes very important for Defence Aspirants to cover Daily Current Affairs Updates. Our Current Affairs Update is accurate, reliable, and useful for every defence exam and other exams in India.
Current Affairs

National Affairs

Union Home Minister and Cooperatives launched a Liquid DAP Plant in Delhi.

This is the world's first liquid DAP (Di-Ammonium Phosphate) plant which was developed by IFFCO (Indian Farmers Fertilizer Cooperative Limited).

The Department of Social Justice signed an MoU with the Art of living foundation for Nasha Mukt Bharat.

Art of Living Foundation is a non-profit foundation headed by Shri Ravishankar.
Nasha Mukt Bharat Abhiyan was launched by the Department of Social Justice to prevent Drug Use among youth.

Troops of the Indian Army and British Army are going to participate in Ajey Warrior Joint Military Exercise.

This is the 6th edition of the Ajey Warrior Joint Military Exercise between India and the United Kingdom.
2nd Royal Gurkha Rifles from the United Kingdom and Bihar Regiment from India are going to participate in this joint military exercise.
This exercise will take place in the Salisbury Plains of the United Kingdom.

India has sent a third ship for the evacuation of Indians from Sudan.

Under Operation Kaveri, the Indian Government sent the 3rd Naval Ship, INS Tarkash to Sudan for the evacuation of Indians.
Earlier the Indian Government sent INS Sumedha, and INS Teg for evacuation.
Other than these naval ships, Indian Air Force Transport Jets C-130J Super Hercules were also sent.

Indian Army has decided to set up a Cyber Expert Team.

Command Cyber Operations and Support Wings (CCOSWs) will be set up by the Indian Army to tackle Cyber Security Challenges.
The CCOSWs will safeguard the networks and increase preparedness against any cyber attack.

International Affairs

India is on the priority watch list of the USA for non-enforcement of patent rights.

Argentina, Chile, China, Indonesia, Russia, and Venezuela are the countries that are also on the priority watch list of the USTR (United States Trade Representative).

The meeting between the Chinese Foreign Minister and the Indian Foreign Minister took place in Delhi.

The Defence Minister of China, Li Shangfu, and the Indian Defence Minister held a meeting in Delhi.

Economy

Tamil Nadu has topped the list in market borrowing among all states, According to the Data of RBI.

Top Five Borrower States According to RBI:

Tamil Nadu
Maharashtra
West Bengal
Uttar Pradesh
Karnataka.

Tamil Nadu borrowed 87,000 crore rupees in the year 2022.

Awards and Honours

Swachh Bharat Mission of Uttar Pradesh receives HUDCO Prize 2022-23.

The award was given to the Swacch Bharat Mission of Uttar Pradesh by HUDCO (Housing and Urban Development Corporation) for promoting the best practices to improve the living environment.

Sports

Indian Athletes won Gold and Silver Medals at Asian Athletic Championship.

Indian Athlete won Gold in 1500 meter race and Rahul won silver in the same event.

Indian Heavyweight Boxer and Asian Games Gold Winner, Kaur Singh has passed away at the age of 74.

Kaur Singh was a legendary heavyweight boxer who once fought with Mohammad Ali.
He has received the Arjun Award and Padma Shri Award as well.
Read More:
Daily GK Update - 27th April 2023 Current Affairs
Daily GK Update - 26th April 2023 Current Affairs