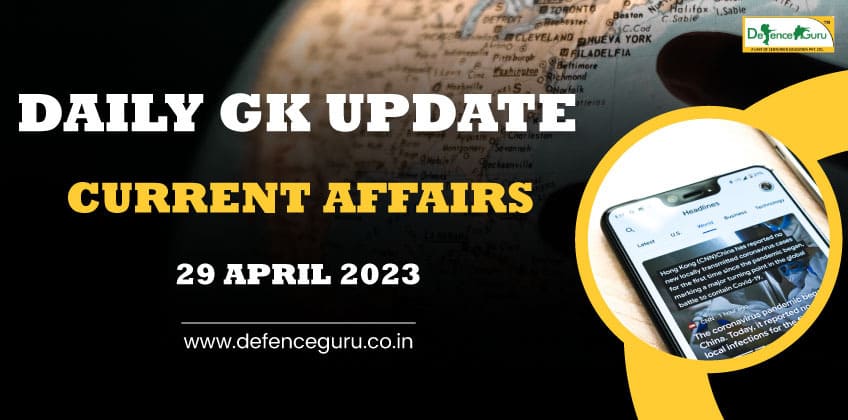 Defence Guru is a dedicated platform to provide DailyCurrent Affairs Updates to Defence Aspirants. Our Daily Current Affairs Update covers National Affairs, International Affairs, Economy, Sports, Awards and Honours, Books, Appointments, etc. You can follow us for regular current affairs updates. Current Affairs cover almost 15-20% of all defence exam syllabus. That's why It becomes very important for Defence Aspirants to cover Daily Current Affairs Updates. Our Current Affairs Update is accurate, reliable, and useful for every defence exam and other exams in India.
Current Affairs

National Affairs

India Meteorological Department has predicted 'Moderate' El-Nino in India this year.

El Nino is a weather condition that is associated with unusual warming of the eastern Pacific Ocean.
During, El-Nino Monsoon rainfall gets reduced. It hugely impacts Indian Agriculture which is largely dependent on monsoon rainfall.

Telangana Government is organizing Food Conclave-2023

Food Conclave-2023 will focus on Green, White, Yellow, Blue, and Pink Revolutions.
Green Revolution- Agriculture
White Revolution- Dairy
Pink Revolution- Meat and Poultry
Blue Revolution- Aquaculture
Yellow Revolution- Edible Oil

Prime Minister Narendra Modi inaugurated 91 FM Transmitters in 18 States and 2 Union Territories.

These 91 FM Transmitters have been set up in 85 Districts across 18 States and 2 Union Territories.

Ministry of Micro, Small and Medium Enterprises launches CGTMSE Scheme.

CGTMSE (credit guarantee Trust for micro and small enterprises) scheme was launched in Mumbai.
This scheme will provide easy access to credit to micro and small enterprises.
These 91 FM Transmitters will cover an area of 35,000 square km area.

Anji Khad Railway Bridge which is India's first cable-stayed Bridge is being built in Jammu and Kashmir.

Anji Khad Bridge is 725 meters long and fitted with 96 cables.
This bridge will provide connectivity between Jammu and Srinagar.
This bridge is built over the Anji River.

The 12 Feet Statue of Shivaji was unveiled in Mauritius by Deputy CM of Maharashtra Devendra Fadnvis.

This 12 feet statue of Maratha warrior Shivaji was unveiled at Maharashtra House in Mauritius.

Economy

Core Sector registers growth of 3.6%.

Five of the sectors -coal, refinery products, natural gas, fertilizers, and steel remained in positive growth. And other three sectors- crude oil, cement, and electricity registered a negative growth rate.
Petroleum Refinery Products have the highest weightage of 28.04% in the core industries.
The fertilizer sector has the lowest weightage in the core sector.

ITC Limited became the 6th largest company in India replacing Infosys.

Reliance Industries Limited is the largest company in India with a market cap of 16.07 Lakh Crore
TCS (Tata Consultancy Services) is the 2nd largest company with a market cap of 11.62 Lakh Crore.
HDFC Bank is the 3rd largest company with a market cap of 9.28 Lakh Crores.

Awards and Honours

68th Hyundai Filmfare Awards.

Best Film- Gangubaikathiwai
Best Actress- Aliya Bhatt, for Gangubaikathiwai
Best Actor- Rajkumar Rao, for Badhai Ho

Neeli Bendapudi won Immigrant Achievement Award.

Neeli Bendapudi is the president of Pennsylvania University.
American Immigrant Council gave this award.
Read More:
Daily GK Update - 28th April 2023 Current Affairs
Daily GK Update - 27th April 2023 Current Affairs