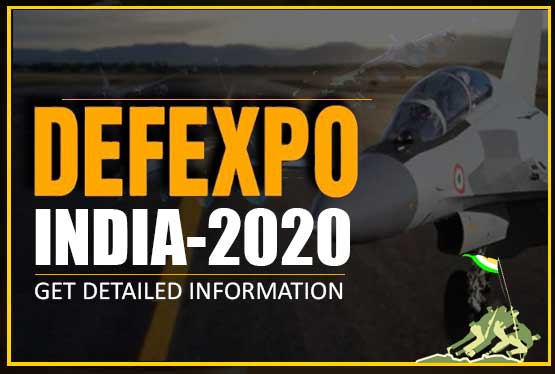 Defence Expo 2020
"Defence Expo 2020: The promising event showcasing Digital Transformation of Defence and empowering India's military arcade."
The 'Defence Expo 2020' is being held in Lucknow, Uttar Pradesh. The 11th biennial edition of 'Defence Expo' is being held for the first time in Uttar Pradesh with a prime objective or as a push seen by the government towards building a strong Military Infrastructure in Uttar Pradesh which has one of the two designated Defence industrial corridors. The event has kickstarted in Lucknow from February 05 to February 09, 2020. It is an exhibition of military weaponry, support system hardware and technology. The four-day mega event is designed to flex and bulk up military muscles. It is also to indicate that India is a major buyer in the global military shopping arcade. Reflecting on the government's focus on 'Make in India', the 11th edition of Defence Expo promises to bring new technologies and solutions on a single platform for defence manufacturing firms from India and abroad. The main theme of this Expo is 'India: The Emerging Defence Manufacturing Hub' and the focus will be on 'Digital Transformation of Defence'.
Prime Minister Narendra Modi on February 05 inaugurated the Defence Expo 2020 in Uttar Pradesh's Lucknow. He was accompanied by Union Defence Minister Rajnath Singh, Uttar Pradesh's Governor Anandiben Patel and Chief Minister Yogi Adityanath with a view to encourage Defence Manufacturing in the state. He said two Dornier aircraft of aerospace major Hindustan Aeronautics Ltd will be used by the state government for civil purposes on two routes. It will be for the first time that a 19-seater aircraft will be used by a state government for civilian purposes. Ministers from over 40 countries are taking part in this edition of Def Expo, making it an important opportunity for all the countries to further strengthen Defence ties with India, the Defence Minister said.
Over a thousand companies including 172 foreign Defence manufacturers which has also steadily increased to 172 from the previous figure of 160 and Defence Ministers of 38 countries are participating in the Defence Expo being held at Lucknow. The number of companies registered for participating in the Def Expo 2020 has reached to a humungous statistics of a remarkable 1,028 thus as per sources, it has become by far the biggest ever Def Expo to be held in India. The huge participation of foreign countries and exhibitors in the Def Expo 2020 reflects India's growing stature and command in the International arena. For the first time during the Def Expo, an Indo-African conclave will also be held to strengthen relations with African countries that could potentially export hubs for Indian Defence manufacturers with over more than 30 African countries participating in the same. Not only this the IAF is to acquire 83 Tejas light combat aircraft showcasing along with that the next generation technological display. The French Defence Industry has also been urged to make India as their production base. Defence Minister Rajnath Singh said delegates from 70 countries and 172 foreign military manufacturers are attending the five-day mega exhibition. As many as 856 Indian Defence firms are also showcasing their products.
A substantial number of Memoranda of Undertaking (MoUs) are expected to be inked and materialized during the Expo, resulting in forging of new business collaborations and technological advancements. The event is being attended by major Defence manufacturing countries including the US, Russia, France, Germany and the United Kingdom. The tremendous response shown by Defence manufacturing companies and the partner countries will surely hold Defence Expo 2020 on a higher pedestal in terms of the offerings for Defence-related industries.
PM Modi revealed that there is a massive scope for Defence manufacturing in the country with the government working on making the country a Defence manufacturing hub and thus has made sincere efforts in promoting indigenous manufacturing in the Defence sector through initiatives like 'Make in India'. PM Modi has also asserted that India can no longer rely only on imports. He has claimed that India is eyeing USD 5 billion defence export in the next five years. Defence Expo Lucknow 2020 showcases a plethora of comprehensive spectrum of India's aerospace, defence and security interests. If anyone has a long term goal in India, the 11th edition of the Defence Expo is a pivotal source of ground-level intelligence and insight.