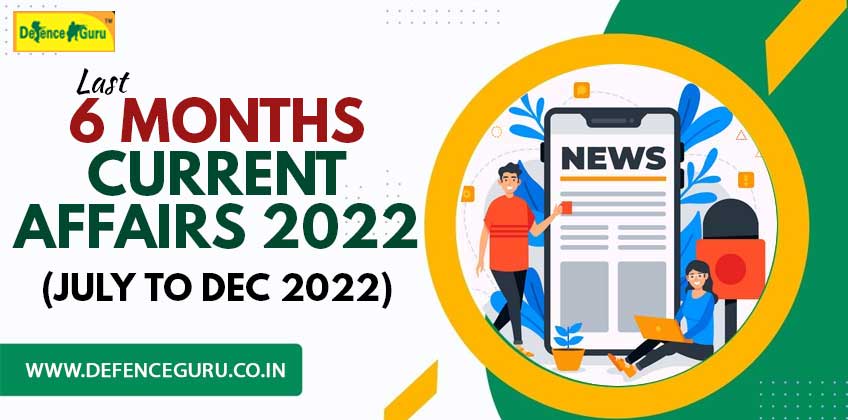 Last 6 Month Current Affairs 2022 for Defence Exam Preparation
What's are the most score boosting questions when it comes to competitive exams? What helps you with scoring higher in defence competitive exams? What helps you in both your written exams and your interview in defence exams? The answer to all these questions is just one, Current Affairs. General Knowledge is one such subject which helps you not just with your written exams but also with your personal interviews which are a part of the defence exam assessment. Exams like NDA/ AFCAT/ MNS/ AIRFORCE/ NAVY/ CDS etc are in turn followed by a five day SSB interview which consists of various physical, psychological and mentally stimulating tests. The personal interview is where you can be asked about Current Affairs, thus this subject helps you in a holistic preparation for the defence exams. And so Defence Guru brings you a complete 6 month highlight of current affairs 2022 i.e- from July 2022 to December 2022 to make your preparation easier. In the article below we have rooted out the important events from the months of July 2022 to December 2022 so that you can collectively study from the same place and are able to retain more easily.
Manufacturing facilitities inaugurated by Defence Minister in July 2022:
Defence Minister, Rajnath Singh has inaugurated a new manufacturing facilities at the Bhanur Unit of Bharat Dynamics Limited (BDL) in Telangana. This includes Warhead facility at the Bhanur Unit; a Radio Frequency (RF) Seeker facility at Kanchanbagh Unit. The RF Seeker Facility is an integrated Centre for the production and testing of RF seekers.
India elected new President:
Droupadi Murmu became the second woman President to hold office after Pratibha Patil and also the first person belonging to the tribal community to be elected as the President of India. She is an Indian politician who has been serving as the 15th president of India since 25 July 2022.
Naval exercise in July 2022:
China has begun four-day naval exercises 'Sea Guardians-2' from the coast of Shanghai with Pakistan. This drill exercise involves Pakistan's most advanced China-built frigate. Taimur is the second of four powerful Type 054A/P frigates built by China, was delivered to the Pakistan Navy. The theme of this exercise is jointly dealing with maritime security threats.
PM Modi launches SPRINT Challenges:
PM Modi launched SPRINT Challenges with an aim to boost the usage of indigenous technology in the Indian Navy. This was unveiled at a naval seminar, which is organised by the Naval Innovation and Indigenisation Organisation (NIIO) and Society of Indian Defence Manufacturers. SPRINT stands for-Supporting Pole-Vaulting in R&D through iDEX (Innovations for Defence Excellence), NIIO and TDAC (Technology Development Acceleration Cell).
'NAARI KO NAMAN' scheme:
In July 2022 Himachal Pradesh Chief Minister Jai Ram Thakur launched the 'Naari Ko Naman' scheme to provide 50 % concession on fares in state buses to women commuters within the state boundaries. A reduction in the minimum bus fare from Rs 7 to Rs 5 to all passengers across the state was also announced to ensure cheaper expenses for public travel in Himachal Pradesh.
Azaadi Ka Amritmohatsav in August 2022:
The entire nation celebrated the Azaadi Ka Amritmahotsav with the Har Ghar Tiranga scheme of the Home Minister Amit Shah, on the occasion of the 75 glorious years of India's Independence Day celebrated on 15th of August.
Gallantry Police Medals on Independence Day:
1082 police personnel have been awarded Police Medals on the occasion of Independence Day, 2022. 347 personnel were awarded the Police Medal for Gallantry, 87 with President's Police Medal for Distinguished Service. 648 personnel were awarded the Police Medal for Meritorious Service. 109 CRPF personnel and 108 J&K Police personnel have been awarded Police Medal for Gallantry. 38 personnel received the Correctional Service Medal for Meritorious Service.
Village Defence Guard Scheme 2022:
The Ministry of Home Affairs sanctioned the approval for the creation of Village Defence Guard Scheme 2022 in Jammu and Kashmir. This scheme has come into effect from August 15, 2022. Earlier, this scheme was known as Village Defence Committee in which volunteers from villages were trained by Indian Army and Police. Under this scheme, rifles were provided to VDC's to protect their villages from terrorist attacks in mountainous areas of Jammu region.
'Swachh Sagar, Surakshit Sagar' campaign:
Union minister participated in the 'Swachh Sagar, Surakshit Sagar' campaign organised at Puducherry. This campaign was held to promote environmental sustainability. It was a 75-day citizen-led initiative to improve the coastal and ocean health through community action. The campaign was spearheaded by the Ministry of Earth Sciences (MoES) in partnership with MoEFCC, NDMA, and other central organisations and social organisations.
UDAN completed 5 years of success:
Regional Connectivity Scheme UDAN (UdeDeshkaAamNagrik) which is a flagship program of Ministry of Civil Aviation has completed 5 years of success in August 2022. The aim of this program is to enhance aviation infrastructure and air connectivity in tier II and tier III cities. In 2014, there were 74 operational airports, but after the launch of the UDAN scheme this number has been increased to 141 by now. Under the scheme, more than 1 crore passengers have been benefited till August 4, 2022.
Google celebrated 75 years of Independence:
Google launched the 'India ki Udaan' project to celebrate the 75 years of Independence of India. It was executed by Google Arts and Culture. It is based on the theme 'Unwavering and undying spirit of India over these past 75 years'. The project will use rich archives and feature artistic illustrations to tell the story of India.
The world's highest railway bridge joint was inaugurated in August 2022:
'Golden Joint', the world's highest railway bridge joint was inaugurated in Reasi district of Jammu & Kashmir. The joints of bridge connect two ends of the deck of the world's highest railway bridge. Chenab Bridge is located in Chenab river, will be 35 meters higher than the Eiffel Tower (after completion of project). This Golden joint will provide direct connectivity to the Kashmir valley.
India's first virtual school:
The country's first virtual school was launched at the nation's capital Delhi in September 2022. The school caters to the students of classes IX to XII and is affiliated to the Delhi Board of School Education. The platform was created by two globally recognized organisations- Google and Schoolnet India. Virtual school teachers have received special training to conduct online classes.
The first female camel riding squad of BSF:
The India-Pakistan border in Rajasthan and Gujarat, deployed the first female camel riding squad of BSF. The squad also participated for the first time in the BSF Raising Day Parade on 1st December. This Squad is the first of its kind in the world and has received intensive training at the Bikaner Regional Headquarters.
Sixth edition of Japan-India Maritime Exercise (JIMEX 22):
The navies of India and Japan carried out the sixth edition of Japan-India Maritime Exercise (JIMEX 22) hosted by the Indian Navy at Bay of Bengal in the month of September 22, to enhance operational understanding. The Japan Maritime Self Defence Force (JMSDF) deployed Izumo (helicopter carrier) and Takanami (guided missile destroyer) for this exercise. The Indian Navy represented by multi-purpose stealth frigate Sahyadri and anti-submarine warfare corvettes Kadmatt.
Her start platform:
In the month of October 22, the newly appointed President, Droupadi Murmu has launched a 'Her Start' start-up platform for women entrepreneurs that was created by Gujarat University. This platform serves as an initiative to be a boon to the increasing number of women entrepreneurs in India.
World's largest jungle safari park project:
Gurugram, Haryana will be the host of the world's largest jungle safari park as announced in October this year. This park is to be spread across an area of 10000 acres in the Aravalli Mountain Range of Gurugram and Nuh District. This jungle safari will boost tourism and provide employment opportunities to local residents. At present, Sharjah is home to the largest curated safari park outside Africa, was opened in February 2022. The Sharjah Safari covers an area of about 2,000 acres.
Airforce Anniversary:
The 90th anniversary of the Indian Air Force (IAF) was celebrated on October 8, 2022. The celebration of the Indian Air Force Day was organized outside Delhi for the first time. It was held at Chandigarh with an hour-long air display of 80 aircraft over the Sukhna Lake. Also new combat uniform of Indian Air Force unveiled at the Air Force Day parade.
Prachanda:
Defence Minister Rajnath Singh formally inducted the indigenously developed Light Combat Helicopter (LCH) called 'Prachanda' in October 22. The induction of LCH not only adds to the combat capability of the Indian Air Force but is also a great leap towards the goal of 'Atmanirbhar Bharat'.
Young authors:
Yuva 2.0 scheme was launched by Prime Minister Modi. It adheres to mentoring young authors. The scheme aims to promote reading, writing, and the book culture in the country. This scheme tunes with PM Modi's vision to encourage the youth to understand and appreciate India's democracy.
'Garuda-VII' held in November 22:
The 7th edition of the bilateral air exercise between IAF and the French Air and Space Force (FASF), 'Garuda-VII', was concluded at Air Force Station Jodhpur. Exercise Garuda-VII provided the two Air Forces with the opportunity for professional interaction and sharing of operational knowledge and experience. The exercise also provided a platform for cultural exchange between the Air Force personnel of both the countries.
India-US joint military training exercise 'Yudh Abhyas 22':
The 18th edition of India-US joint military training exercise 'Yudh Abhyas 22' was held in Auli, Uttarakhand. This was supposed to be a high altitude and extremely cold climate warfare.
'Pan-India' Coastal Defence Exercise 'Sea Vigil-22':
Held from 15th to 16th November 2022, the third edition of the 'Pan-India' Coastal Defence Exercise 'Sea Vigil-22' was held along the entire 7516 km coastline and Exclusive Economic Zone of India. It also involved all the Coastal States and UTs along with other maritime stakeholders, including the fishing and coastal communities. It was conducted by the Indian Navy, Coast Guard and other ministries entrusted with the task of maritime activities.
FIFA 2022 Trophy won by Argentina:
The 2022 FIFA World Cup final was the final match of the 2022 FIFA World Cup, the 22nd edition of FIFA's competition for men's national football teams. The match was played at Lusail Stadium in Lusail, Qatar, on 18 December 2022, the country's National Day, and was contested by Argentina and 2018 champions France, where Argentina's captain Lionel Messi held the final trophy.
IAF Sukhoi plane test fires Air version of BrahMos Missile with 400 km Range:
The Indian Air Force successfully tested the extended range version of the Brahmos Air Launched missile against a ship target in Bay of Bengal from Su-30 MKI fighter jet on 29 December 2022. Brahmos supersonic missile has been developed by the Brahmos Aerospace ltd. The company is a joint venture of the Defence Research and Development Organisation (DRDO) of India and Russia's NPOM.
"Prahari app"(Border Security Force) was launched by Union Home Minister Amit Shah:
Amit Shah said that the BSF 'Prahari' app is a great example of Proactive Governance. "Now jawans can get personal information and information related to accommodation, Ayushmann-CAPF and leaves on their mobiles.
India, Japan to conduct first-ever air combat exercise 'Veer Guardian 23':
The exercise will be conducted during the duration of January 16 to January 26. The drill will be conducted at Hyakuri Air Base north-west of Tokyo. Japan Air Self-Defense Force (JASDF) will conduct bilateral combat training with the Indian Air Force (IAF). This exercise aims to promote mutual understanding and strengthen defence cooperation between the Air Forces of the two nations.
Nuclear-capable ''Agni-5 missile'' trials successfully carried out by India:
The Agni 5 missile is capable of striking targets at ranges up to 5,000 kilometres and that too with a very high degree of accuracy. Now in a lighter than before form, new technologies and equipment were validated on the missile in the test which was conducted.
Navy Day 2022 to be celebrated at Eastern Naval Command Visakhapatnam:
Every year since 1972, 4th December has been observed as Navy Day in India. The day is celebrated to honour the Indian Navy's role during the India Pakistan war of 1971. This year for the first time the Navy Day celebration is taking place outside New Delhi at Eastern Naval Command headquarters Visakhapatnam.
Sashastra Seema Bal celebrates "59th raising day":
Sashastra Seema Bal celebrated its '59th Raising Day' on December 20 with a dedication to a safe, secure, and prosperous India. Sashastra Seema Bal, or SSB, is an Indian border security organization that patrols the country's borders with Nepal and Bhutan.
These were some highlights from the half yearly current affairs (July 2022- December 2022) from the point of view of defence exams 2023. Check out our other articles for daily defence news and important events.