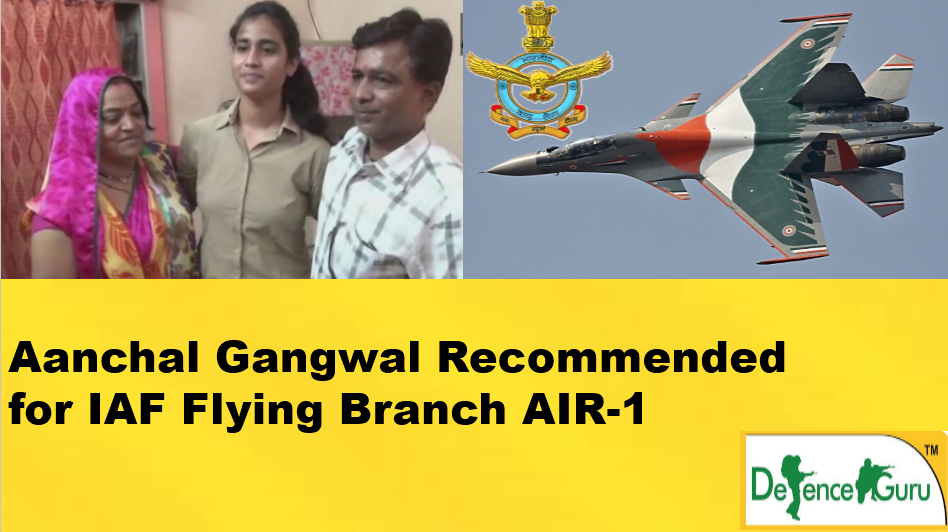 Its been rightly said "Lehron se Darkar Nauka paar nahin Hoti ,Koshish Karne walon ki haar nahin Hoti" No dream is too big or small if your heart and mind are focussed for it. It is very true no power can stop anyone from achieving or making his/her dream come true.
Click here for Free OIR test

One such story is of 24-year-old Aanchal Gangwal from Madhya Pradesh.Some years back when Aanchal was in school, she saw the Armed Forces conduct a rescue mission and was highly impressed by them. Since then, she decided and made it her dream to join the Indian Armed Forces.

According to Hindustan Times, she said, "When I was in class 12, there were floods in Uttarakhand and I was impressed with the way the Armed Forces rescued the flood victims and decided to join the forces, but my family condition was not conducive at that time."

However, the fact that her father sells tea to make ends meet and her family condition being unfavourable, never stopped her from achieving her dream. And it is because of her dedication, sheer hard work and parents' support, that Aanchal has now been selected in the flying branch of the Indian Air Force (IAF). 
Aanchal now aims to fly fighter planes. She beat over 6 lakh students to be among the 22 people selected from across the country, and the only student from Madhya Pradesh. She will now go to Hyderabad for a year's training from June 30th.

Aanchal a student of Metro H S School, has always been a meritorious student who topped her class and was also the school captain. She won scholarship and went to Ujjain's Vikram University. Clearing the Air Force Common Admission Test (AFCAT) was not an easy task for her. Aanchal had already faced the interview panel five times and was finally successful on her sixth attempt.Her parents,relatives friends and teachers are feeling proud on her.
Click here for Best AFCAT Coaching