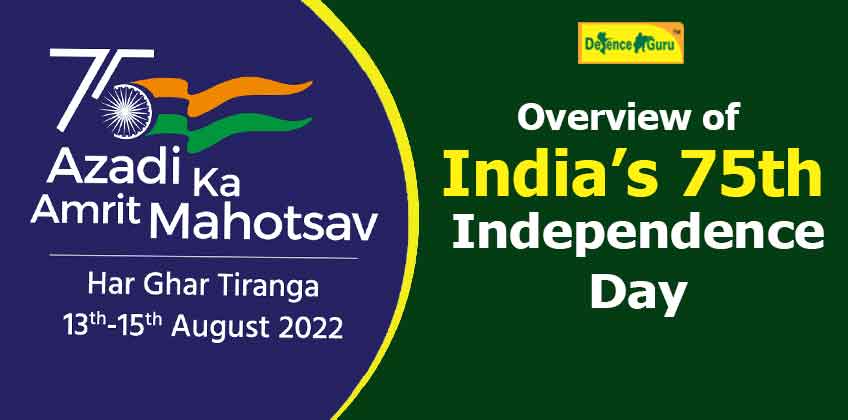 India's 75th Independence Day - Azadi Ka Amrit Mahotsav
The Government of India has launched the Azadi Ka Amrit Mahotsav to recognize and celebrate 75 years of independence as well as the illustrious past of its people, culture, and accomplishments. The 75th Anniversary of Indian Independence, also known as Azadi Ka Amrit Mahotsav, is a forthcoming celebration that will take place on August 15, 2022, in India. On March 12, 2021, Prime Minister Narendra Modi started the "Azaadi ka Amrit Mahotsav" to commemorate the 75th anniversary of Independence. To mark 91 years of the Dandi March, the Mahotsav began on March 12, 2021, and it will last through August 15, 2023. Read on to know more.
Key Highlights of Azadi Ka Amrit Mahotsav
This Mahotsav is devoted to the people of India who not only have contributed to India's advancement in its evolutionary process, but who also possess the strength and capacity to cooperate. The 75-week countdown to our 75th anniversary of independence began on March 12, 2021, and the formal Azadi Ka Amrit Mahotsav trip began on that date. It will conclude on August 15, 2023, one year after it began.
The Ministry of Culture has launched the Azadi ka Amrit Mahotsav's official website.

Azadi Ka Amrit Mahotsav has five themes: freedom struggle, ideas@75, resolve@75, actions@75, and achievements@75.

The Indian government decided to celebrate freedom fighters and mark India's 75th anniversary of independence by organizing a number of events.

The Indian Prime Minister hoists the national flag from Delhi's Red Fort as is customary, and then he gives a speech outlining his nation's accomplishments and proudest memories.

The same celebration will be observed locally in each of India's states and cities. Indians have been urged to change their social media profile pictures from 2 August to 15 August to pictures of the Indian flag by the Prime Minister of India in Man Ki Baat on July 31, 2022.

The Indian government has also begun a programme called "Har Ghar Tiranga" in which each home will get a national flag.
Following are the five themes of Azadi Ka Amrit Mahotsav.
Freedom Struggle
Our memorial efforts for Azadi Ka Amrit Mahotsav are oriented around this theme. The historical road leading up to 15 August 1947 is recalled, bringing to life the tales of unsung heroes whose contributions have made independence an actuality for us. Birsa Munda Jayanti (Janjatiya Gaurav Diwas), Netaji's Declaration of the Provisional Government of Free India, Shaheed Diwas, and other events fall under this theme.
Ideas@75
This theme focuses on initiatives and activities motivated by beliefs and principles that have shaped us and will serve as our compass during this Amrit Kaal (the 25-year period between India@75 and India@100) time. The endurance of our beliefs will depend on how strongly we hold them. Widespread, participatory activities that help highlight India's distinctive contribution to the globe are among the events and programmes that fall under this category. These include activities and projects like the Kashi Utsav honoring eminent Hindi authors from the Kashi region, Postcards to the Prime Minister, etc.
Resolve@75
This theme focuses on our shared determination and commitment to influencing the destiny of our motherland. To get to 2047, all of us must step up and contribute our share as individuals, groups, members of civil society, governing institutions, etc. Ideas will only become reality via our combined determination, well-thought-out action plans, and committed efforts. Initiatives like Constitution Day, Good Governance Week, and other events and activities that are motivated by a strong sense of purpose assist to bring to life our commitment to the "PLANET AND PEOPLE."
Actions@75
This theme emphasizes the actions being done to put policies into effect and fulfill promises in order to assist India assume its proper place in the new global order emerging in a post-covid world. It is propelled by SABKA SAATH, Prime Minister Modi's rallying cry. ABKA VIKAS SABKA PRAYAS, SABKA VISHWAS. It includes pledges from corporations, NGOs, and civil society that help us realize our ideals and work together to build a better tomorrow. It also includes government policies, initiatives, and action plans.
Achievements@75
This theme focuses on recording time's passage and all of our life's significant anniversaries. It is envisioned that it will develop into a public record of our combined accomplishments as a 75-year-old independent nation with a 5000+ year-old legacy. Initiatives like Swarnim Vijay Varsh, a celebration of the victory of 1971, the launch of the Shreshtha Yojana during Mahaparinirvan Diwas, and others fall under this theme's events and programmes.