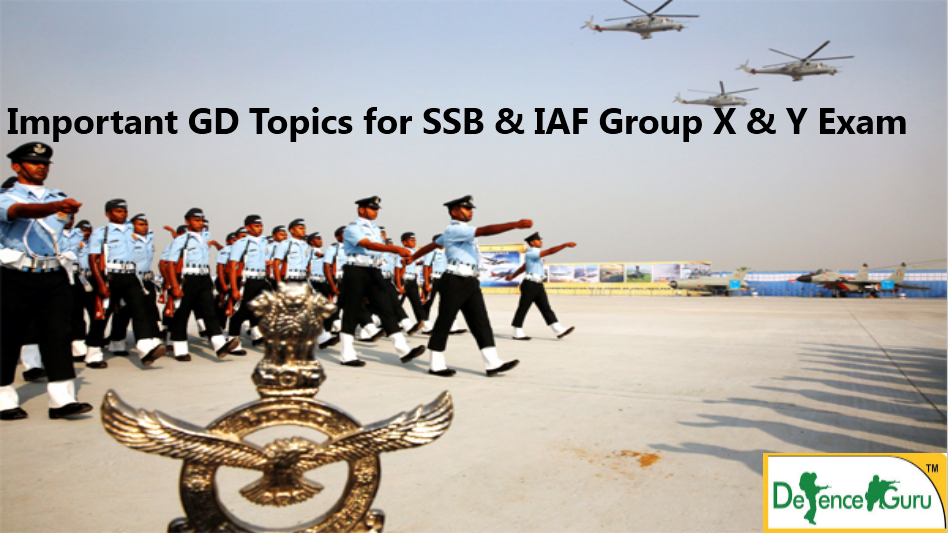 Defence Guru shares a list of 50 Group discussion topics that are important for your SSB and coming Airforce Group X & Y exam. These burning issues to understand what is going on around you. GD is so important that you cannot neglect it. It is very important that how you are speaking and what you are speaking during discussion and it shows a lot your knowledge and personality. Having knowledge about current affairs leaves a good impact in Group discussion.Important topics are mentioned below :-
Climate Change/Pollution
Social Media: Impact on Human Behavior and society
Impact of Technology on Jobs
Crypto currency /Bitcoin
Banking Scams
Is India a secular country?
Should public sector be privatised?
Should Yoga be made compulsory in schools?
Do we really need Smart Cities?
Describe the relevance of BRICS and its future
Merit or Seniority – Better criterion for promotion?
Start Up India, Stand Up India – Prospering Entrepreneurial Culture
Gold Monetization Scheme
Demand for new states, is it justifiable
Merits and Demerits of cashless economy.
Promoting tourism in India.
Developing an entrepreneurial ecosystem in India.
Ensuring gender diversity in Indian workforce.
Making Indian Banking system more inclusive.
Gram Uday Se Bharat Uday Abhiyan
Concept of smart city
Promoting healthy eating habits in young children
Modi wave in India
Even a clock that does not work is right twice a day
Role of NITI Aayog
How escalating pollution rate in India can be controlled?
What must be done to improve the education system of India?
Is India ready for Cashless Economy
ADHAAR Project and the Right to Privacy
Online shopping- a boon or a bane?
Coke and Pepsi should be driven out of India
Make in India- vs. Incredible India
Demonetization: Success and failure
GST: Will economy grow fatser with reduced rates of goods & services tax?
Make In India a success or Failure?
Swachh Bharat Abhiyan- How far was it successful?
Bullet trains in India – Is it a right step?
OBOR can improve developing world? Its impact on India
India as a developing regional power
Role of Media and its impact
Achievements and failure of Modi Govt
Future of sports in India
Impact of GST on Indian Economy
INDIA vs China: How India will be a regional power?
Tripple Talaq Bill
How successful Modi's Mann Ki Baat
Reliance Jio: Changing Telecom sector is good or bad?
Indo China relation Post Doklam issue
Should right to privacy have limits?
Should India accept Rohingya refugees?
Click here for Best SSB coaching in Lucknow