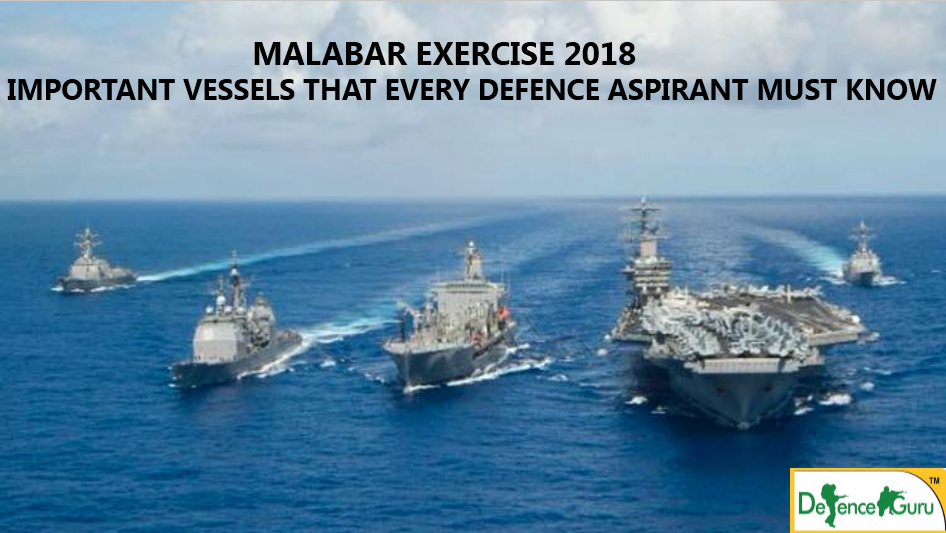 Malabar Exercise 2018: Important Naval Vessels that every Defence Aspirant must know
Click here for Defence current affairs 2018
The 22nd edition of Malabar Excercise– trilateral naval exercise, between  India, United States of America and Japan – has begun on June 7 2018 in Guam coast in the Philippine Sea. Naval ships, aircraft and personnel from the three countries participating in the Malabar 2018 will practice surface and anti-submarine warfare operations as well as the combined carrier strike group operations off the Guam coast in the Western Pacific.The joint naval exercise that is being held from June 7 to June 16 2018 is being organised for the first time after the US renamed its Hawaii-based Pacific command to as the Indo-Pacific Command. The wargame is being held at a time when tensions in the region are on the rise with China's increased activities of building artificial lands in the South China Sea and deploying submarines into the Indian Ocean.
India represented by the stealth frigate INS Sahyadri, stealth corvettes INS Kamorta, and the Deepak-class fleet tanker INS Shakti, IANS reported. Along with these, P-8I Neptune advanced maritime patrol/anti-submarine warfare aircraft will also participate in the wargame.
The US Navy is being represented by the mighty aircraft carrier USS Ronald Reagan, the guided-missile cruisers USS Antietam, along with the USS Chancellorsville, the guided-missile destroyer USS Benfold as well as P-8A Poseidon aircraft, IANS reported. Finally, Japan has sent three ships to participate in the war game - JS Hyuga, JS Suzunami, JS Fuyuzuki and Kawasaki P-1 maritime patrol aircraft, and a diesel-electric attack submarine.
Naval Ships Participating in Malabar Exercise 2018:-
USS Ronald Reagan:
Regarded as one of the most powerful naval platforms of the United States Seventh Fleet, USS Ronald Reagan is a Nimitz-class, nuclear-powered supercarrier. It has been named after Ronald W Reagan, the 40th President of the United States of America. The massive aircraft carrier was commissioned in 2003. The USS Ronald Reagan is nearly 1096 feet long – basically, big enough for three football fields to be placed end-to-end. The Nimitz Class Aircrafts are generally considered as one of the largest warships, with the USS Ronald Reagan weighing 103,000 tons.
Best AFCAT coaching in Lucknow
INS Sahyadri:
Adjudged as the Best Ship of 2018 during the Fleet Award Function, INS Sahyadri is Shivalik-class advanced, stealth-minded, multi-role frigate. Generally, in modern naval fleet, frigates are used to protect other warships and merchant-navy ships and they generally resemble more closely to corvettes and destroyers. INS Sahyadri was commissioned in July 2012 and was built at the Mazagon Dock Limited (MDL) in Mumbai. It was launched in the sea in 2005. It is 468 feet in length and 55 feet in breadth and has a displacement capacity of 6,800 tons. It can also be equipped with BrahMos anti-ship missiles, Anti-submarine rocket launchers, Barak-1 missiles as well as Shtil-1 3S90M missile, Financial Express reported.
INS Kamorta:
INS Kamorta is the first of the four anti-submarine Kamorta class stealth corvettes. A Corvette is generally a small ship, usually weighing somewhere between 500 tons and 2,000 tons. INS Kamorta is India's first indigenous anti-submarine corvette as well as the country's first indigenous-built stealth corvette. The vessel, which has been named after Kamorta islands located in Andaman and Nicobar, was commissioned in August 2014. INS Kamorta has the length of 358 ft overall, with a beam of 45 ft. The vessel is fitted with foldable hangar door which has been fitted with the rail-less helicopter traversing system, thus giving a boost to the helicopter operations from corvette deck.
INS Shakti:
Considered as one of the largest ships of Indian Navy, INS Shakti is a Deepak-class fleet tanker that was commissioned on October 2011. The construction of the ship was done by Fincantieri, which is an Italian shipbuilding company based in Trieste. The fleet tanker is equipped to refuel four ships at a time, and has a refuelling speed of 1,500 tonnes per hour, as per reports. Compared to that, her predecessors had the refuelling speed of 300 per hour. A fleet tanker is a naval auxiliary ship that allows for underway replenishment on the high seas.
Must Know
The Malabar Exercise is scheduled to be conducted in two phases – ashore and at sea training, with the harbour phases slated for June 7 to 10 and the sea phase from June 11 to 16 in the Philippine Sea. Notably, the Malabar exercises began as a Indo-US joint drill in 1992, though it was suspended from 1998 to 2002 following the nuclear tests conducted by India in 1998. Japan became a permanent participant of the naval exercise in 2015.
Clike here for free OIR test