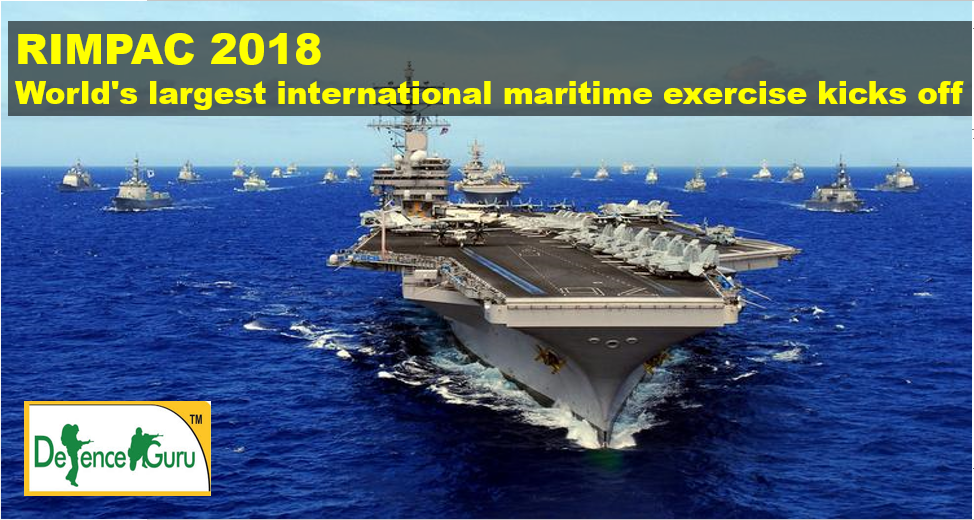 RIMPAC the RIM of the Pacific Exercise is the world's largest international Maritime Warfare Exercise.On Friday, the 26th edition of the exercise—which began in 1971—kicked off. Here Twenty-five nations, more than 45 surface ships and submarines, 17 national land forces, and more than 200 aircraft and 25,000 personnel are taking part in a training opportunity designed to foster and sustain cooperative relationships.

From India INS Sahyadri, Indian Navy's indigenously built guided missile stealth frigate, is taking part in RIMPAC maritime exercise, which is happening in the Western Pacific Ocean.

Important to note that China has not been invited for the event due to its aggressive approach in South China Sea whereas China had attended the last two RIMPAC exercises held in 2014 and 2016.

INS Sahyadri Commanded by Captain Shantanu Jha, INS is a part of the eastern fleet under the eastern naval command, reached Pearl Harbor of the USA early this week. Prior to RIMPAC 18, the ship had also participated in the 22nd edition of MALABAR Exercise 2018 in the south-western Pacific region between June 7 and 16.

As per the statement issued by the Indian Navy, its participation in the RIMPAC 18 provides a platform for multilateral operational interactions aimed at increased interoperability and development of common understanding of procedures for maritime security operations.

This year RIMPAC exercise includes forces from Australia, Brunei, Canada, Chile, Colombia, France, Germany, India, Indonesia, Israel, Japan, Malaysia, Mexico, Netherlands, New Zealand, Peru, the Republic of Korea, the Republic of the Philippines, Singapore, Sri Lanka, Thailand, Tonga, the United Kingdom, the United States, and Vietnam.

Admiral John C. Aquilino, Commanders of US Pacific Fleet, in a statement said that "RIMPAC is not only the world's largest international maritime exercise, it also shows that like-minded nations who value a free and open Indo-Pacific want this opportunity to improve our cooperation with each other".
The theme of RIMPAC 2018 is 'Capable, Adaptive, Partners'. Participating nations and forces will exercise a wide range of capabilities and demonstrate the inherent flexibility of maritime forces. These capabilities range from disaster relief and maritime security operations to sea control and complex warfighting. The relevant, realistic, training programme includes gunnery, missile, anti-submarine, and air defense exercises, as well as amphibious, counter-piracy, mine clearance, explosive ordnance disposal, diving, and salvage operations.

Statement by Indo-US Pacific Command, the exercise will feature live firing of a long range anti-ship missile (LRASM) from a US Air Force aircraft, surface to ship missiles fired by the Japan Ground Self-Defense Force, and a Naval Strike Missile (NSM) fired from a launcher on the back of a Palletized Load System (PLS) by the US Army. This year marks the first time a land-based unit will participate in the RIMPAC live-fire event. RIMPAC 2018 will also include international band engagements and highlight fleet innovation during an innovation fair.
The countries those are participating first time in RIMPAC Exercise are Israel, Sri Lanka, and Vietnam.