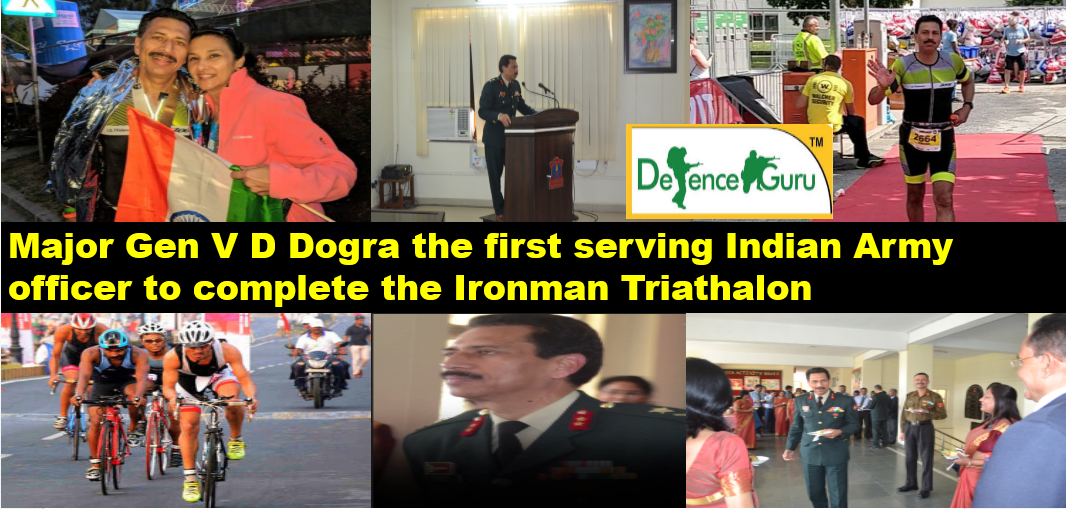 Another Star for Indian Armed Forces as Maj Gen Dogra Becomes the First Indian Army Officer To Complete Ironman Triathlon!.He is the first serving Indian Army officer to complete the prestigious sporting event, the Major General Vikram Dogra has always been into sports.
There were three consecutive events. 3.8 km of swimming, 180.2 km of cycling and a full marathon at the end of it. To be completed in a day. Competitors are required to finish all these within a time limit of 17 hours. The event took place in Klagenfurt town, the event saw 2,850 athletes from 50 countries participating in the event.
Major Gen Dogra is India's first serving Army officer to complete the Ironman Triathlon.The official twitter handle of the Indian Army shared the news, congratulating the Major General on his achievement, of completing what many call one of the toughest endurance events in the world.The General started cycling around five years ago, and cycled from Leh to Chandigarh, a distance of 800 kms in eight days. He has cycled all over, from Jodhpur to Jaisalmer, Sela Pass to Bumla Pass in Arunachal Pradesh and from Akhnoor to Rajouri in Jammu and Kashmir. He set many records in sports activities.
Even he has taken part in several triathlons, across various categories, like the Sprint (500 meters swimming, 20 km cycling and 5 km running), the Olympic category (1,500 meters swimming, 40 km cycling, 10 km running), as well as the half, and now the full Ironman.
In a statement given to news paper, Army spokesperson Col Aman Anand told that Major General Dogra is the only serving army officer from the Indian Army to do a full Ironman and is the only General across the globe to have done so.
Major General Dogra completed the Full Triathlon in 14 hours and 21 minutes. Incidentally, he has been a Sword of Honour, and Gold Medalist of the December 1981 batch. He was commissioned in the Poona Horse (an armoured regiment), which he went on to command. He has also commanded an Armoured Brigade on the western front with Pakistan and an Infantry Division in a Strike Corps.
Also read Know about Commando shot 4 times becomes 1st disabled Iron man
Also read Daily exercises for Defence aspirants to stay fit